1.Introduction of statue of hans christian andersen
Statue of hans christian andersen is an exquisite artwork. It shows us the Danish storyteller and his famous duckling companion.
This statue was created by artist George Lober in 1956 and donated to the park. Every summer, the park holds a special storytelling
program to encourage children to participate happily. They like to climb onto the knee of this legendary children's writer and explore
the wonderful world of stories with him. This scene makes parents waving their cameras very happy, as they can capture happy
moments of their children.
This bronze statue is not only an ornament, but also carries the power of Andersen's cultural heritage and story. Andersen is a great
fairy tale writer, and his works are loved by children and adults around the world. His story is full of wisdom, imagination, and human
reflection, guiding readers to explore various aspects of life. This statue vividly portrays the image of Andersen, allowing people to feel
his creative spirit and unique charm while getting close to him.
The bronze material endows this statue with long-lasting durability and artistic texture. It can not only withstand the test of time, but
also withstand the impact of various weather conditions. This makes the statue a beautiful scenery in the park, attracting the attention
of tourists and local residents. Its existence has added a strong cultural atmosphere to the park, becoming a destination for people to
linger and forget to return.
The statue of Hans Christian Andersen is not only a work of art, but also a symbol of emotions and culture. It conveys Andersen's spirit
to people through artistic forms, inspiring people to think about stories, imagination, and human nature.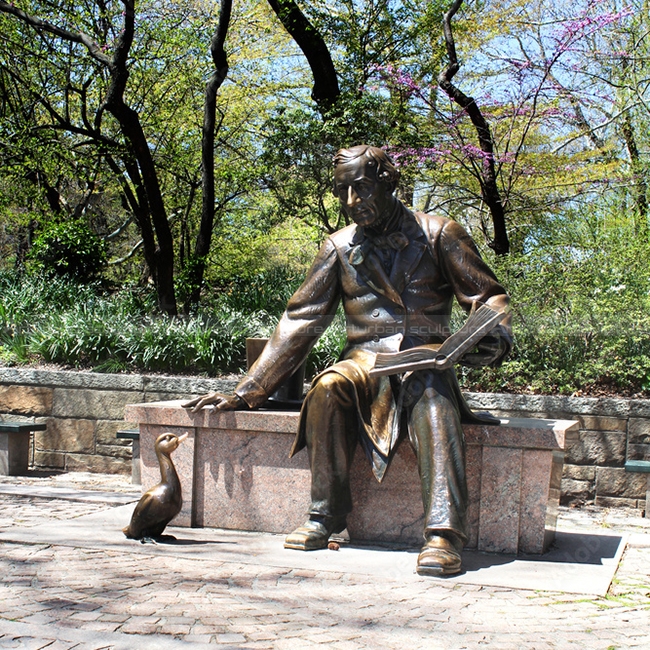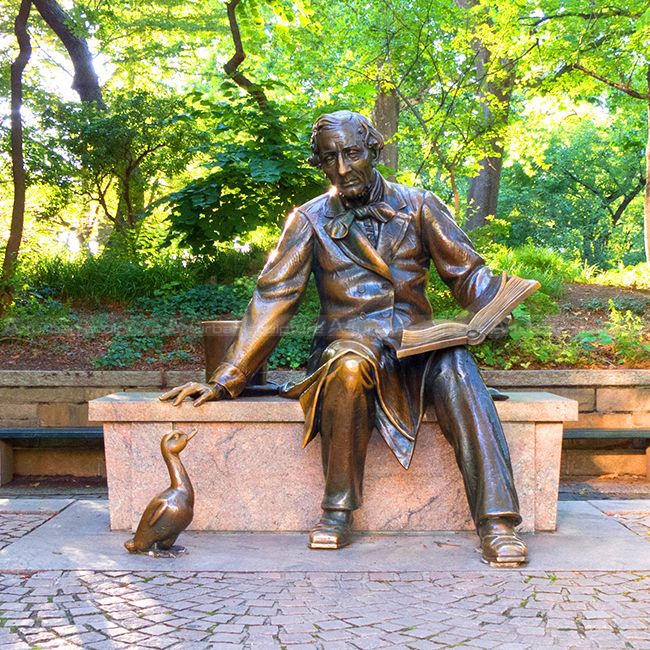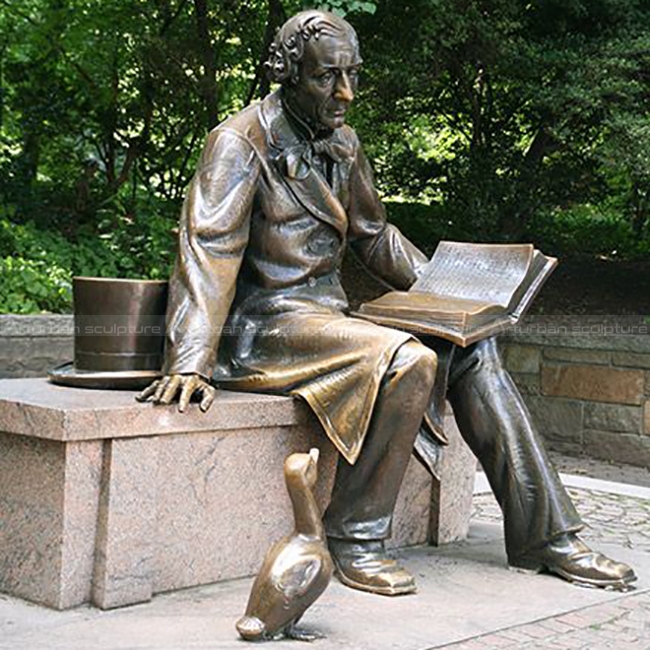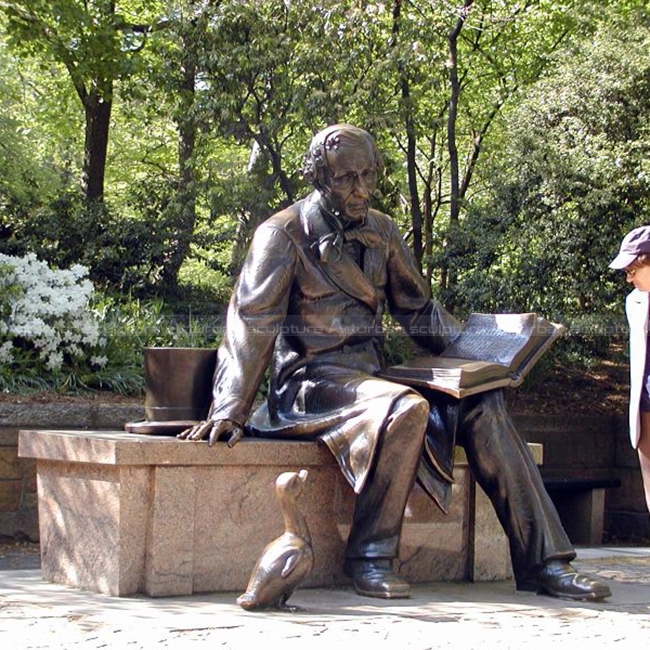 2. Production process of statue of hans christian andersen
My artist will make 1:1 clay mold, when finished clay mold. We will take photos for your reference, the clay mold can modify any
details till you satisfied with it. Then we go ahead to make statue, when finished statue, also we will take photos for your reference.
After you satisfied with all, I will arrange packing and shipment. Arturban sculpture can make large dog statue in bronze, marble,
fiberglass, stainless steel. Our team will make a production plan, according to your design, budget, delivery time, or any other service.
Our final aim is to supply high quality and cost-saving sculpture efficiently.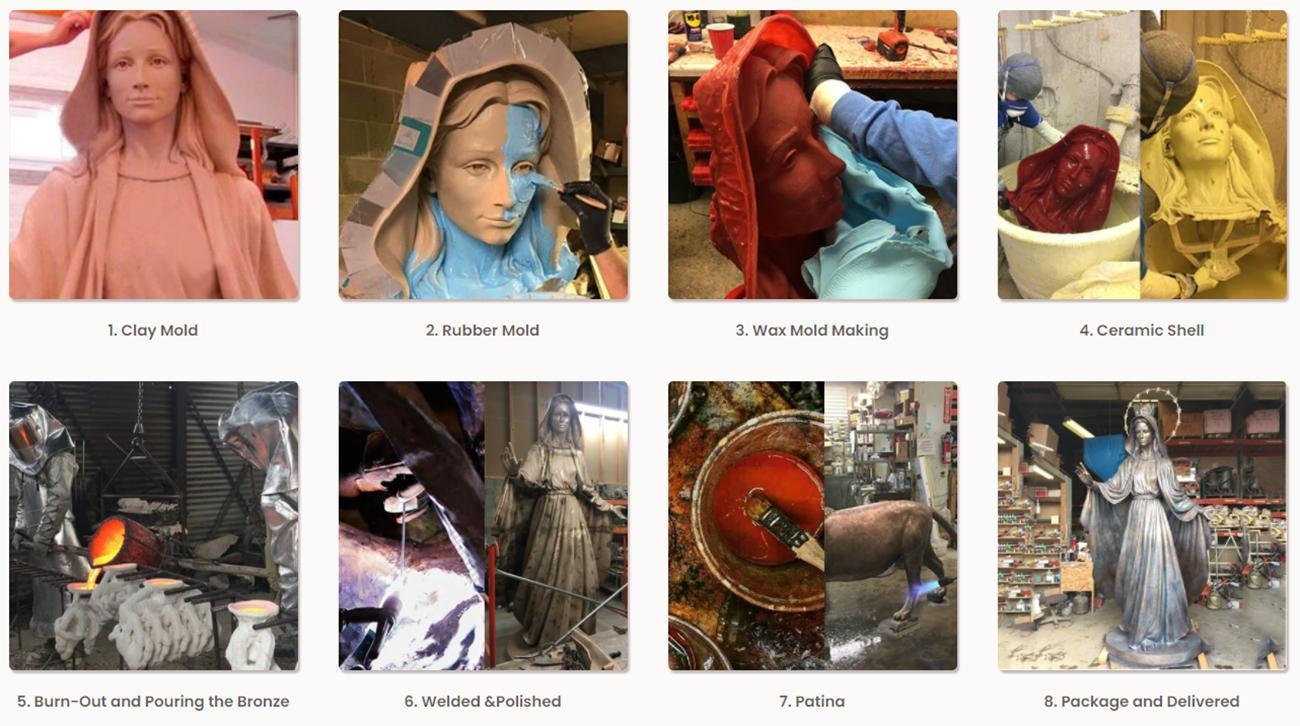 Send us your requirements now, we will reply to your email within 24 hours