Horse Statue Prodcution Process
Horse Statue Project Cases
48 Famous Horse Breeds
We can customize horse statues according the horse breeds you want, our clay master from Arturban sculpture supplier have rich experience and are very familiar with the structure and texture of horse breeds. Our clay sculpture masters will spend a lot of time to sculpt sculptures. Every fine line is different in skin texture. The sculptures made in this way are artistic, realistic and lifelike.
We can custom horse statue size as you want
We can custom size of horse statue from desktop 20cm high to huge size 1000cm, you can tell us the size you want.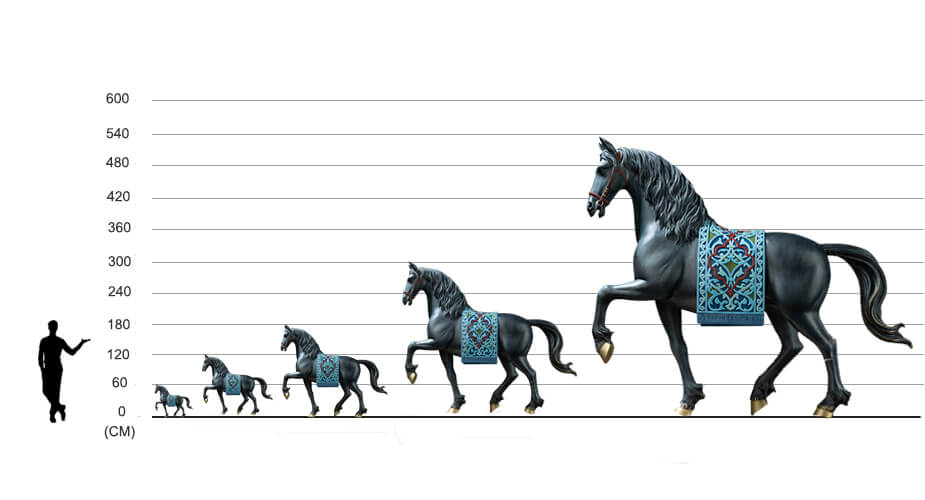 Various Designs

We have many horse statue designs, we can offer you for reference. You can choose the style you love and save your design cost.

High Quality Artwork

Arturban sculpture supplier use the advanced lost waxing casting method, which make sculpture completely show the small patterns. also with the skilled welding and polishing technology, the sculpture will never deformed, in this way, the sculpture lines are natural and beautiful.

Cost-saving Competitive Price

By Running our own factories in China which decreases our production cost a lot. We are factory direct selling, without any middlemen to earn the price difference. You can tell us your budget and requirement, We can make a production plan according to your budget

Custom Made Service

Arturban sculpture supplier can produce the high quality sculpture according to your design or image,  you can show us your idea, we will have professional project manager to communicate with you. We can custom sculpture in any design and size( small or huge) you want
Fine Clay Mold

Clay mold is the most important step in sculpture making, even the soul of sculpture. because our final sculpture will be 100% exactly the same as the clay mold. Clay master from Arturban sculpture supplier have rich experience and are very familiar with the structure and texture of figure and animals. The sculptures made in this way are artistic, realistic and lifelike.

Advanced casting technique

Arturban sculpture supplier use the advanced lost waxing casting method, which make sculpture completely show the small patterns. also with the skilled welding and polishing technology, the sculpture will never deformed, in this way, the sculpture lines are natural and beautiful.

Make Patina

Color is an important aspect of reflecting the quality of bronze sculptures. Arturban sculpture supplier has professional color colorists and skilled color matching techniques, which can make the final sculptures eye-catching among many sculptures
Our Horse Statue Produts for Your Reference
Send us your requirements now, we will reply to your email within 24 hours