1. Introduction of angel for gravesite
Angel for gravesite are spiritual symbols. They stay in front of the tomb, which is a kind of mourning for the dead and a kind of comfort for the relatives of the dead. Graveyard angels have different gestures and emotional expressions, and each gesture has its own unique meaning. An angel with open wings is considered to represent the state of the soul flying to the heaven. It may also be shown that angels will carry the dead in their arms, as if escorted them to heaven. Weeping angels symbolize sadness, especially mourning the unfortunate death. The angel who blows the horn symbolizes the Day of Judgment or the call of resurrection.
Our angel for gravesite sculpture is a beautiful angel sitting on one side of the tombstone in a long dress. She holds a bunch of beautiful flowers in her hand, as if to mourn the dead. With one hand gently touching the tombstone, her eyes are focused on the tombstone, as if expressing the missing of relatives to the deceased. The heavy wings behind her seem to be the protection of the deceased, shielding the wind and rain and bringing warmth, so that the deceased can come to the embrace of God and obtain eternal life. We also have many holy angels cemetery. No matter in cemeteries, gardens and other places, we can customize your angel sculptures according to your needs. We have a variety of marble, granite and other materials. We pay attention to quality and form, and will make sculpture works to your satisfaction.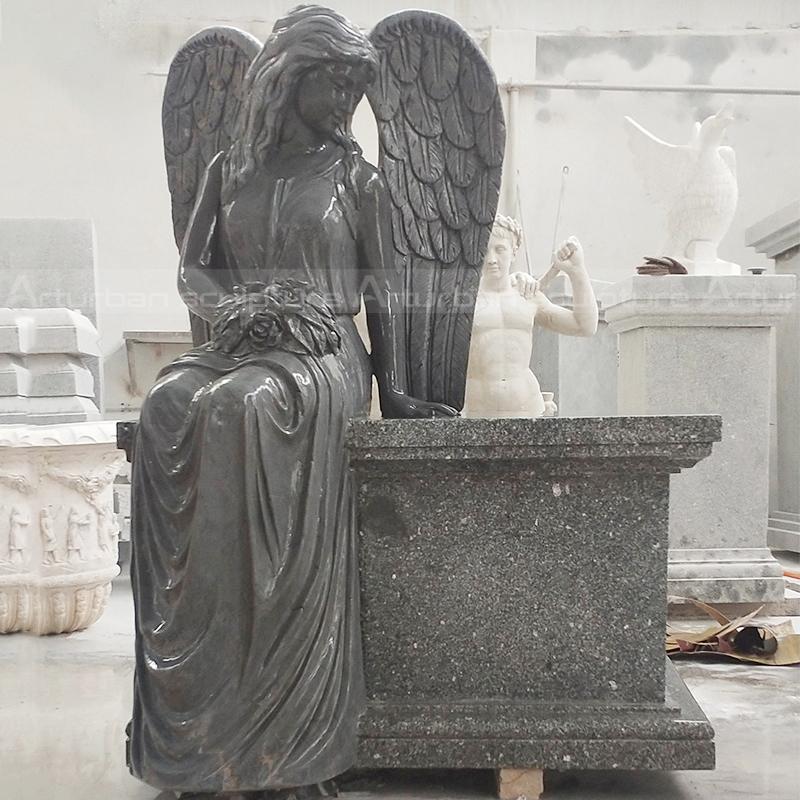 2. Production process of angel for gravesite
Step1 Design Communication:  You supply us with several photographs with dimensions.
Step 2 Project Consultation: Our team will make a production plan, according to your design, budget, delivery   time,  or any other service. Our final aim is to supply high quality and cost-saving   sculpture efficiently.
Step 3 Confirm Mold: We will make 1:1 clay or 3D mold,when finished clay mold,i will take photos for   your reference. The clay mold can modify any details till to your satisfaction.
Step 4 Carving and Polish: We will carving with natural marble according to clay mold. Then polished.
Step 5 Package: Strong wooden crate with waterproof and shockproof foam inside.
Send us your requirements now, we will reply to your email within 24 hours