1. Introduction of demeter goddess statue
Demeter goddess statue are very exquisite and beautiful. The statue of the goddess of the four seasons is a common type of Western figure sculpture. Four different goddess sculpture images represent the replacement of the four seasons and have sacred significance. Moreover, the statues of the four figures are of different types and rich meanings.
Here, the goddess of the four seasons also has a beautiful legend. The daughter of Demeter, the God of agriculture, was robbed by Hades. She persevered in looking for her daughter have no time to take care of agriculture. After the mother and daughter got together, the earth bloomed and fruited again and experienced the changes of the four seasons, so she had the origin of the goddess of the four seasons. Therefore, the statue of the goddess of the four seasons not only symbolizes the changes of seasons and the receipt of human goods, but also a symbol of love and strength and a spirit of not give up. This statue is common in garden squares, urban scenic spots and other places.
The demeter goddess statue is made of high-quality fiberglass by our sculptors, and the clothes and wings show the sacred and gorgeous image of the goddess of the four seasons. The bright red coloring of the sculpture will surely become the focus and attract people's attention. We use car paint electroplating and coloring, which not only has beautiful and solid colors, but also can protect the sculpture from erosion for a long time. We also have many sculptures of the four seasons goddess of different materials and colors, which can be used as the decoration of gardens and squares to add vitality to the environment. If you need the angel sculptures for sale, you can contact us at any time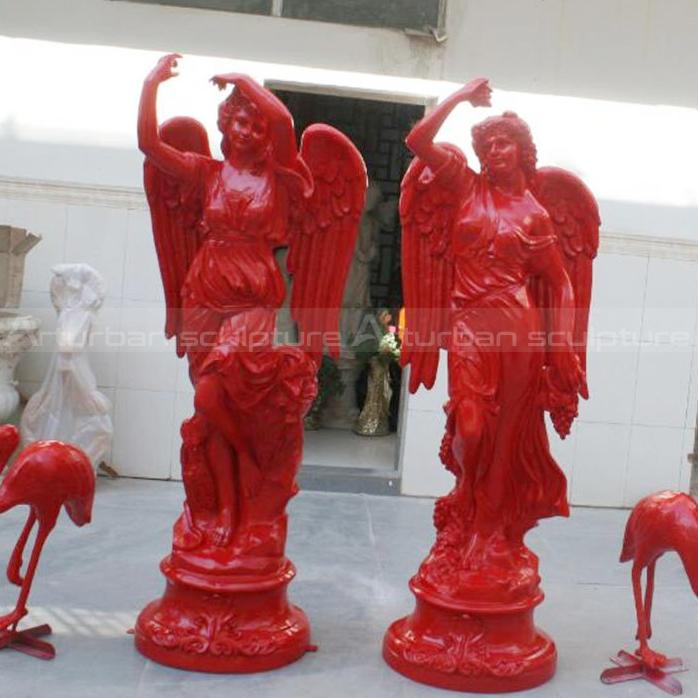 2. Production process of four season statues for sale
1. Showing the details drawing/ 3D mold for clients confirming.
2. Making clay mold/ foam mold according to drawing/ client's photos/ 3D mold.
3. Making fiberglass/resin sculptures
4. Polishing the surface.
5. Professional painting and take all different views pictures/ videos, show to clients.
6. Packing into wooden cases after clients are satisfied with sculptures.
Send us your requirements now, we will reply to your email within 24 hours