1. Introduction of four seasons marble statues
This is a four seasons marble statues. The appearance of this marble sculpture of the Four Seasons Goddess is very
exquisite. They stand on a pedestal, wears a robe, and holds items representing the four seasons, showcasing the
changes and circulation of the seasons. Every detail of the sculpture is very delicate, and the texture and luster of marble
material make the sculpture more realistic and beautiful. This sculpture is full of artistic charm and the power of life,
and is a very ornamental artwork.
The marble Standing Angel Statue of the Four Seasons Goddess is a perfect artwork for decorating various indoor and
outdoor spaces. It can be placed in public places such as parks, squares, museums, buildings, etc. to increase the artistic
atmosphere and viewing value of the space. At the same time, it can also be placed in private spaces such as private
residences, villas, and gardens to enhance the aesthetic and decorative effects of the space. Whether placed in large
spaces or small private spaces, the marble sculpture of the Four Seasons Goddess can bring a unique artistic atmosphere
and viewing experience to the space.
The advantage of making marble sculptures of the Four Seasons Goddess is that marble is a very durable and beautiful
material with natural textures and textures, which can create very realistic and exquisite artworks. At the same time,
the hardness and stability of marble material also enable sculptures to maintain their original appearance for a long time,
unaffected by the environment and time, and have high collection value and decorative effect. During the production
process, sculptors can finely carve and polish according to their needs and design patterns, creating very exquisite and
unique artworks. Therefore, the marble sculpture of the Four Seasons Goddess has production advantages and is a very
precious and valuable artwork.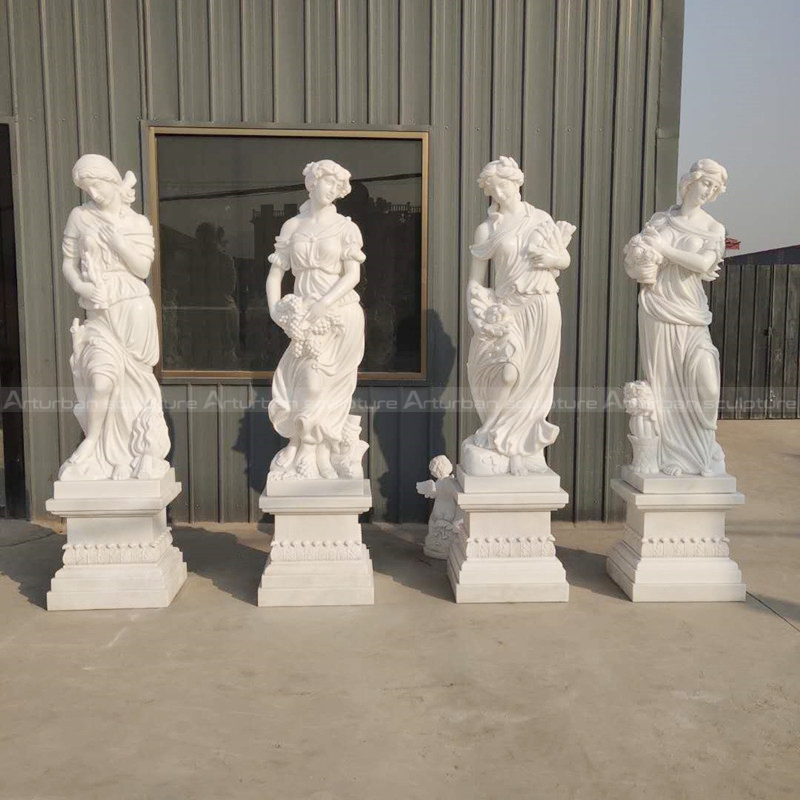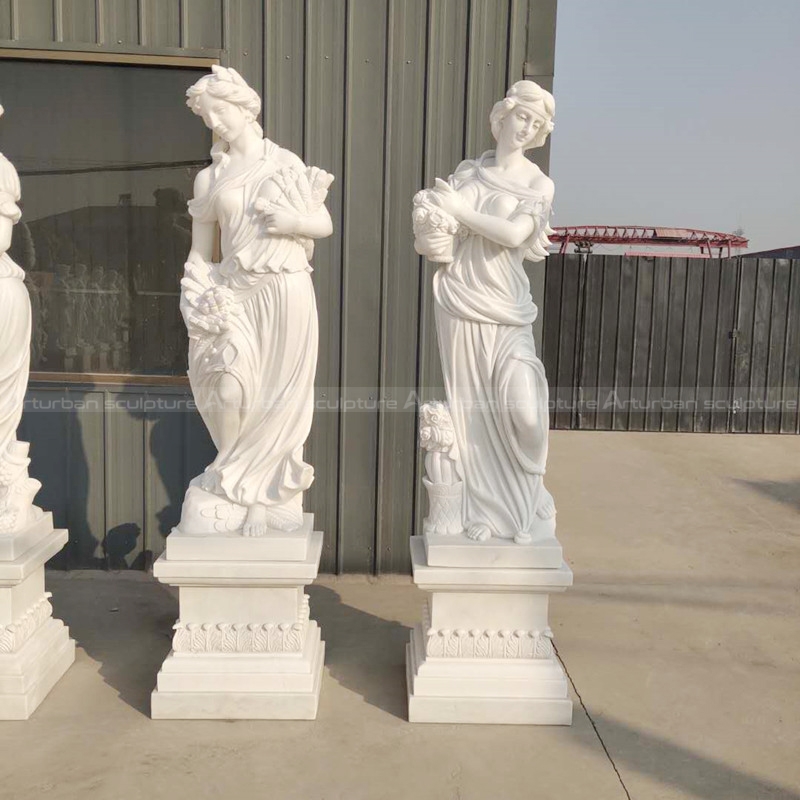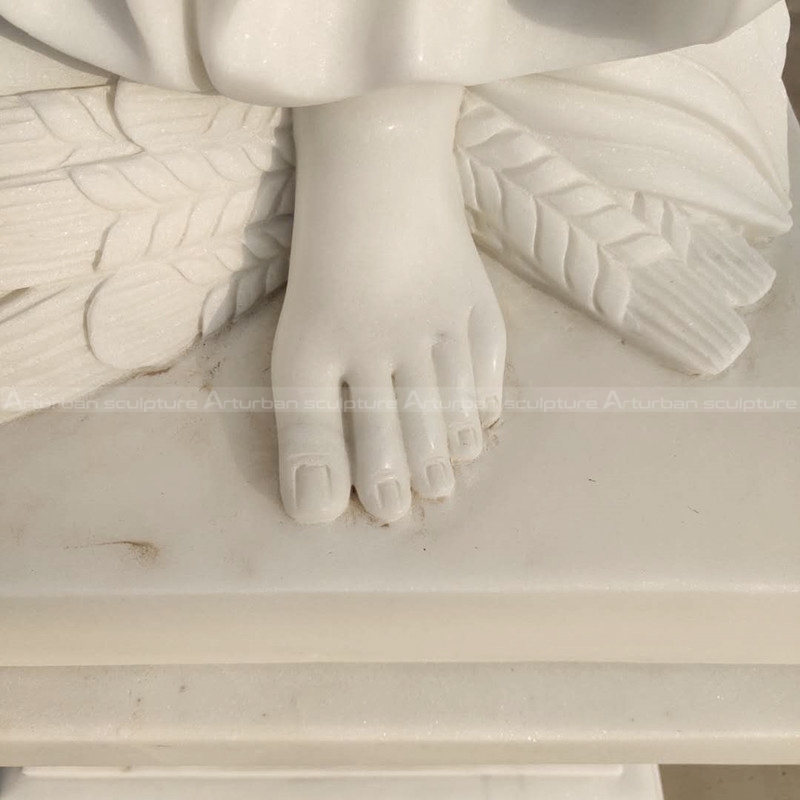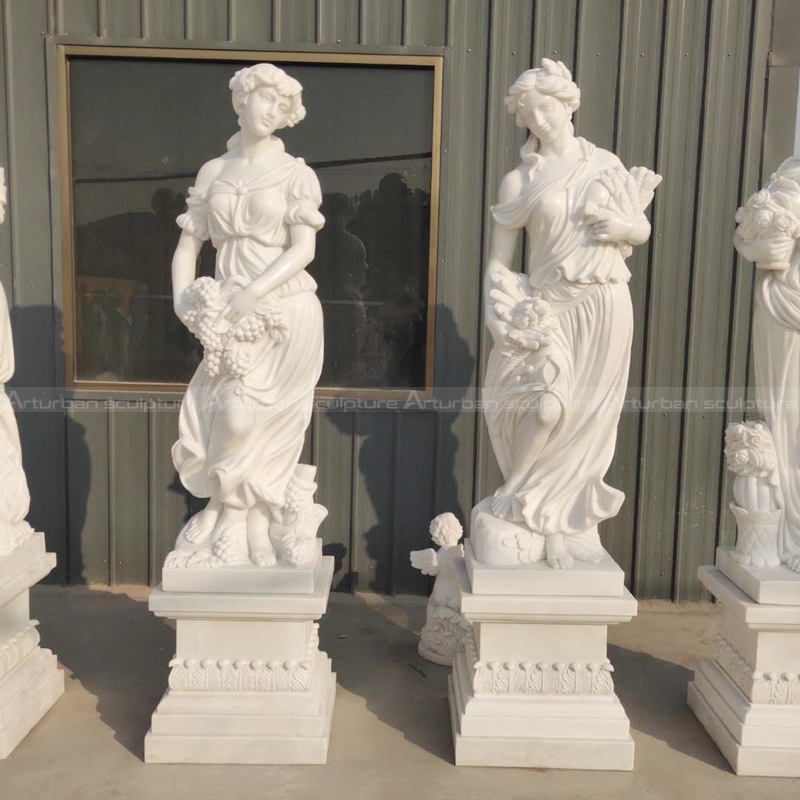 2. Production process of four seasons marble statues
Step1 Design Communication:  You supply us with several photographs with dimensions.
Step 2 Project Consultation: Our team will make a production plan, according to your design, budget, delivery time,
or any other service. Our final aim is to supply high quality and cost-saving   sculpture efficiently.
Step 3 Confirm Mold: We will make 1:1 clay or 3D mold,when finished clay mold,i will take photos for   your reference.
The clay mold can modify any details till to your satisfaction.
Step 4 Carving and Polish: We will carving with natural marble according to clay mold. Then polished.
Step 5 Package: Strong wooden crate with waterproof and shockproof foam inside.
Send us your requirements now, we will reply to your email within 24 hours