1. Introduction of stone cherub garden statue
Stone cherub garden statue is cherub on ball and popular among us. The little angel is regarded as the messenger of God and the link between heaven and earth. Little angels are children or infants with naive appearance, with a pair of lovely little wings on their back. In Christianity, it is also known as the cherub.
The sculptures of these little angels are made of natural Hunan white marble, each of which is very exquisite and lifelike. Some of them put their hands on their mouths as if they were shouting to their companions; or sit on the ball and rest; Some put their hands on their chin to show their lovely ; or lay lazily on their sides on the ball, holding their chin in one hand, thinking about important things. Little angels of different shapes decorate in schools, playgrounds, parks and courtyards, which will become a source of joy.
These stone cherub garden statue are made of high-quality white marble. The material is smooth and delicate. Our experienced sculptors carefully carve them. They pay attention to the depiction of expression and form. They depict the innocence and vivid image, the lovely limbs, delicate wings on the back and even every feather of the little angel. It also shows us very natural facial expressions and movements, presenting a lifelike image of a little angel, with smooth jade like skin and clear luster in the sun. If you like cherub garden oranments, you can contact us to customize various styles of marble sculpture for you.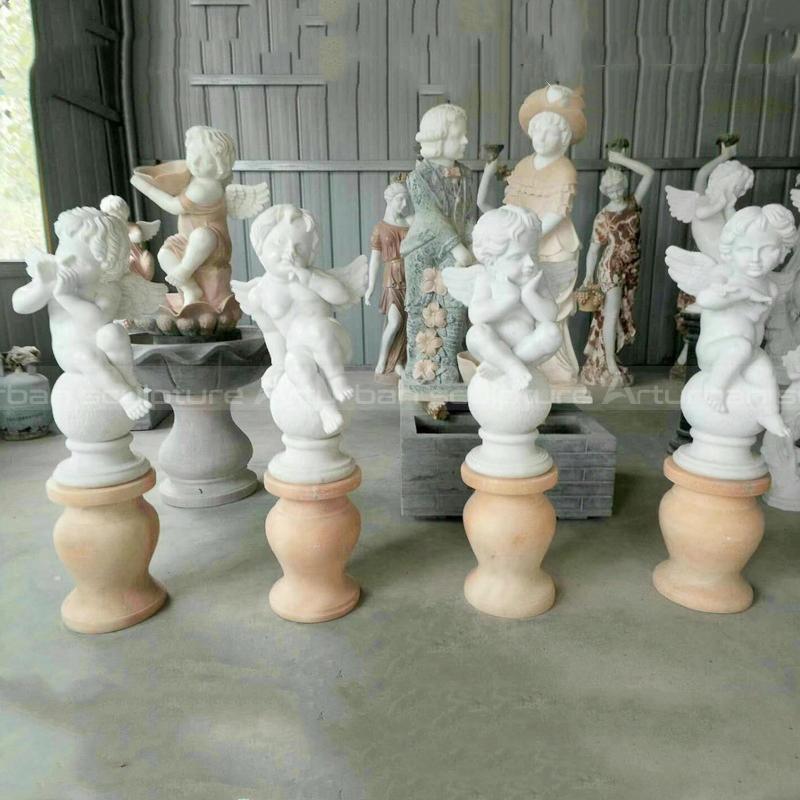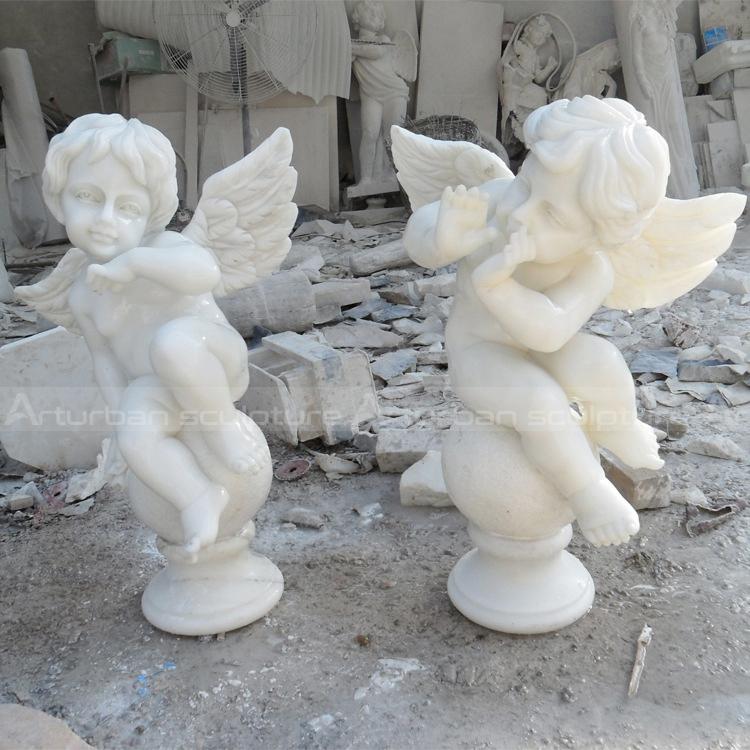 2. Production process of stone cherub garden statue
Step1 Design Communication:  You supply us with several photographs with dimensions.
Step 2 Project Consultation: Our team will make a production plan, according to your design, budget, delivery   time,  or any other service. Our final aim is to supply high quality and cost-saving   sculpture efficiently.
Step 3 Confirm Mold: We will make 1:1 clay or 3D mold,when finished clay mold,i will take photos for   your reference. The clay mold can modify any details till to your satisfaction.
Step 4 Carving and Polish: We will carving with natural marble according to clay mold. Then polished
Step 5 Package: Strong wooden crate with waterproof and shockproof foam inside
Send us your requirements now, we will reply to your email within 24 hours