1. Introduction of large buddha head
Large buddha head is a large-scale outdoor Buddha head sculpture. It looks very magnificent, as if the surrounding is shrouded in the light of Buddha with a quiet and peaceful atmosphere. This is a Buddha head sculpture of meditation. With low eyes meditating, we can feel the Zen and tranquility of this sculpture. The Buddha head statue is golden. Gold has always been an integral part of Buddhist mysticism. It symbolizes the sun or fire. In view of its connection with the sun, the gold in Buddhism represents knowledge, enlightenment, purity, happiness and freedom. His large head represents his extraordinary wisdom.
This large buddha head is made devout Buddhist believers. We use high-quality bronze material to make it by the traditional wax loss method. For large-scale sculptures, we divide the sculpture into multiple parts and finally the install them, which can not only make the sculpture more convenient for transportation, but also protect the details of the sculpture to the greatest extent. This golden Buddha head sculpture needs very exquisite sculpture skills, which can accurately divide the sculpture into multiple parts. At the same time, it needs to be closely fitted during re installation to ensure the perfect installation of the sculpture. We have many large-scale sculpture production experience, which can perfectly fit the sculpture production and show the most beautiful sculpture image.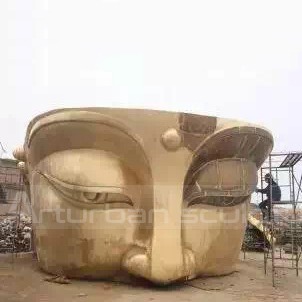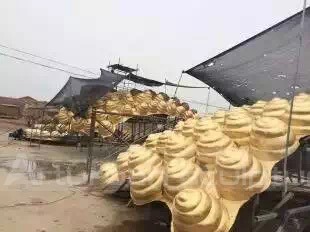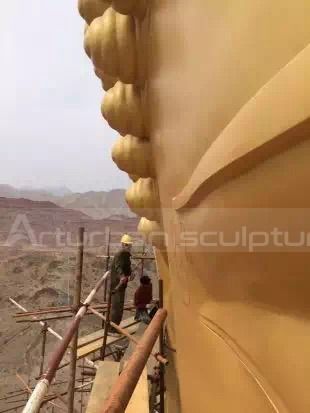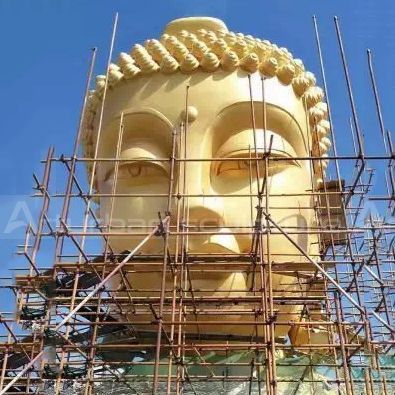 2.Production of process of large buddha head
My artist will make 1:1 clay mold, when finished clay mold,  we will take photos for your reference, the clay mold can modify any details till you're satisfied with it, then we go ahead to make statue, when finished statue, also we will take photos for your reference, after you're satisfied with all, I will arrange packing and shipment. Arturban sculpture can make large buddha statue in bronze, marble, fiberglass, stainless steel. Our team will make a production plan, according to your design, budget, delivery time, or any other service. Our final aim is to supply high quality and cost-saving sculpture efficiently.
Send us your requirements now, we will reply to your email within 24 hours