1.Introduction of black bull statue
This is a bronze black bull statue. It adopt a walking posture, which can well demonstrate the strength and
muscle lines of the bull. The sculptor meticulously designed the body and limbs of the bull, striving to showcase
its momentum and sense of strength while running. In addition, the details of the sculpture are also very delicate,
such as the eyes, horns, and nostrils of the bull, which can be reproduced very realistically.
Bronze Life Size Bull Sculpture is a powerful and aesthetically pleasing artwork, with a prominent decorative effect.
It can be used to decorate public places such as parks, squares, museums, etc., and can also be used for private
collections. It has historical and cultural significance, can reflect certain cultural values, and can also be appreciated
and appreciated as a work of art. In commercial venues, bronze bull sculptures can also become a symbol of the
brand for promotion and promotion. Overall, bronze bull sculpture, with its unique decorative function, brings
people the enjoyment of beauty and cultural influence.
The advantage of making bronze bull sculptures mainly lies in the characteristics of bronze materials. Bronze is a
very stable and corrosion-resistant metal that can maintain its color and brightness for a long time. In addition,
bronze has a certain degree of ductility and toughness, making it easy to machine into various shapes. This characteristic
makes bronze a very suitable material for making sculptures, capable of producing various exquisite forms.
In short, bronze bull sculpture, as a cultural artwork, has both ornamental value and the ability to beautify the environment.
Its exquisite craftsmanship and material characteristics have made bronze bull sculpture a leader in sculpture art and
widely welcomed.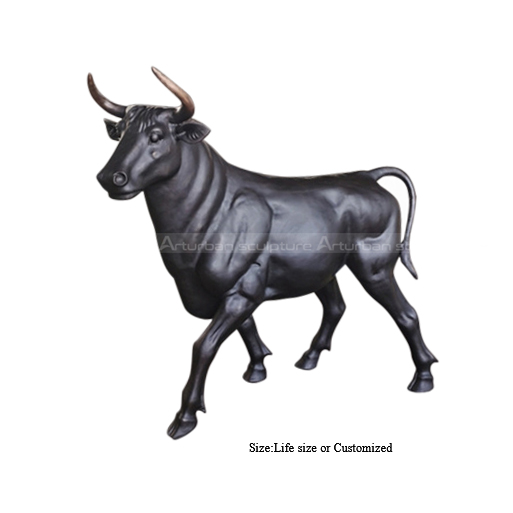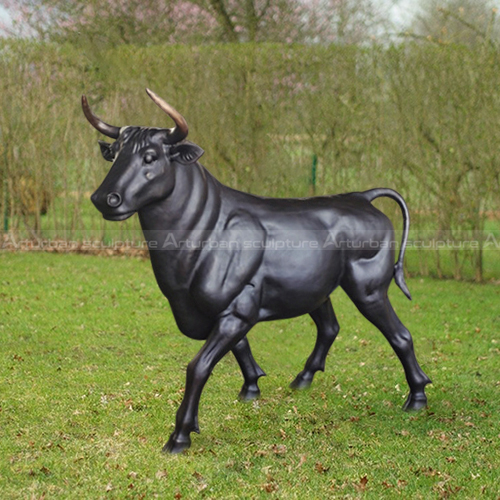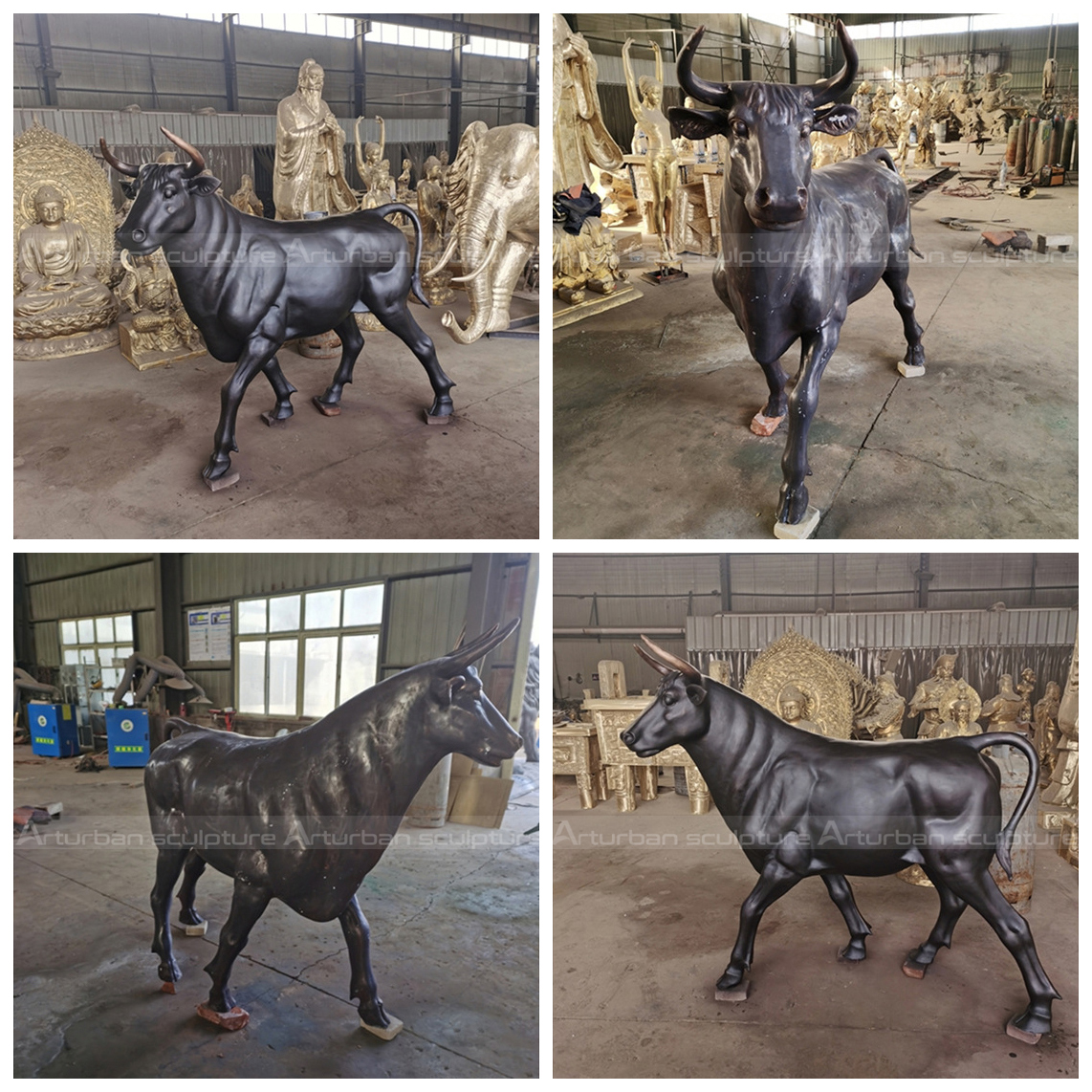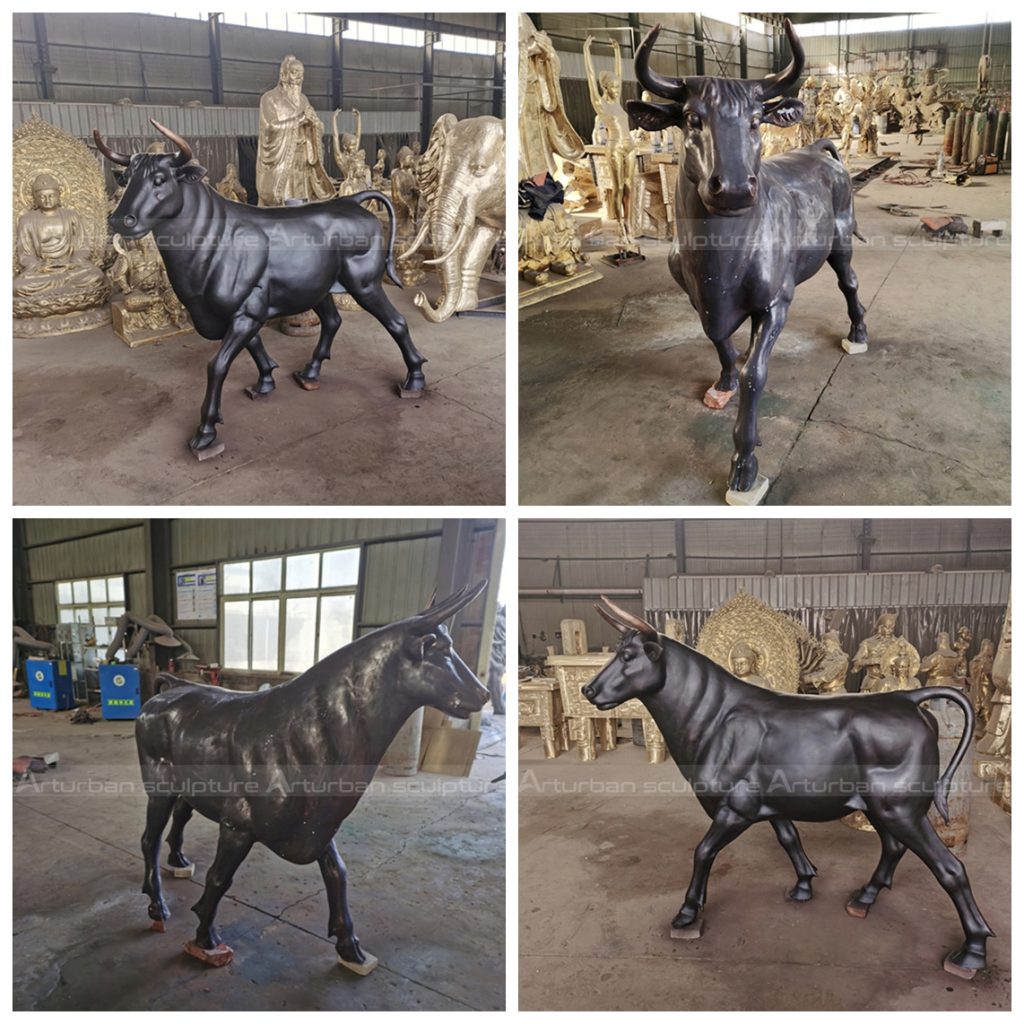 2. Production Process of black bull statue
My artist will make 1:1 clay mold. When finished clay mold,  we will take photos for your reference. The clay mold can modify any details till to your satisfactions with it. Then we go ahead to make statue. When finished statue, also we will take photos for your reference. After your satisfactions, I will arrange packing and shipment. Arturban sculpture can make large bull statue in bronze, marble, fiberglass, stainless steel. Our team will make a production plan, according to your design, budget, delivery time, or any other service. Our final aim is to supply high quality and cost-saving sculpture efficiently.
Send us your requirements now, we will reply to your email within 24 hours