1. Introduction of devil tempts jesus sculpture
Devil tempts jesus sculpture is one of the many scenes describing the life of Jesus. He sat
there quietly with his feet in one direction and his eyes in the other direction. From his eyes, he was
curious about the beautiful and fashionable figure nearby, and was fascinated by the golden crown
hanging in front of him. However, his staff was tightly held, which indicates that he was nervous,
perhaps because he was afraid that his hand would unconsciously grasp the crown. From his posture,
it was obvious that Jesus felt himself being pulled in different directions. This sculpture is the
temptation of Christ. After being baptized by John the Baptist, Jesus fasted for forty days and forty
nights in the desert of Judah and was tempted by the devil. Satan came to Jesus and tried to tempts
him. Jesus rejected all temptations and Satan left.
This sculpture very vividly depicts the image of Jesus resisting temptation in front of Satan and
refused various temptations. This sculpture is vivid in shape, depicting the image of the characters
vividly, and depicting the movements, phenotypes, textures of clothes and other details of the
characters vividly, as if the sculpture had life. We only use gold plating on the surface of the sculpture.
The golden luster looks very sacred. If it is in outdoors, it will attract everyone's attention and
become a focus.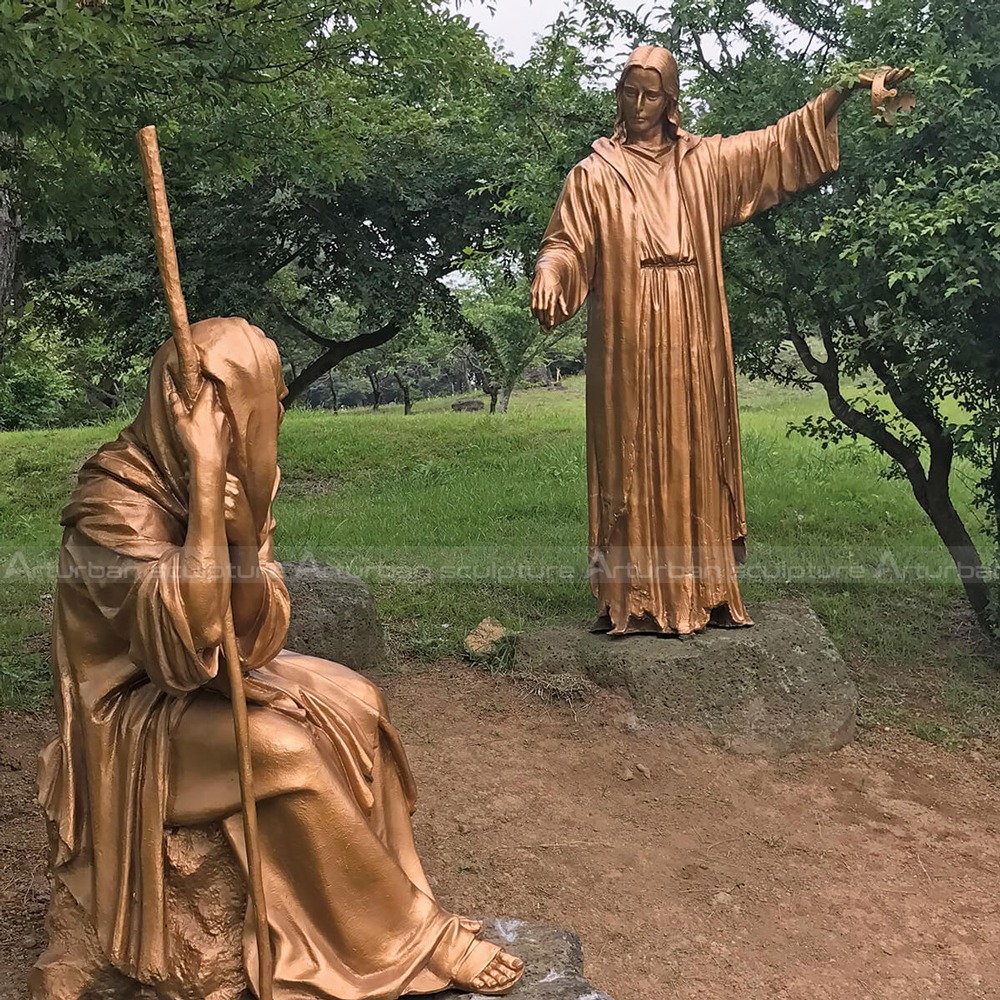 2. Production process of devil tempts jesus
My artist will make 1:1 clay mold, when finished clay mold,  we will take photos for your reference.
The clay mold can modify any details till you're satisfng with it. Then we go ahead to make statue.
When finished statue, also we will take photos for your reference. After you are satisfying with all,
I will arrange packing and shipment. Arturban sculpture can make large christian statue in bronze,
marble, fiberglass, stainless steel. Our team will make a production plan, according to your design,
budget, delivery time, or any other service. Our final aim is to supply high quality and cost-saving
sculpture efficiently.
Send us your requirements now, we will reply to your email within 24 hours