1. Introduction of holy family sculpture
Holy family sculpture is life size. The Virgin Mary was betrothed to Joseph. When she did not
marry Mary, the angel Bacary appeared and announced that she would be pregnant by the Holy
Spirit. The son of God would be born and named Jesus. He would save the people from their
sins. From Joseph wanted to repent at first to receiving the guidance of angels, to be worship at
present all are guided by God. Here Joseph knelt on one knee, holding a notebook and pen in
both hands, and stared at every look of Jesus as if to record every detail of the son of God.
While his wife Maria held the infant Jesus in her arms, looked at him tenderly with both eyes,
put one hand around him and breast fed him. Her face was full of maternal love. The long golden
hair on her head shows her elegance. The blue robe shows the dress of an ordinary woman. The
statue is made of brass, and the bright yellow color is the light of the family's sense of mission.
The sacred family sculpture has always been a very popular religious sculpture. The warm family
life scene is a very happy sculpture full of religious atmosphere on any occasion. We have rich
experience in the production of character sculpture and pay attention to details. Our master can
vividly depict the shape, movement and soft texture of the characters. We have adopted advanced
coloring methods to color. With rich colors, the image of the characters is fuller and full of vitality.
If you are looking for high-quality figure sculpture or religious sculpture, you can always contact us
for more details.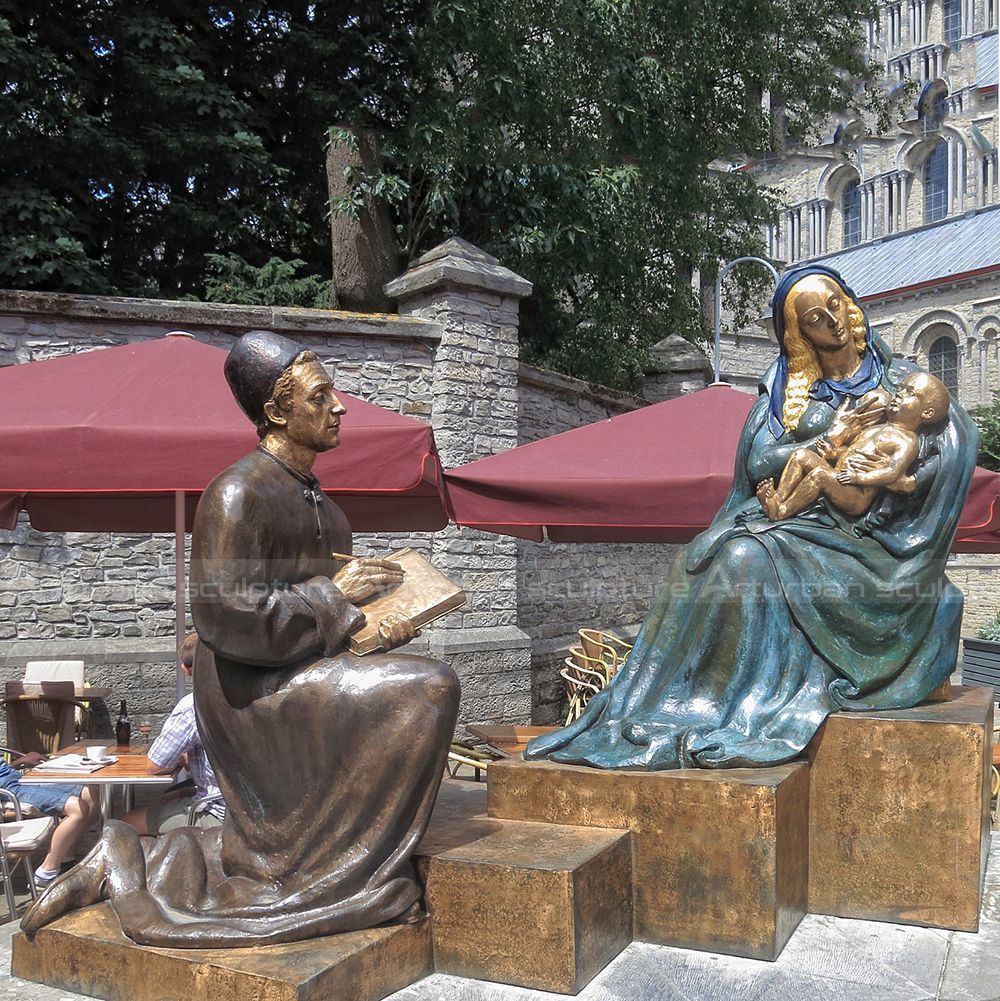 2. Production process of holy family sculpture
My artist will make 1:1 clay mold, when finished clay mold,  we will take photos for your reference.
The clay mold can modify any details till you're satisfying with it. Then we go ahead to make statue.
When finished statue, also we will take photos for your reference. After you are satisfying with all, I
will arrange packing and shipment. Arturban sculpture can make large mary statue in bronze, marble,
fiberglass, stainless steel. Our team will make a production plan, according to your design, budget,
delivery time, or any other service. Our final aim is to supply high quality and cost-saving sculpture
efficiently.
Send us your requirements now, we will reply to your email within 24 hours