1. Introduction of holy family statues for sale
Holy family statues for sale is a very interesting decorative art sculpture. It depicts the Virgin Mary and her husband
holding the child straight, as they gaze at the little Jesus with warmth and affection. The Virgin Mary is elegant and gentle,
and the little Jesus reflects the cuteness and innocence of the child. The entire sculpture, through meticulous depiction,
showcases the vivid image and religious connotations of the Virgin Mary's family of three, with high ornamental and
artistic value.
Holy Family Statue Outdoor can be used for decoration in homes and public places. Its elegant image and unique design
style can add a warm and artistic atmosphere to the indoor space, creating a peaceful and beautiful atmosphere. In religious
places such as churches and chapels, this sculpture also plays an important decorative role, allowing believers to express
their reverence and respect for the three members of the Virgin Mary family more devoutly. In short, sculpture not only
has ornamental value, but also can bring beautiful inspiration and feelings to our lives and beliefs.
The production of marble sculptures adopts high-quality marble materials, which have the characteristics of hardness,
fire resistance, wear resistance, compression resistance, and waterproofing, ensuring the long-term preservation and
durability of the sculptures. At the same time, marble materials also have the characteristics of delicate texture, elegant
color, and beautiful patterns, making sculptures have very high ornamental and artistic value. In addition, marble materials
can also withstand the weight of large sculptures and complex design, meeting the needs of sculpture production. Therefore,
it is stable and durable. These advantages make the mermaid fountain sculpture more satisfying in terms of decoration and
appreciation.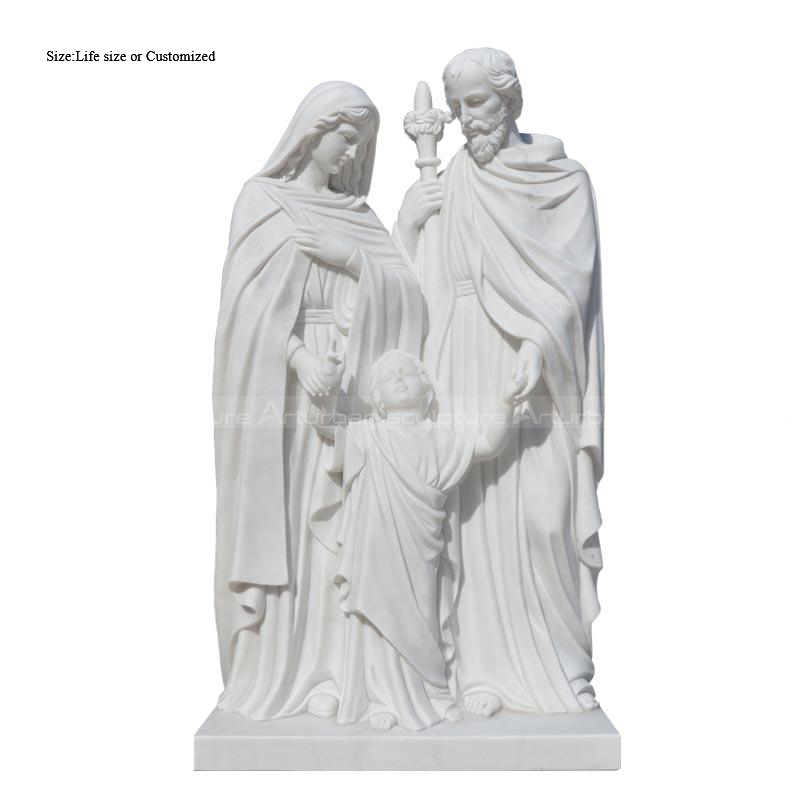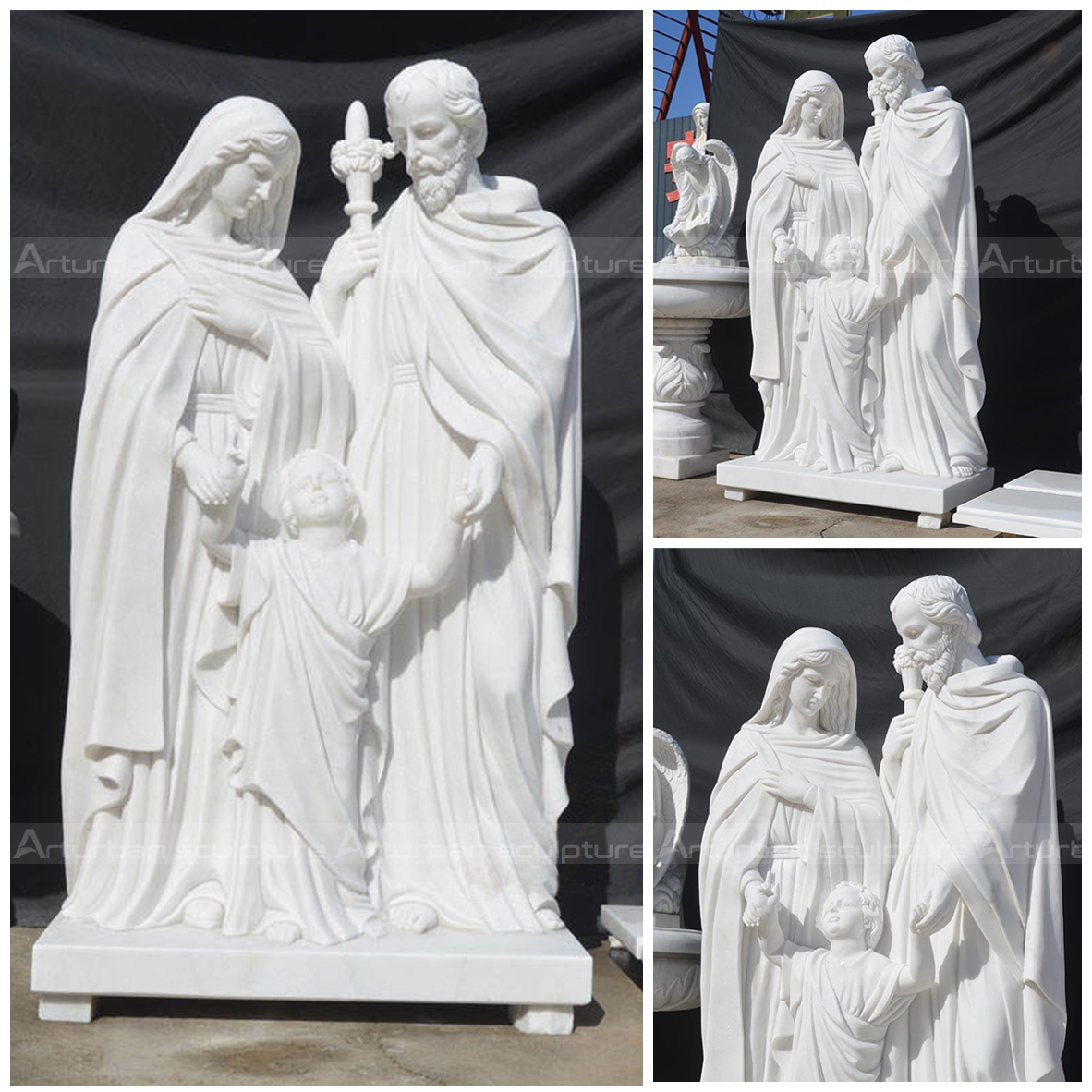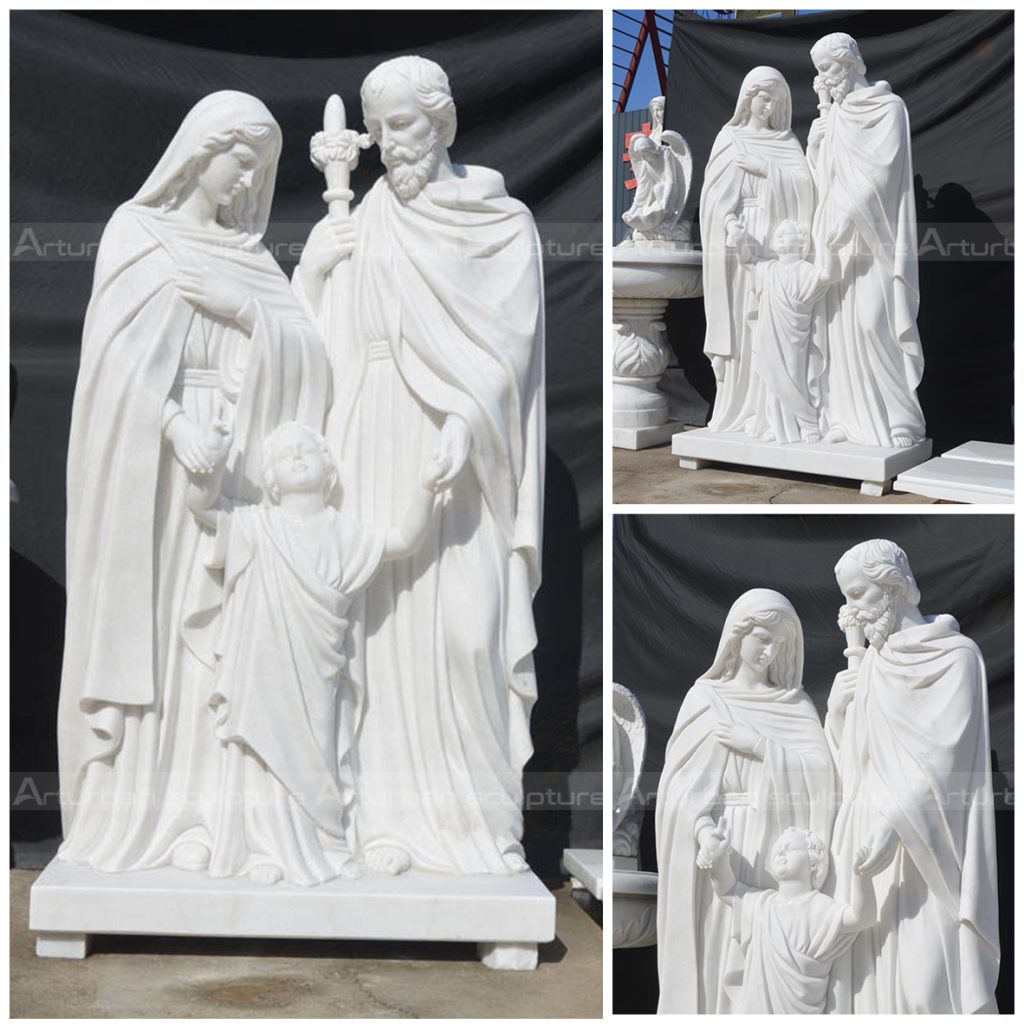 2. Production process of holy family statues for sale
Step1 Design Communication:  You supply us with several photographs with dimensions.
Step 2 Project Consultation: Our team will make a production plan, according to your design, budget, delivery   time,  or any other service.
Our final aim is to supply high quality and cost-saving   sculpture efficiently.
Step 3 Confirm Mold: We will make 1:1 clay or 3D mold,when finished clay mold,i will take photos for   your reference, the clay mold can modify
any details till you're satisfied with it
Step 4 Carving and Polish: We will carving with natural marble according to clay mold. Then polished
Step 5 Package: Strong wooden crate with waterproof and shockproof foam inside
Send us your requirements now, we will reply to your email within 24 hours