1. Introduction of Holy Trinity Statue
This statue is a very famous bronze holy trinity statue. Many churches or outdoors will
customize this Trinity statue to show the relationship between the father, the son and the Holy
Spirit. The statue of the Trinity is made of stone and gold bronze. The scattered golden strips
above are like the sun, with a bird in the middle. On both sides of the sphere below are sons with
crosses and fathers with scepters. The whole Trinity pillar statue is glittering with religious
brilliance in the sun. The statue of the Holy Trinity, Christian doctrine, says that there is only one
God, but it includes three personalities: the father, the son Jesus Christ, and the Holy Spirit.
Although their personalities are different, they are essentially the same. They are all admired,
respected and eternal.
The Holy Trinity ststue is a very classic sculpture image and is used as decoration in various places.
Although the details of the sculpture will be different, the meaning of the sculpture will not change.
We use the traditional wax loss method to make the bronze statue, which can not only retain the
original image and details, but also make the surface smoother and the action and expression more
lifelike and vivid. The gilding coloring method not only makes the sculpture more sacred, but also
makes the glittering sculpture more attractive to people. We also have a variety of materials to make
various religious sculptures. We support customized sizes and shapes. If you are interested in religious
sculptures or you are a devout believer, you can contact us at any time for more details.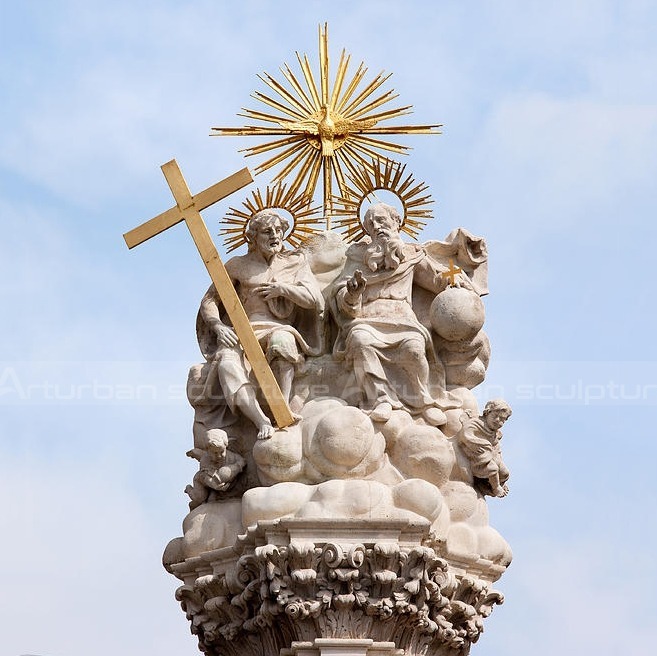 2. Production process of Holy Trinity Statue
My artist will make 1:1 clay mold, when finished clay mold,  we will take photos for your reference.
The clay mold can modify any details till you're satisfying with it. Then we go ahead to make statue.
When finished statue, also we will take photos for your reference. After you are satisfying with all, I
will arrange packing and shipment. Arturban sculpture can make large mary statue in bronze, marble,
fiberglass, stainless steel. Our team will make a production plan, according to your design, budget,
delivery time, or any other service. Our final aim is to supply high quality and cost-saving sculpture
efficiently.
Send us your requirements now, we will reply to your email within 24 hours