1. Introduction of life size jesus on the cross
Life size jesus on the cross is the eleventh stop of the fourteenth stop of Jesus' crucifixion. Jesus
was crucified. There they crucified him and nailed him on the cross. Pilate also wrote a name on the
sign and put it on the cross. It said Jesus of Nazareth, the king of the Jews. Crucifixion was the
capital punishment at that time. When the nail penetrated both hands and feet, the pain was
unimaginable. What is more unimaginable is that at such a moment of injustice, torture, humiliation
and pain, what Jesus thought in his mind was not hatred and revenge, but forgiveness and blessing,
handing over and entrusting. Jesus was nailed to the cross to complete his mission of coming into the
world. His words, deeds and every move in the world have brought a far-reaching impact. The cross,
originally the cruelest instrument of torture and the most humiliating sign, has become a symbol of
glory and salvation because of Jesus.
This life size jesus on the cross is cast by the wax loss casting method, which maximizes the image and
details of the sculpture and ensures that all the details of the sculpture can be well reflected. Therefore,
we have a very strict sculpture requests to ensure the highest quality of sculpture. This sacred religious
sculpture is a very classic sculpture placed outdoors on various occasions. The vivid religious sculpture
makes us full of respect and mourning for Jesus. We also support the production of various religious
sculptures. If you want to have a perfect religious sculpture, you can contact us at any time.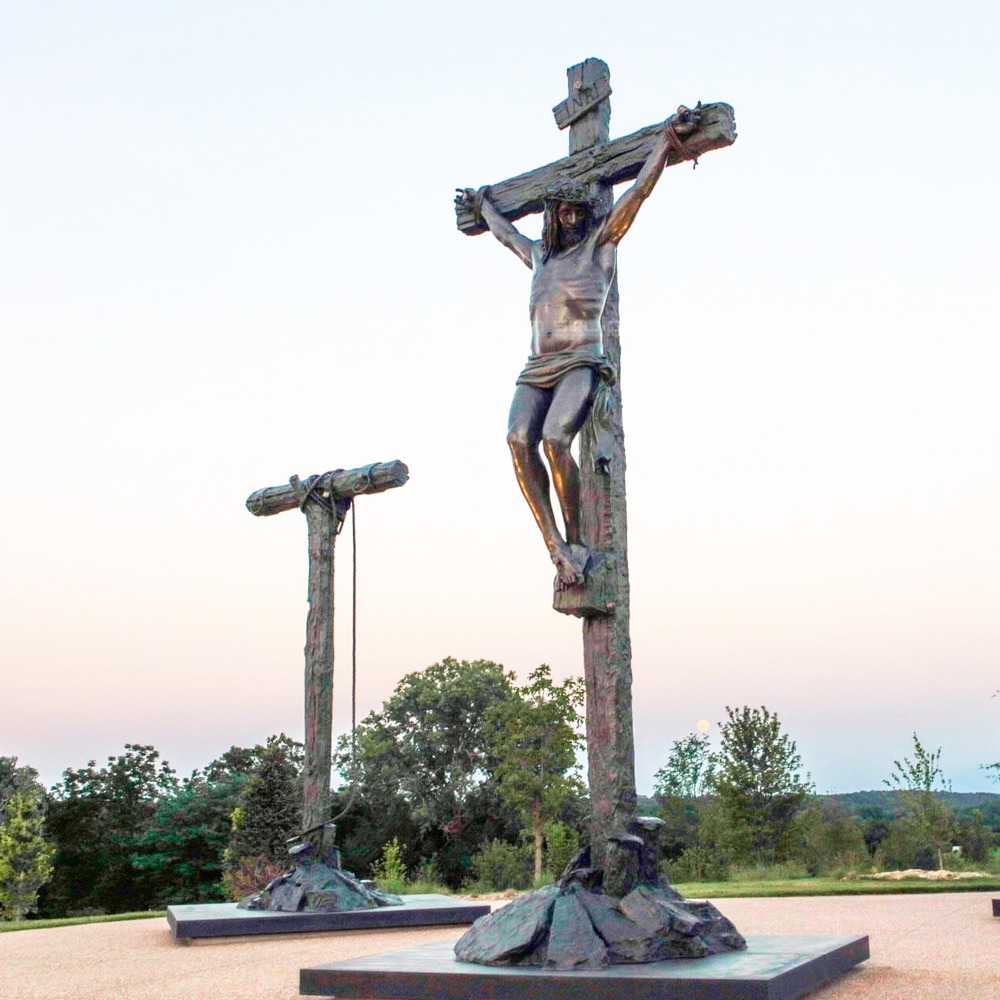 2. Production process of life size jesus on the cross
My artist will make 1:1 clay mold, when finished clay mold,  we will take photos for your reference.
The clay mold can modify any details till you're satisfng with it. Then we go ahead to make statue.
When finished statue, also we will take photos for your reference. After you are satisfying with all,
I will arrange packing and shipment. Arturban sculpture can make large christian statue in bronze,
marble, fiberglass, stainless steel. Our team will make a production plan, according to your design,
budget, delivery time, or any other service. Our final aim is to supply high quality and cost-saving
sculpture efficiently.
Send us your requirements now, we will reply to your email within 24 hours