1. Introduction of michelangelo sculpture pieta
This sculpture is a classic michelangelo sculpture pieta. It is also Michelangelo's masterpiece.
The theme of the story is from the Bible, which depicts the grief of the Virgin Mary when she
holds the crucified Christ. Christ lies between the knees of the virgin with a scar on his ribs.
His head hangs back and his right arm rests on the right knee of the virgin. The virgin looks
very young. She is wearing a robe and cloak, with her left hand stretched back and her right
hand holding Christ. Contrary to tradition, Michelangelo depicts the virgin as a young girl.
The composition adopts a pyramid. The robe not only sets off the outline, but also reconciles
the conflict between the beauty of composition and the actual proportion. It shows very
perfect religious sculpture works.
This sculpture is a bronze sculpture of Pieta Madonna created by our sculptor based on the
form of Michelangelo's sculpture. We have a very vivid image of Jesus' lifeless image and
Mary's sad look and actions. It seems that in front of you are classic sculptures created by
great art masters. We use high-quality bronze materials for production. The surface is
smooth and delicate, and the shape is very perfect. Whether you put it in a church or a
garden, it is a very perfect art sculpture. If you are looking for high-quality bronze sculptures,
you can always contact us for more details.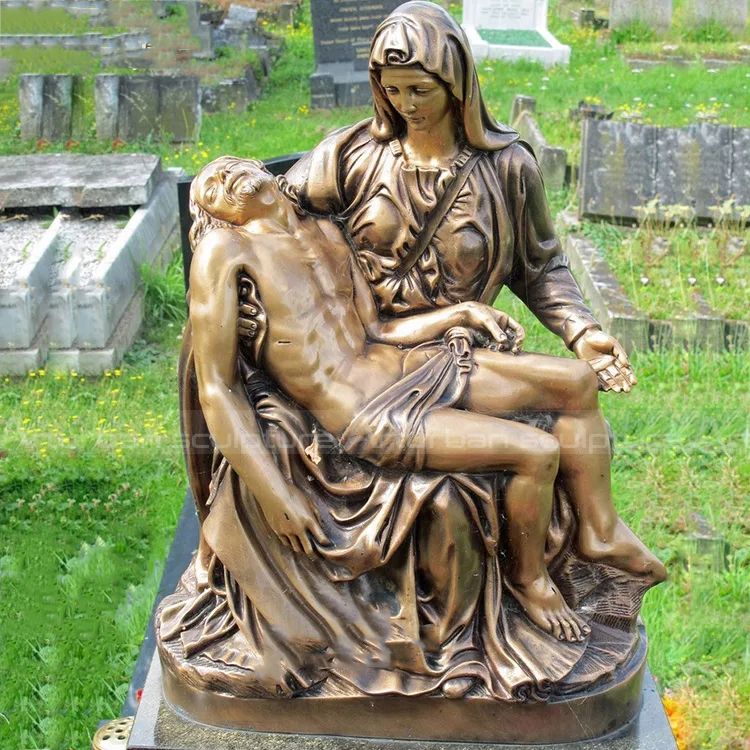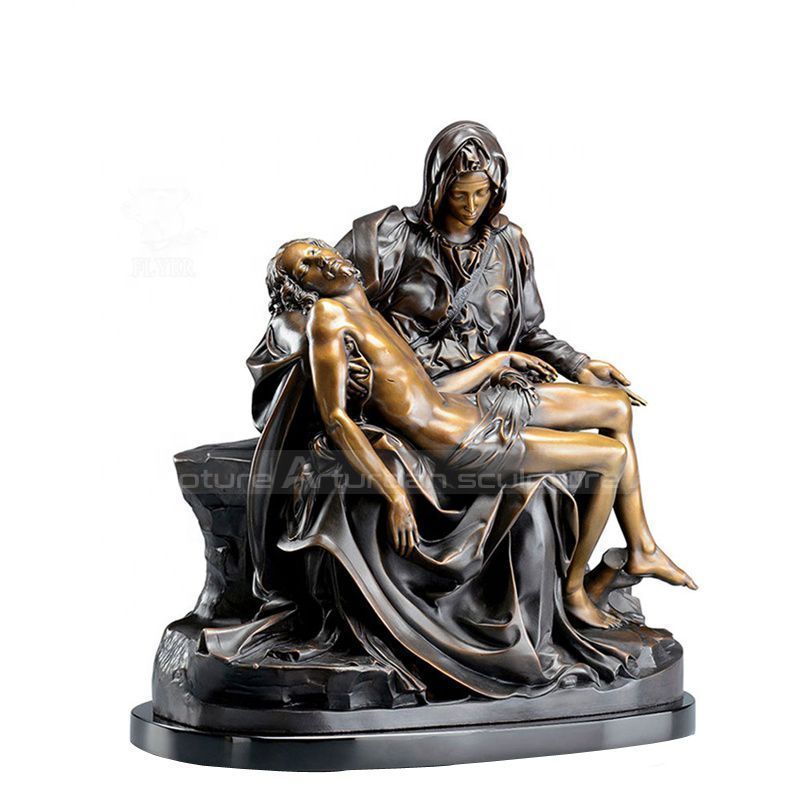 2. Production process of michelangelo sculpture pieta
My artist will make 1:1 clay mold, when finished clay mold,  we will take photos for your reference.
The clay mold can modify any details till you're satisfying with it. Then we go ahead to make statue.
When finished statue, also we will take photos for your reference. After you are satisfying with all,
I will arrange packing and shipment. Arturban sculpture can make large christian statue in bronze,
marble, fiberglass, stainless steel. Our team will make a production plan, according to your design,
budget, delivery time, or any other service. Our final aim is to supply high quality and cost-saving
sculpture efficiently.
Send us your requirements now, we will reply to your email within 24 hours