1. Introduction of missionary statue
This missionary statue is a very classic religious sculpture. It is a sculpture of St. Cyril and
Medodius located in the Pejorsk Monastery in Kiev. Cyril and Medot were famous missionaries of
the Eastern Roman Empire. While spreading the orthodox Christianity, they both made great
contributions to the invention of Cyrillic alphabet. They were both canonized by the Catholic Church
and the Orthodox Church, and were called "Saint Cyril and Saint Medot". There is a halo on their
heads, representing their sacred status after making contributions to people. One of them is holding
alphabetic paper, the other is holding thick book, and they are seriously explaining the main points
of knowledge for people.
The two wise Christian missionaries in the sculpture, wearing robes and bushy beards, show the
image of the wise old man. They explain carefully and their actions and expressions are lifelike. We
all want to join the audience. Our factory use high-quality bronze materials to make it. The classic
characters and rich character details depict the sculpture image vividly. If you need such an
exquisite religious sculpture as the decoration of the church or courtyard. You can contact us for
more detailed information.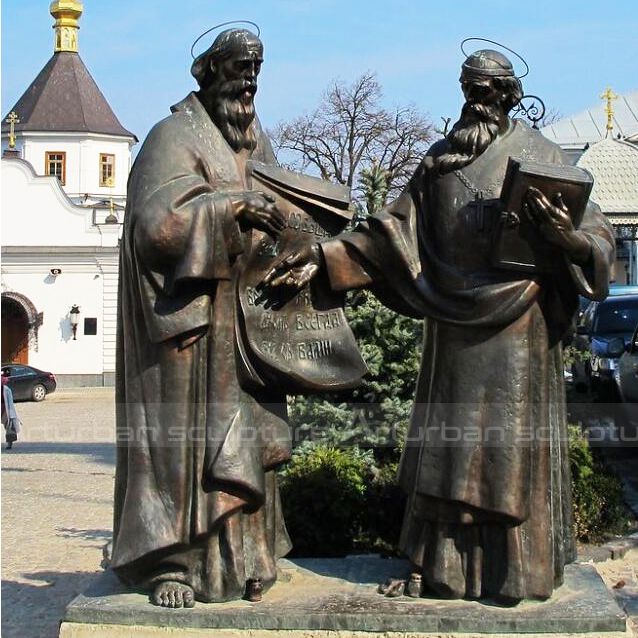 2. Production process of missionary statue
My artist will make 1:1 clay mold, when finished clay mold,  we will take photos for your reference.
The clay mold can modify any details till you're satisfng with it. Then we go ahead to make statue.
When finished statue, also we will take photos for your reference. After you are satisfying with all,
I will arrange packing and shipment. Arturban sculpture can make large christian statue in bronze,
marble, fiberglass, stainless steel. Our team will make a production plan, according to your design,
budget, delivery time, or any other service. Our final aim is to supply high quality and cost-saving
sculpture efficiently.
Send us your requirements now, we will reply to your email within 24 hours