1. Introduction of saint teresa sculpture
Saint teresa sculpture is very realistic. Blessed Teresa of Calcutta is a world-renowned Catholic charity worker who primarily
serves the poor in Kolkata, India. He was awarded the Nobel Peace Prize in 1979 for his lifelong commitment to poverty eradication.
Bronze Mother Teresa Sculpture is a form of sculpture with profound religious significance and artistic value. The appearance of bronze
Christian sculptures is characterized by solemnity and solemnity. Sculptors use exquisite carving techniques to depict the image and
characteristics of sculptures.
Bronze Christian sculptures have significant decorative significance. These sculptures are usually used for the decoration of Christian
places such as churches, churches, monasteries, etc. They not only add a solemn and sacred atmosphere to the space, but also inspire
the piety and reverence of believers. Bronze Christian sculpture, as an exquisite artwork, not only has religious significance, but also
becomes an object of appreciation and admiration for people.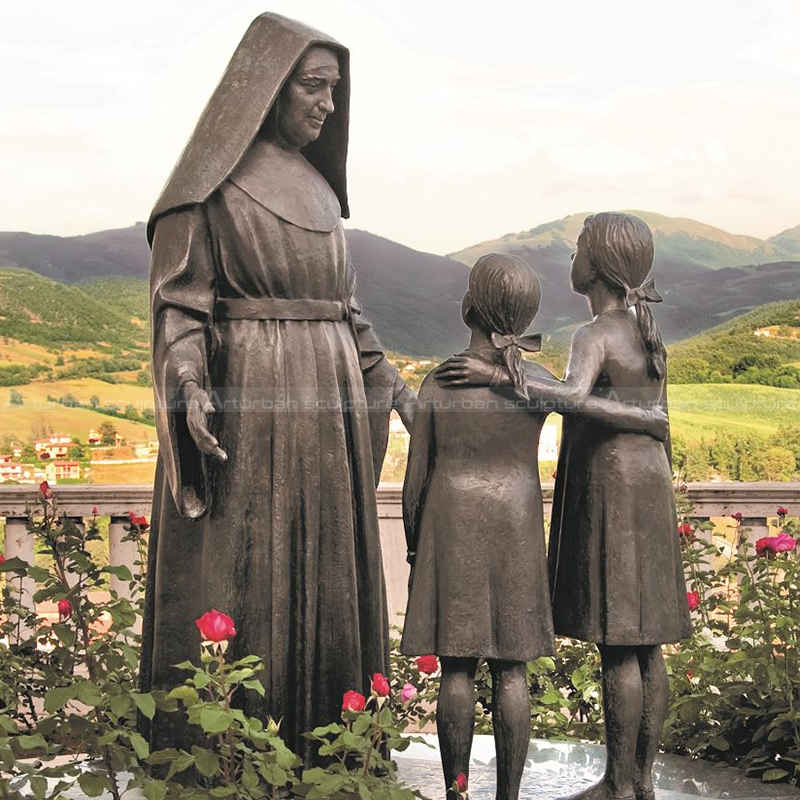 2. Production process of saint teresa sculpture
My artist will make 1:1 clay mold, when finished clay mold,  we will take photos for your reference.
The clay mold can modify any details till you're satisfng with it. Then we go ahead to make statue.
When finished statue, also we will take photos for your reference. After you are satisfying with all,
I will arrange packing and shipment. Arturban sculpture can make large christian statue in bronze,
marble, fiberglass, stainless steel. Our team will make a production plan, according to your design,
budget, delivery time, or any other service. Our final aim is to supply high quality and cost-saving
sculpture efficiently.
Send us your requirements now, we will reply to your email within 24 hours