1.Introduction of brass deer statue for sale
The brass deer statue for sale is very unique and interesting. Three deer stand on the rock. They stand majestically and elegantly,
with different postures and high postures. The deer's body presents smooth curves and fine muscle textures, exuding strength and
beauty. Their horns are towering, sharp and powerful, showcasing the majesty and power of deer. The deer's gaze gazed into the
distance, as if gazing at the unknown world, giving people a charming and mysterious feeling. The entire sculpture showcases the
vivid image of deer and the beauty of nature through exquisite details and exquisite carving techniques. This bronze deer sculpture
showcases the artist's inspiration and creativity towards nature, providing people with a space for aesthetic enjoyment and contemplation.
BronzeLife Size Deer Sculpture, as decorative objects, can add a natural and wild beauty to indoor or outdoor spaces. Its unique image
and exquisite craftsmanship attract people's attention, becoming a highlight and focal point in the space. Bronze material endows
sculptures with a noble temperament and durability, which can withstand the test of time and decorate the environment for a long time.
At the same time, as a symbol, deer represent strength, freedom, and agility, and their image can bring positive emotions and meaning to
people. The advantage of production lies in the plasticity of bronze materials, allowing artists to accurately express the details and lines of
deer, and depict elegant and vivid images. In addition, the durability and antioxidant properties of bronze enable sculptures to be displayed
in indoor or outdoor environments for a long time, maintaining their artistic quality and ornamental value.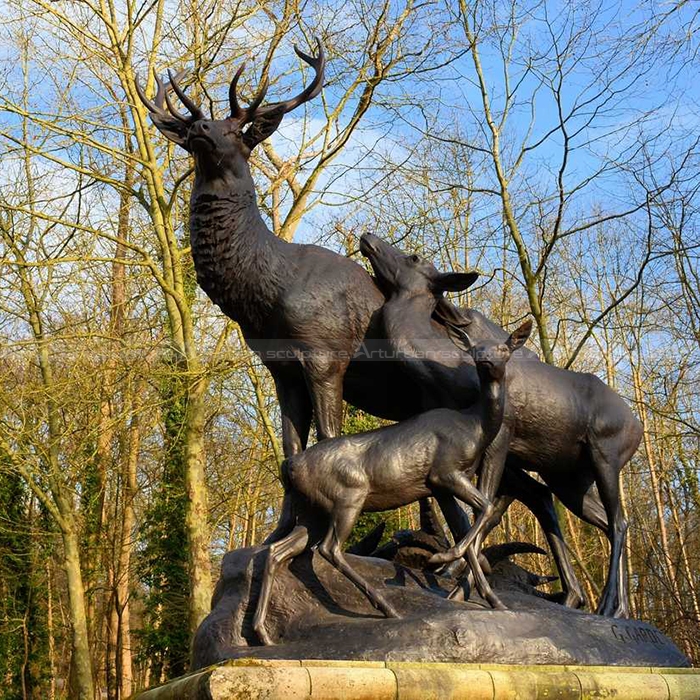 2. Production Process of brass deer statue for sale
My artist will make 1:1 clay mold. When finished clay mold,  we will take photos for your reference. The clay mold can modify
any details till to your satisfactions with it. Then we go ahead to make statue. When finished statue, also we will take photos
for your reference, after your satisfactions, I will arrange packing and shipment. Arturban sculpture can make large deer statue
in bronze, marble, fiberglass, stainless steel. Our team will make a production plan, according to your design, budget, delivery
time, or any other service. Our final aim is to supply high quality and cost-saving sculpture efficiently.
Send us your requirements now, we will reply to your email within 24 hours