1. Introduction of geometric dog sculpture
This is a geometric dog sculpture. The body of the sculpture is composed of geometric shapes, with smooth and lively lines. The dog sat on
the ground, with a straight body and a dignified posture. Its pointed ears and nose reveal a sense of alertness and liveliness. The surface of
the sculpture is smooth and textured, reflecting the surrounding light, adding a sense of modernity and fashion. The geometric dog sculpture
presents the characteristics of animals in a minimalist form, giving people a sense of modern and abstract beauty. It not only serves as a
decoration, but also conveys symbols of vitality, friendliness, and loyalty, becoming a unique presence in the space.
The use of fiberglass material in Life Size Dog Statues has the features of being lightweight and sturdy, making the production process of sculptures
more flexible and convenient. Fiberglass materials have excellent plasticity and can be molded into various geometric shapes, creating unique
and intricate sculptural details. In addition, fiberglass materials also have weather resistance and corrosion resistance, allowing sculptures to
maintain their original appearance and color for a long time in both indoor and outdoor environments. Sculpture, through its lightweight
appearance and modern design, brings a fashionable and unique decorative effect to the space, becoming an eye-catching artwork. During the
production process, the plasticity and durability of fiberglass materials provide artists with a vast creative space and guarantee, allowing sculptures
to showcase delicate textures and exquisite craftsmanship, making them a beloved artwork for people.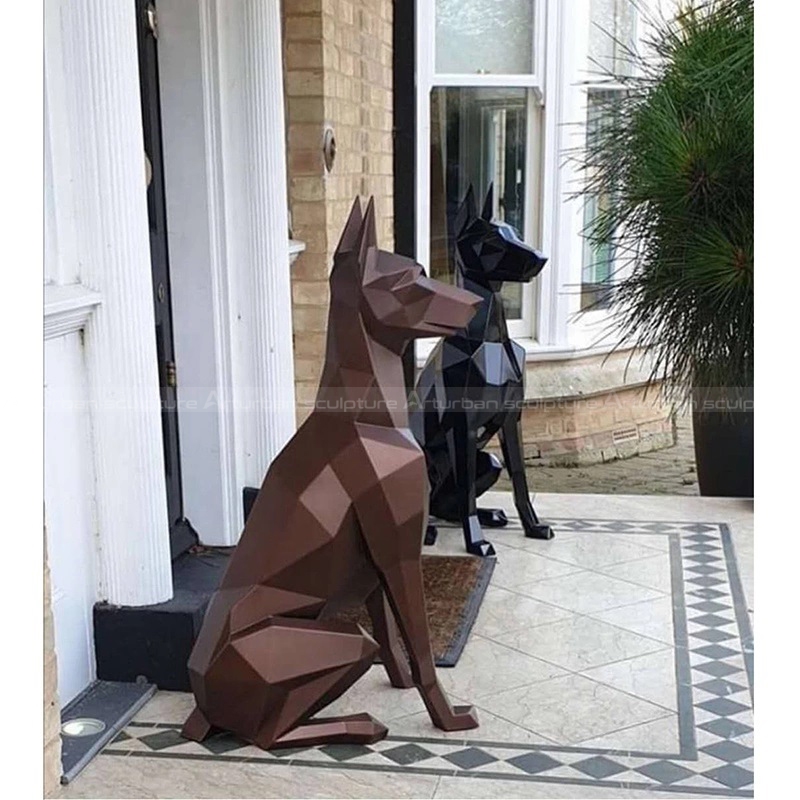 2. Production process of geometric dog sculpture
Step1 Design Communication:  You supply us with several photographs with dimensions.
Step 2 Project Consultation: Our team will make a production plan, according to your design, budget, delivery   time,  or any other service. Our
final aim is to supply high quality and cost-saving   sculpture efficiently.
Step 3 Confirm Mold: We will make 1:1 clay or 3D mold,when finished clay mold,i will take photos for   your reference. The clay mold can modify
any details till to your satisfaction.
Step 4 Carving and Polish: We will carving with natural marble according to clay mold. Then polished.
Step 5 Package: Strong wooden crate with waterproof and shockproof foam inside.
Send us your requirements now, we will reply to your email within 24 hours