1.Introduction of fiberglass horse statue
This fiberglass horse statue is creative. It is very realistic, with its front legs raised high, as if ready to embark on a
journey at any time. Its posture is very beautiful, with its entire body in a walking state, and its smooth lines make people
involuntarily think of its speed and strength. The horse's mouth slightly opened, as if breathing fresh air, making people
feel its vitality. The hair and legs on the horse are carefully painted, and the black gradient effect gives the statue a more
three-dimensional and artistic feel.
Fiberglass large white horse statue can be placed in various indoor or outdoor places, such as parks, gardens, courtyards,
squares, shopping malls, museums, exhibition halls, etc. It can be used as a landscape decoration to enhance the beauty
of the place, and can also serve as a cultural artwork to showcase human creativity and aesthetic level. At the same time,
it is also a great gift, which can be used as a gift for horse enthusiasts or collectors.
Fiberglass reinforced plastic material has the advantages of lightweight, high strength, corrosion resistance, good weather
resistance, and flexible processing methods, which can be made into statues of various shapes. Compared to traditional
materials such as stone and metal, making fiberglass statues is not only more cost-effective, but also has better durability
and aesthetics. In addition, fiberglass materials are less susceptible to pollution and damage, and maintenance is also more
convenient. Therefore, the advantage of making a fiberglass white horse statue is that it can present a realistic appearance
and movement, while also having high durability and easy maintenance.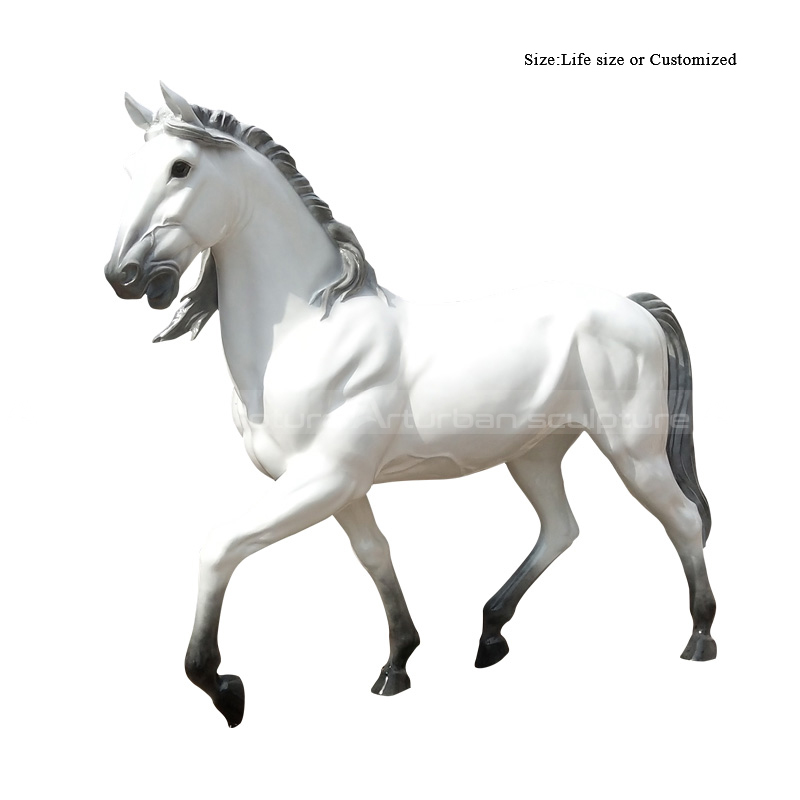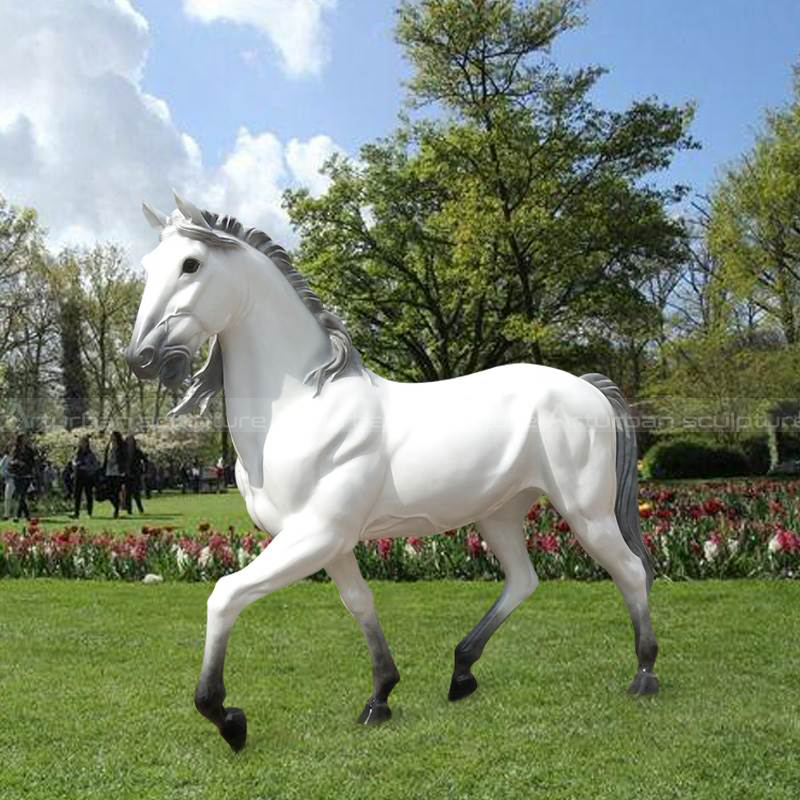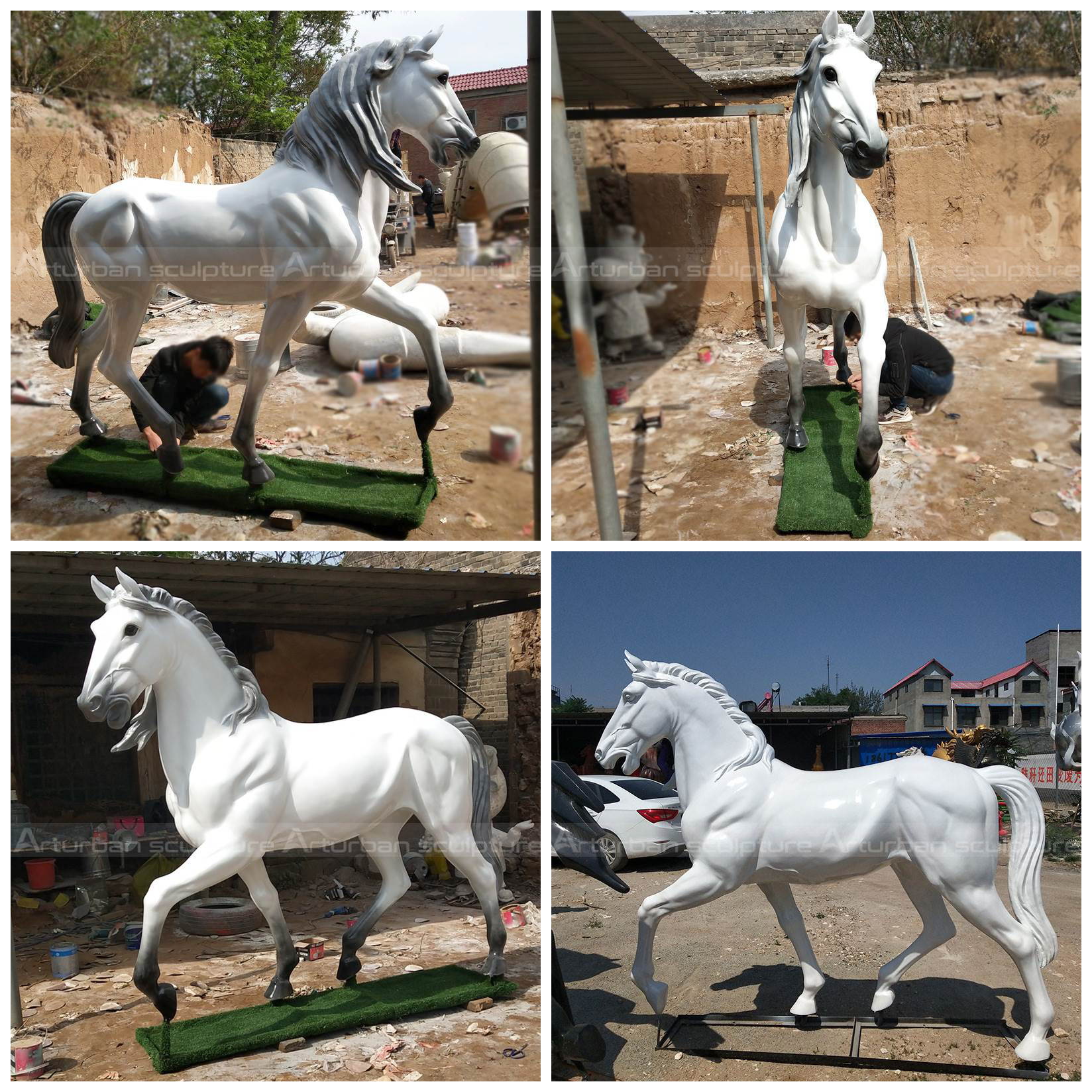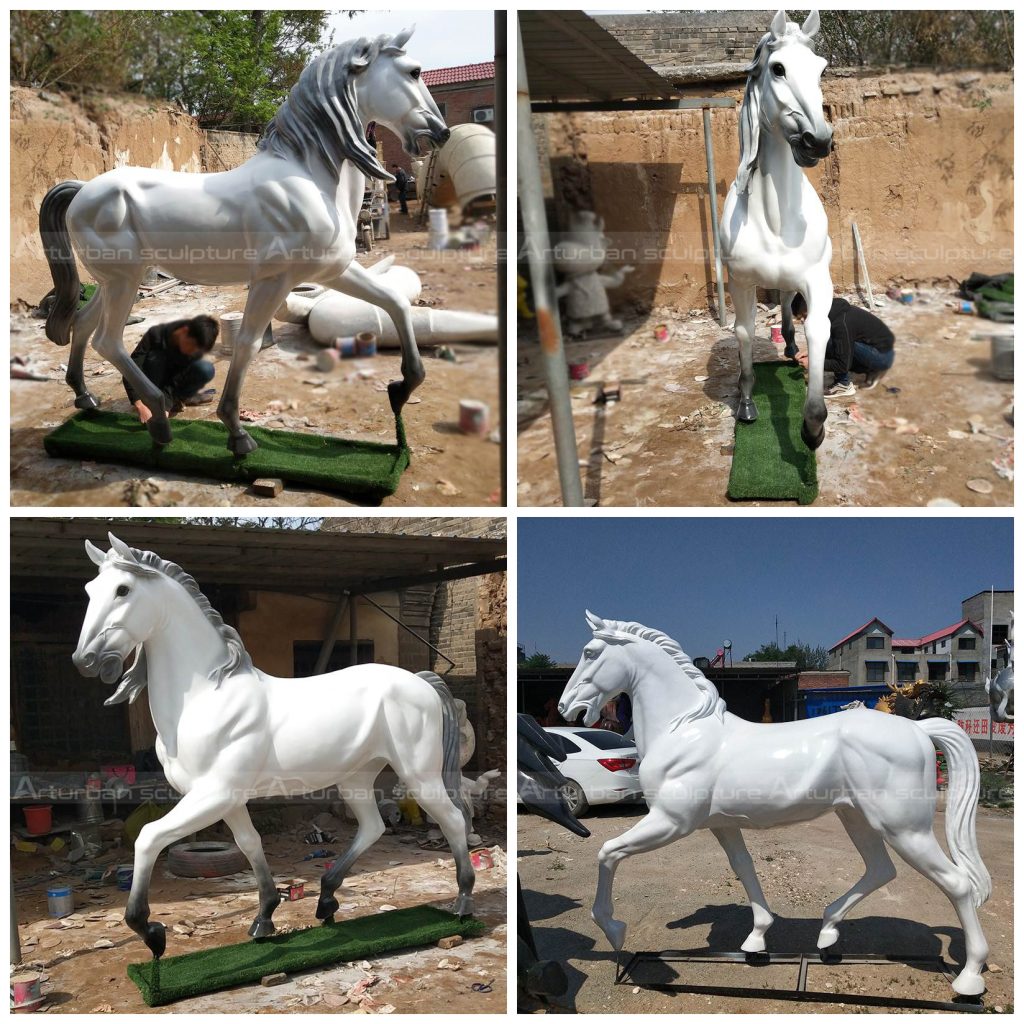 2. Production Process of fiberglass horse statue
Step1 Design Communication:  You supply us with several photographs with dimensions.
Step 2 Project Consultation: Our team will make a production plan, according to your design, budget,
delivery  time,  or any other service. Our final aim is to supply high quality and cost-saving   sculpture efficiently.
Step 3 Confirm Mold: We will make 1:1 clay or 3D mold,when finished clay mold,i will take photos for your
reference. The clay mold can modify any details till to your satisfaction.
Step 4 Carving and Polish: We will carving with natural marble according to clay mold. Then polished.
Step 5 Package: Strong wooden crate with waterproof and shockproof foam inside.
Send us your requirements now, we will reply to your email within 24 hours