1.Introduction of garden horse sculpture
The garden horse sculpture is very realistic. The lifting of one front leg of this bronze horse showcases its graceful movement.
It perfectly portrays the majestic posture of a horse, with its entire body and limbs full of strength and elegance. The horse's
eyes are bright, its ears lean forward, and its hair follows its body in a delicate and delicate manner. Each muscle line is vividly
depicted, revealing a combination of strength and beauty. The carving of this sculpture is exquisite and very realistic, making
people want to touch the delicate hair and muscle lines. It showcases the elegance, strength, and beauty of a horse, even in a
stationary state, one can feel its speed and sensitivity.
This Outdoor Bronze Horse Statue can be used for decoration in outdoor gardens or city squares, adding a sense of beauty and elegance
to the environment. Bronze horse sculptures can also be used for decoration in commercial places, such as hotel lobbies, high-end
office buildings, conference rooms, etc., creating a high-end and elegant atmosphere for these places.
The advantage of making bronze horse sculptures is their durability and aesthetics. Bronze is a sturdy and durable metal that can
withstand various climatic and environmental tests. Bronze sculptures can withstand years of wind and rain without losing their
luster. Moreover, the production process of bronze horse sculptures requires professional craftsmanship, including multiple steps
such as carving, casting, and painting. Therefore, the production of bronze horse sculptures is difficult and requires skilled craftsmen
to complete.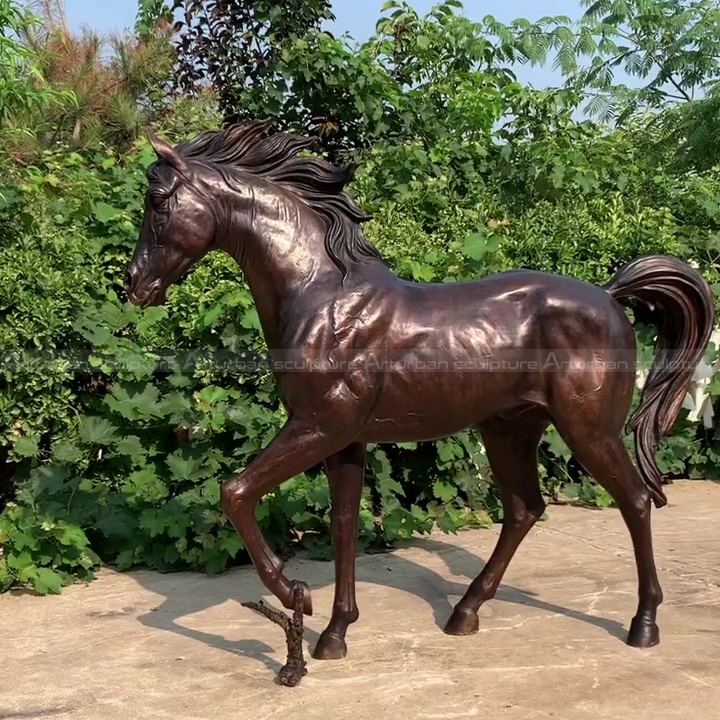 2. Production Process of garden horse sculpture
My artist will make 1:1 clay mold, when finished clay mold,  we will take photos for your reference, the clay mold can
modify any details till to your satisfaction with it. Then we go ahead to make statue, when finished statue, also we will
take photos for your reference, after your satisfaction, I will arrange packing and shipment. Arturban sculpture can
make large horse statue in bronze, marble, fiberglass, stainless steel. Our team will make a production plan, according
to your design, budget, delivery time, or any other service. Our final aim is to supply high quality and cost-saving sculpture
efficiently.
Send us your requirements now, we will reply to your email within 24 hours