1.Introduction of lion statue marble
This is the lion statue marble. It depicts a lion squatting on a pedestal, with a stable and powerful body posture, and muscular
lines highlighting its majestic posture. Its facial expression is serious and dignified, and its eyes are sparkling, revealing confidence
and authority. The lion's mane is meticulously carved, presenting a magnificent and three-dimensional texture. Each hair is clearly
visible, adding realism and texture to the sculpture. The smooth texture of marble gives the lion sculpture an elegant atmosphere,
making it even more eye-catching. The entire sculpture presents exquisite carving techniques and artistic details, showcasing the
sculptor's in-depth observation and unique creativity towards the lion image.
Marble Lion Front Door Statues are often placed in courtyards, parks, squares and entrances to luxury buildings for decoration. Its
majestic and solemn image can add momentum and luxury to the venue. In the courtyard, lion sculptures can serve as the focal point
of the garden, complementing the flowers and plants. In parks or squares, it can become a place for people to rest, bringing strength
and a sense of security to people. At the entrance of luxury buildings, lion sculptures can symbolize authority and dignity, welcoming
visitors.
The advantage of marble lion sculpture lies in its material characteristics. Marble is hard and durable, able to resist the erosion of time
and natural environment, making sculptures have long-term preservation and ornamental value. At the same time, the texture of marble
is delicate and smooth, making it easy to carve out detailed textures and exquisite details, giving the lion sculpture a more realistic appearance.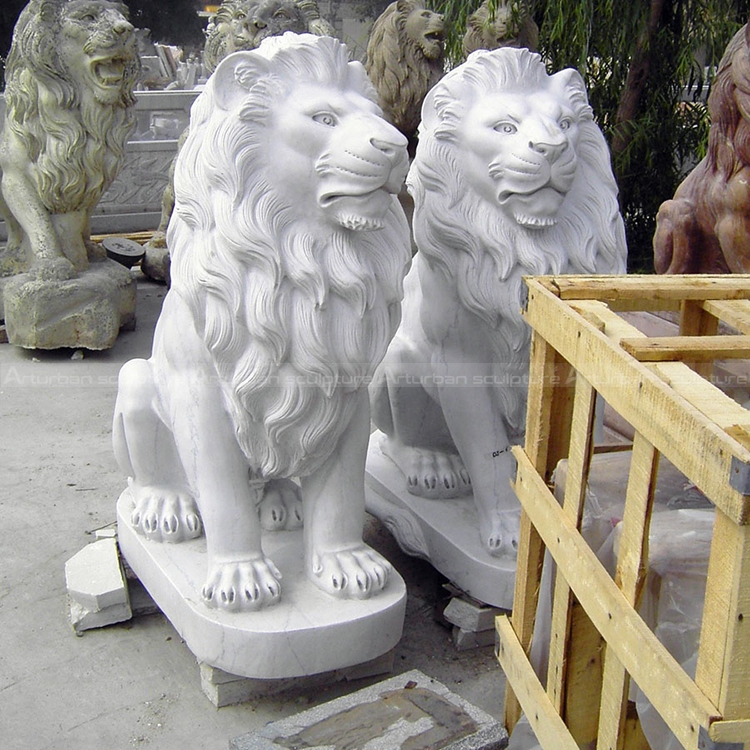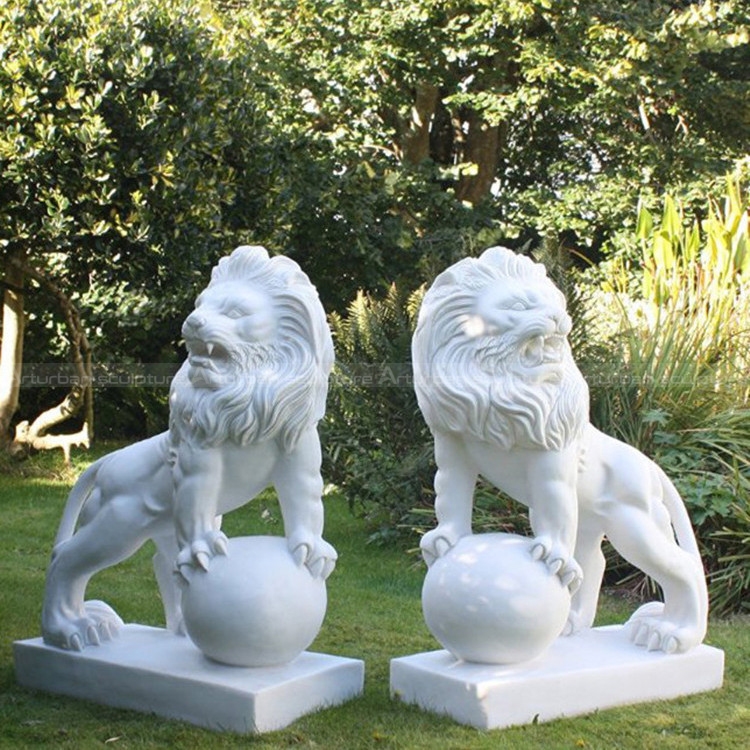 2. Production Process
Step1 Design Communication:  You supply us with several photographs with dimensions.
Step 2 Project Consultation: Our team will make a production plan, according to your design, budget, delivery
time,  or any other service. Our final aim is to supply high quality and cost-saving   sculpture efficiently.
Step 3 Confirm Mold: We will make 1:1 clay or 3D mold,when finished clay mold,i will take photos for
your reference. The clay mold can modify any details till to your satisfaction.
Step 4 Carving and Polish: We will carving with natural marble according to clay mold. Then polished.
Step 5 Package: Strong wooden crate with waterproof and shockproof foam inside.
Send us your requirements now, we will reply to your email within 24 hours