1.Introduction of stone fu dog statues
This is the stone fu dog statues. The guardian lion of China is named Fu dog or Foo dog
by some Westerners. Some people think that these stone lions are similar to chow dogs,
and began to call them dogs rather than lions. Fu dog placed inside or outside the building
is designed to protect your home or workplace from negative energy. What we show is a
female fu dog with a paw on its cub. There is also a small fu dog lying on the back of the
female dog, eager to play with his mother. This thick happy time of mother and son is not
only interesting, but also has the meaning of protection. She protects everything in the family
or house, and protects people who live or work in the house. And the male dog's paw on the
hydrangea symbolizes unlimited power.
China's guardian lion not only has a very auspicious meaning, but also has a very unique
appearance, so that people can distinguish its uniqueness at a glance. This stone fu dog statues
has a raised texture on its head, exquisite shape, and traditional Chinese artistic color. It wears a
bell in front of its body and a tassel with exquisite patterns on its neck, which is very interesting.
These guard lions often appear in pairs, and are often used in front of family doors to decorate
and guard family entrances. We can not only use marble to build, but also use bronze materials
to shape. Put it in front of your door or on both sides of the driveway, not only to protect your family,
but also to decorate your appearance and make your house more elegant.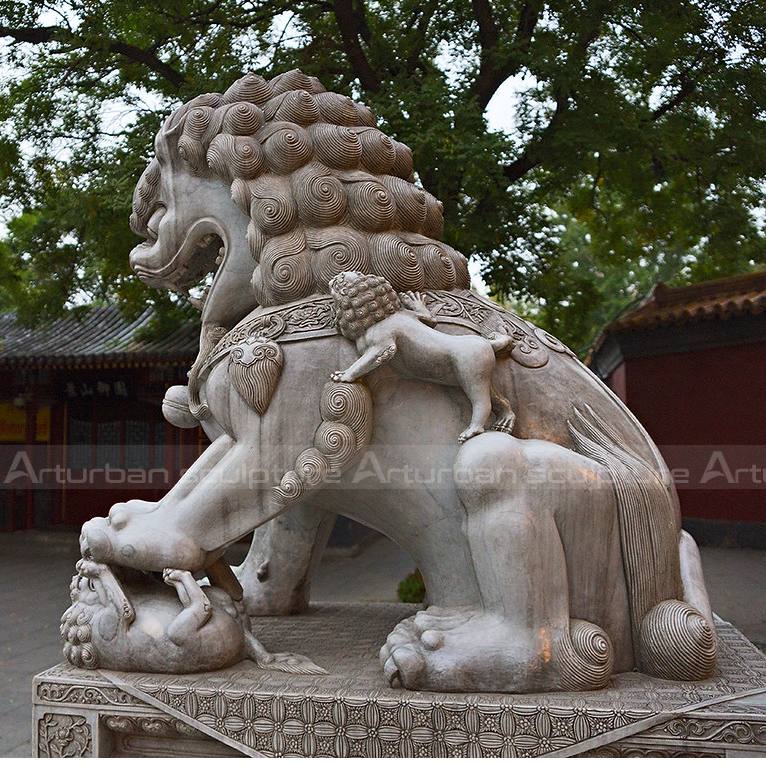 2. Production Process
Step1 Design Communication:  You supply us with several photographs with dimensions.
Step 2 Project Consultation: Our team will make a production plan, according to your design, budget, delivery
time,  or any other service. Our final aim is to supply high quality and cost-saving   sculpture efficiently.
Step 3 Confirm Mold: We will make 1:1 clay or 3D mold,when finished clay mold,i will take photos for
your reference. The clay mold can modify any details till to your satisfaction.
Step 4 Carving and Polish: We will carving with natural marble according to clay mold. Then polished.
Step 5 Package: Strong wooden crate with waterproof and shockproof foam inside.
Send us your requirements now, we will reply to your email within 24 hours