1. Introduction of tiger figurine feng shui
Tiger figurine feng shui is life size. As the king of beasts, the tiger is powerful and majestic. As the ruler of beasts, it is good at commanding and refuses to obey. It is the embodiment of power and has supreme command. It has a strong body, developed limbs, a round head and a long tail. Its fur is thick. Its color changes between orange and brown. There are white areas on its abdomen. Each tiger has unique black vertical stripes, which is conducive to their camouflage in the vegetation. Its sharp claws are its weapons in battle. Stone Tiger sculpture shows its majesty and domineering momentum incisively and vividly. As decorative sculptures in gardens, squares and various outdoor places, it shows a unique artistic effect.
The tiger figurine feng shui is made of high-quality marble. The texture of the tiger's hair is composed of white and beige marble. The collision of the two colors creates a wonderful visual experience and makes people feel different. Excellent carving skills vividly depict the tiger's shape, movement, body hair, sharp teeth and thick soles, and present us with a lifelike tiger image. We use high-quality materials to make our sculptures not only beautiful in appearance, but also stand the test of internal quality. It can be placed outdoors for a long time. If you are looking for marble outdoor decoration to bring beauty to your family, you can contact us to customize your sculpture works.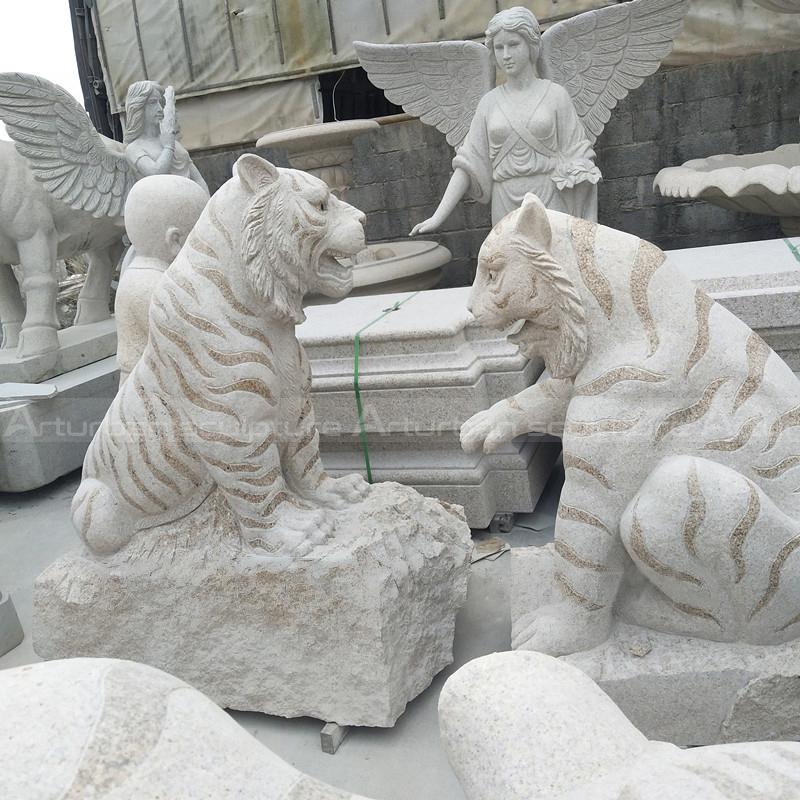 2. Production process of tiger figurine feng shui
Step1 Design Communication:  You supply us with several photographs with dimensions.
Step 2 Project Consultation: Our team will make a production plan, according to your design, budget, delivery   time,  or any other service. Our final aim is to supply high quality and cost-saving   sculpture efficiently.
Step 3 Confirm Mold: We will make 1:1 clay or 3D mold,when finished clay mold,i will take photos for   your reference. The clay mold can modify any details till to your satisfaction.
Step 4 Carving and Polish: We will carving with natural marble according to clay mold. Then polished.
Step 5 Package: Strong wooden crate with waterproof and shockproof foam inside.
Send us your requirements now, we will reply to your email within 24 hours