1. Introduction of tiger sculpture for sale
Tiger sculpture for sale is made of marble with red color. When it comes to tigers, we think of their huge size and ferocity. Tigers are also known as the king of beasts. We often see real tigers in the park, but there are many stone tigers in our city, so we can clearly see the appearance of tigers. Thus, we have a deeper understanding of tigers. The tiger is a brave and powerful image, which makes people feel in awe. The stone tiger has been welcomed by people. We often see the stone tiger in enterprises, family gates, parks, garden, scenic spots and so on. Stone Tiger not only has the meaning of auspiciousness, but also has the function of guarding against evil spirits.
This exquisite tiger sculpture for sale is hand carved by our sculptors. Their carving skills are very proficient and exquisite, which is at the top level in the industry. Everyone has decades of carving experience, which can bring the tiger's strong limbs, clear muscle texture, even the mane of the neck and sharp teeth to life. After careful polishing and carving by our sculptors, the surface is as smooth as jade, with soft touch. If you want to customize the high-quality marble tiger sculpture, you can contact us at any time.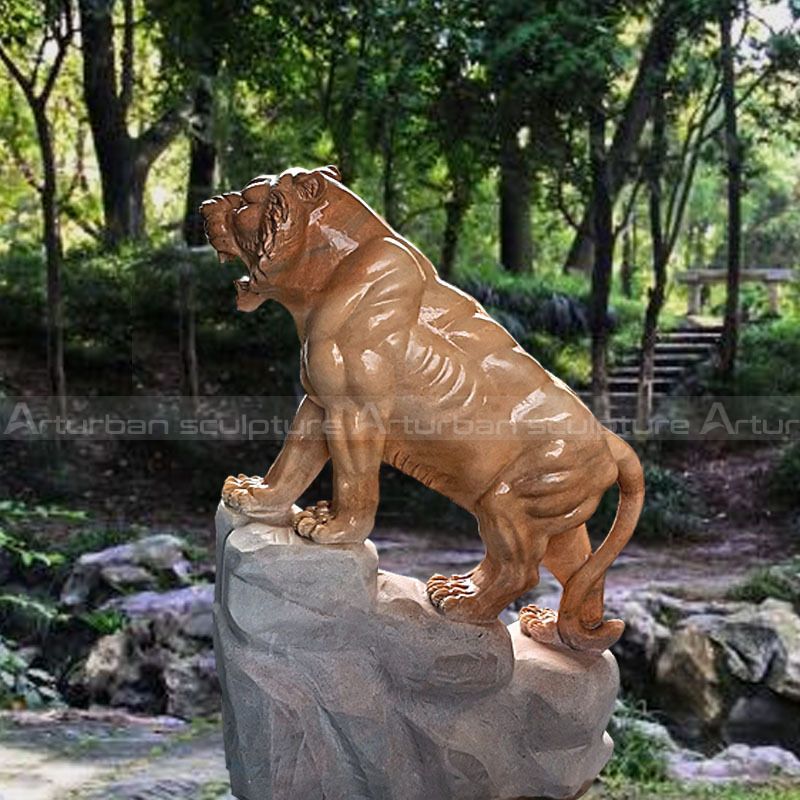 2. Production process of tiger sculpture for sale
Step1 Design Communication:  You supply us with several photographs with dimensions.
Step 2 Project Consultation: Our team will make a production plan, according to your design, budget, delivery   time,  or any other service. Our final aim is to supply high quality and cost-saving   sculpture efficiently.
Step 3 Confirm Mold: We will make 1:1 clay or 3D mold,when finished clay mold,i will take photos for   your reference. The clay mold can modify any details till to your satisfaction.
Step 4 Carving and Polish: We will carving with natural marble according to clay mold. Then polished.
Step 5 Package: Strong wooden crate with waterproof and shockproof foam inside.
Send us your requirements now, we will reply to your email within 24 hours