1. Introduction of white tiger sculpture
White tiger sculpture show the tiger stepping on the rock roars loudly with its mouth open. It steps forward and leisurely steps on the rock. Its body hair is white, while its long mane at the neck is jade white, and its tail is slender like a long whip, it seems that it can hit the enemy with a flick, which shows its powerful momentum. The whole body is as white as jade, which makes us feel its purity and holiness. It's like an auspicious beast. It's very beautiful there.
This white tiger sculpture is made by our experienced and professional animal sculptor. He has deep research on the different postures of the tiger and vividly describes the tiger postures and details. If you are a fan of tiger, you will find that our sculpture is not only fine workmanship, but also high-quality materials. It can be used as outdoor decoration for a long time. We use high-quality natural Hunan white marble for production, which is not only lifelike, vivid, smooth and meticulous surface, but also has a very good touch. We also have a variety of other forms of tiger sculpture, which you can choose according to your preference. You can contact us at any time to let you know more about Tiger sculpture.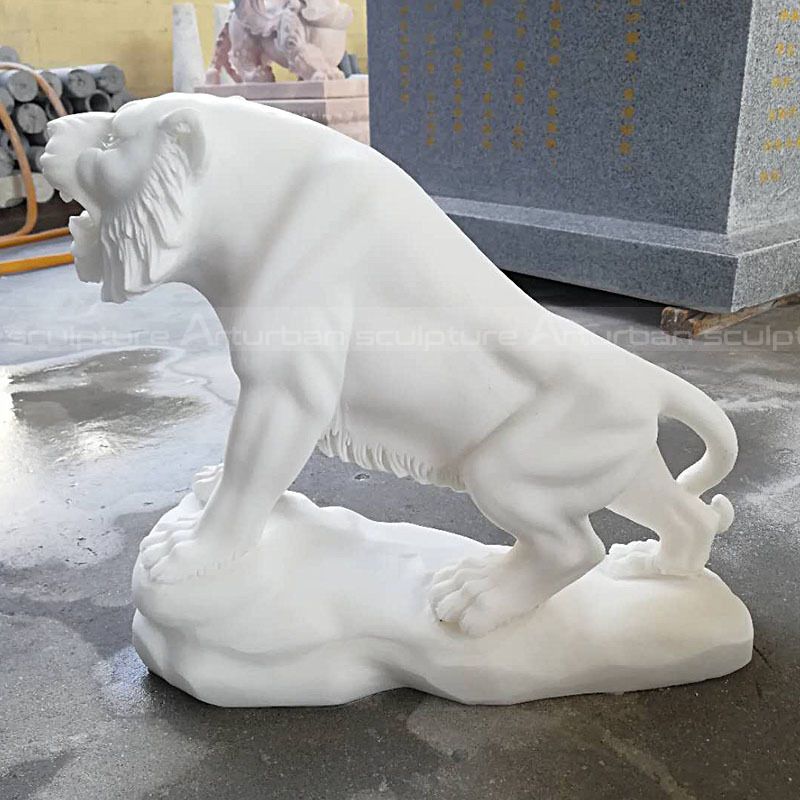 2. Production process of white tiger sculpture
Step1 Design Communication:  You supply us with several photographs with dimensions.
Step 2 Project Consultation: Our team will make a production plan, according to your design, budget, delivery   time,  or any other service. Our final aim is to supply high quality and cost-saving   sculpture efficiently.
Step 3 Confirm Mold: We will make 1:1 clay or 3D mold,when finished clay mold,i will take photos for   your reference. The clay mold can modify any details till to your satisfaction.
Step 4 Carving and Polish: We will carving with natural marble according to clay mold. Then polished.
Step 5 Package: Strong wooden crate with waterproof and shockproof foam inside.
Send us your requirements now, we will reply to your email within 24 hours