1. Introduction of reading frog garden statue
This is the bronze reading frog garden statue. It depicts a delicate frog squatting on the ground, its body made of bronze, presenting
smooth and delicate textures. It was wearing a pair of glasses, as if reading attentively. Holding a book tightly in hand, it showcases
a symbol of knowledge and wisdom. There is a little frog on its head, playfully lying there, as if listening to the frog's story. And there
is another little frog at the foot of the frog, forming a happy little family. The entire sculpture is crafted with delicate carvings and vivid
expressions, showcasing the vivid characteristics and intimate relationships of frogs. Bronze frog sculptures bring vivid and interesting
scenes into the real world, adding vitality and pleasure. They are suitable for decorating gardens, courtyards, or indoor spaces, adding
a sense of agility and joy to the environment.
Frog sculpture has many production advantages. Firstly, the bronze material endows the sculpture with durability and stability, allowing
it to maintain its original appearance for a long time. Secondly, the plasticity of bronze allows artists to freely create various fine details
and expressions. The production process of Bronze sculpture involves melting, casting and fine carving, and artists can use these techniques
to create exquisite texture and three-dimensional sense. In addition, bronze material also has corrosion resistance and weather resistance,
allowing sculptures to be displayed indoors and outdoors, and withstand the test of time and natural elements. The manufacturing advantages
of bronze frog sculpture make it a long-lasting and exquisite artwork, which can be appreciated and enjoyed for a long time, whether as
decoration or art collection.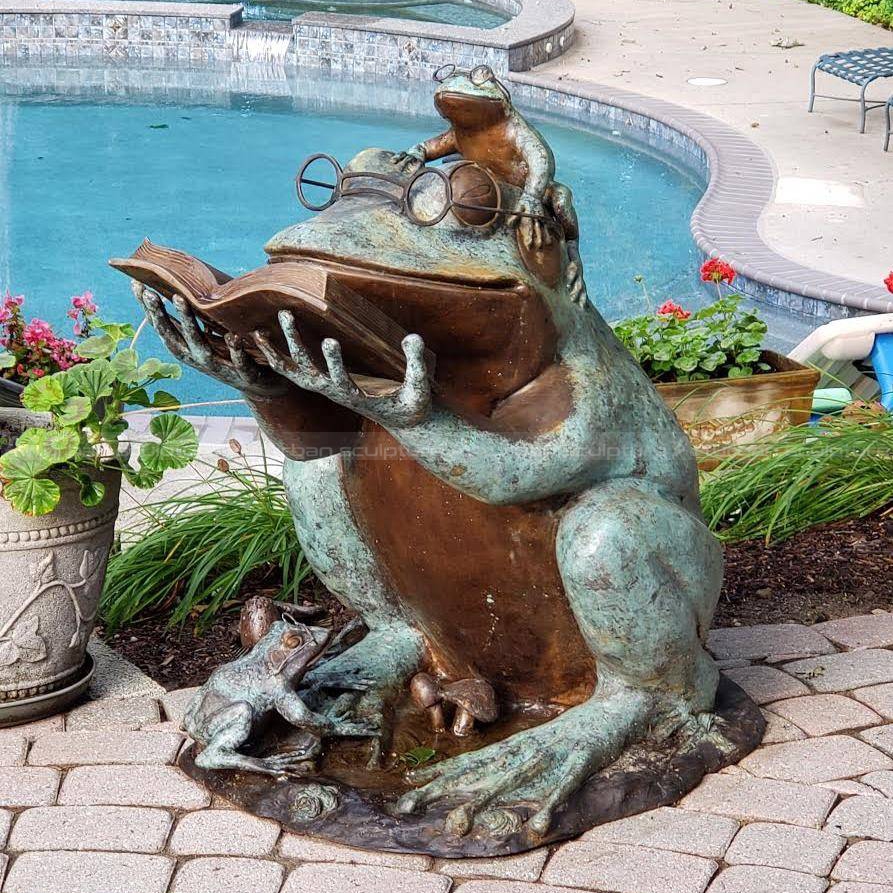 2. Production process
Step1 Design Communication:  You supply us with several photographs with dimensions.
Step 2 Project Consultation: Our team will make a production plan, according to your design, budget, delivery   time,  or any other
service. Our final aim is to supply high quality and cost-saving   sculpture efficiently.
Step 3 Confirm Mold: We will make 1:1 clay or 3D mold,when finished clay mold,i will take photos for   your reference. The clay mold
can modify any details till to your satisfaction.
Step 4 Carving and Polish: We will carving with natural marble according to clay mold. Then polished.
Step 5 Package: Strong wooden crate with waterproof and shockproof foam inside.
Send us your requirements now, we will reply to your email within 24 hours