1. Introduction of baby sakyamuni statue
This is baby sakyamuni statue. The right hand points to the sky and the left hand points to the earth.(The Buddhist scriptures say that after the Buddha was born, he would walk seven steps towards to east, west, south and north separately, and the right hand to the sky and the left hand to earth,roar like a lion: "Heaven and earth, I am the better than all." So, Shakyamuni is the Buddha of our time. As we know, he is the glorious root guru who constitutes all the different lineages of Buddhism. He is the crown prince of the Sakyamuni Kingdom located in the foothills of the Himalayas in southern Nepal.
In the Bhumispara Mudra, the Buddha is depicted with his right hand reaching towards the earth, which is a gesture of witness. He is "calling the earth to witness" the supremacy of victory over the temptation and fantasy of the material world symbolized by the demon Mara. He put his left hand on his knee and meditated with his palm up. In some portraits, he also held a begging bowl of a monk. The Three Treasures nectar in the bowl indicates that he has defeated the three demons of endless death, turbidity, and delusion. Therefore, this posture is called "Buddha Sakyamuni surrenders to the devil".The image is when he was fully enlightened under the Bodhi tree, all those who were in this handprint were born Sakyamuni.
Here we use gilding the statue, exuding a dazzling light in the sun, just like his image in people. Although it is a child's body, in people's minds he is a tall image like a god. This baby sakyamuni statue is liked by many people at home and abroad. As a Buddhist sculpture manufacturer specializing in making various statue, we have been engaged in the sculpture industry for many years. We have rich casting experience and advanced technical equipment. We have various images such as Guanyin statues, Arhat statues, Tathagata Buddha statues, etc. The shapes are exquisite and can be customized according to your size.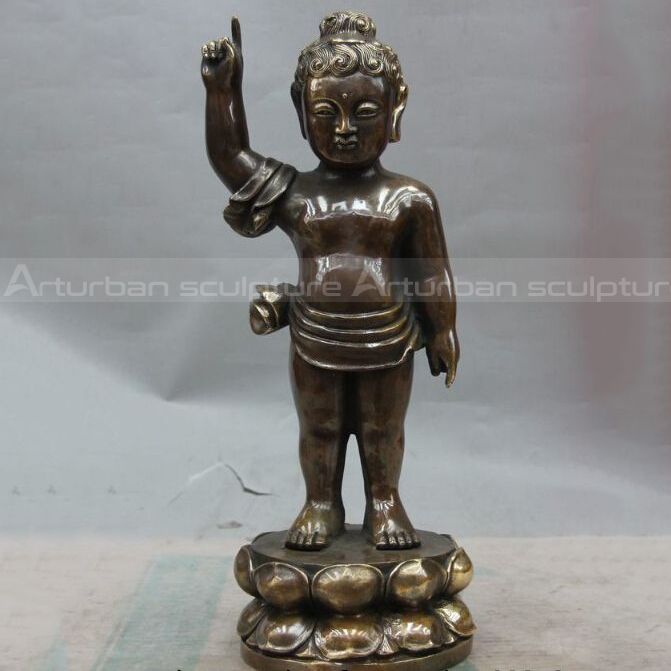 2. Production of process of baby sakyamuni statue
My artist will make 1:1 clay mold, when finished clay mold,  we will take photos for your reference, the clay mold can modify any details till you're satisfied with it, then we go ahead to make statue, when finished statue, also we will take photos for your reference, after you're satisfied with all, I will arrange packing and shipment. Arturban sculpture can make buddha statue in bronze, marble, fiberglass, stainless steel. Our team will make a production plan, according to your design, budget, delivery time, or any other service. Our final aim is to supply high quality and cost-saving sculpture efficiently.
Send us your requirements now, we will reply to your email within 24 hours