1. Introduction of stainless steel bull
This is a stainless steel bull. It is a common modern art form made of stainless steel material. As a symbolic
art form, cow sculpture has strong visual effects and artistic appeal. Stainless steel cow sculptures can also
undergo fine surface treatments such as polishing and wire drawing to enhance their texture and glossiness.
Stainless steel Charging Bull Figurine have extremely high decorative value. It can not only serve as a decoration
for urban landscapes, garden landscapes, commercial centers and other places, but also as a decoration for
indoor spaces such as homes and offices. The high gloss and unique shape of stainless steel cow sculptures can
add fashion, modernity, and artistic atmosphere to the surrounding environment, creating a comfortable and
warm atmosphere. In addition, stainless steel cow sculptures can also be paired with other decorative elements,
such as flowers, lighting, etc., to create a more diverse and colorful decorative effect. In short, stainless steel cow
sculpture has become an indispensable part of modern indoor and outdoor decoration due to its unique material
and artistic value.
Stainless steel material has high strength and corrosion resistance, which can ensure the stability and lifespan of
the sculpture; The stainless steel material has a high surface finish and can present very delicate textures and details,
as well as good reflective effects, enhancing the ornamental value of the sculpture; Once again, stainless steel material
is easy to process and shape, and can be finely carved and customized according to the designer's requirements to
achieve higher artistic value and aesthetic effects. The manufacturing advantages of stainless steel cow sculpture make
it a popular material and form in the field of modern sculpture.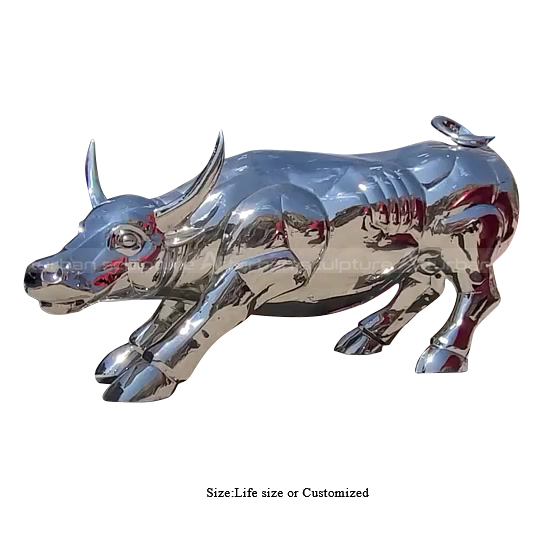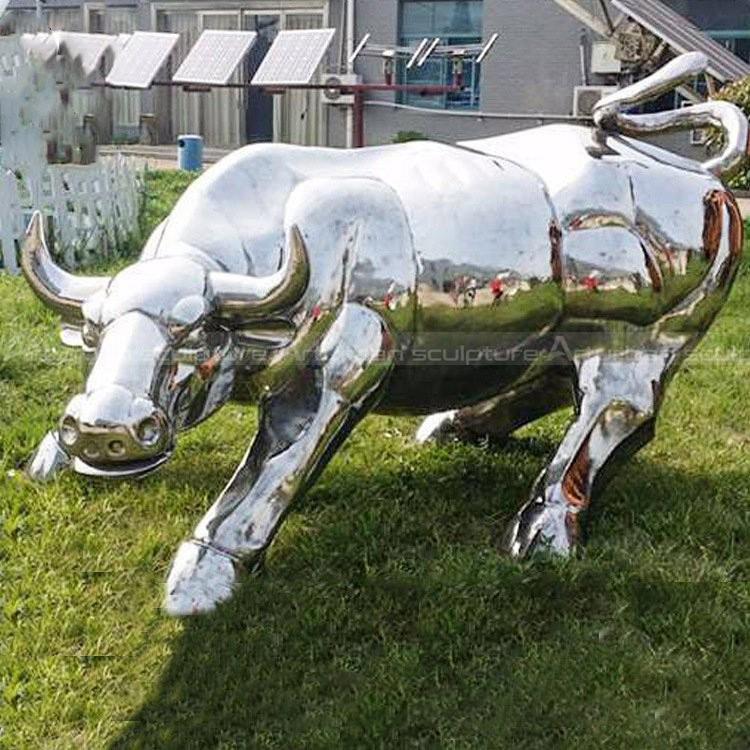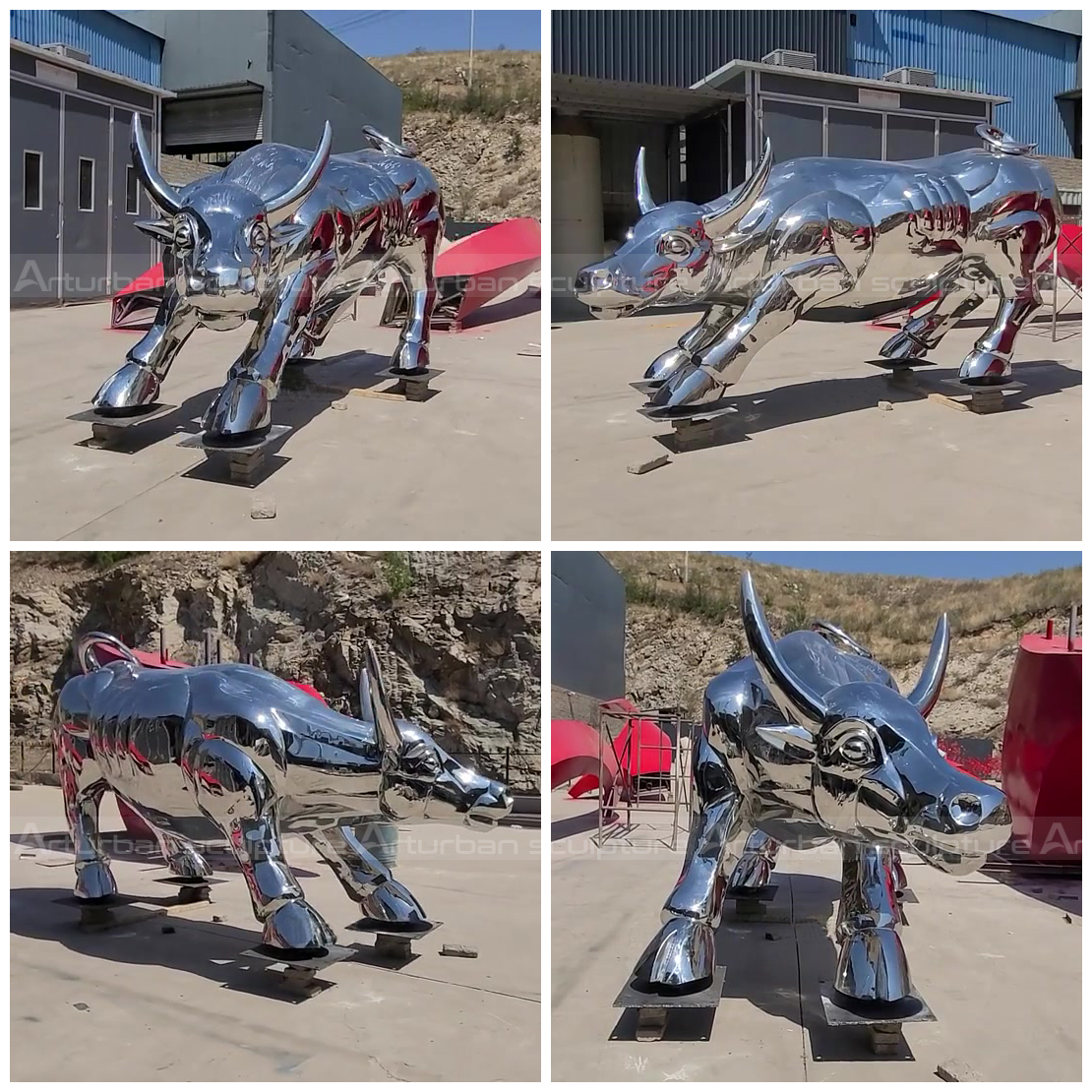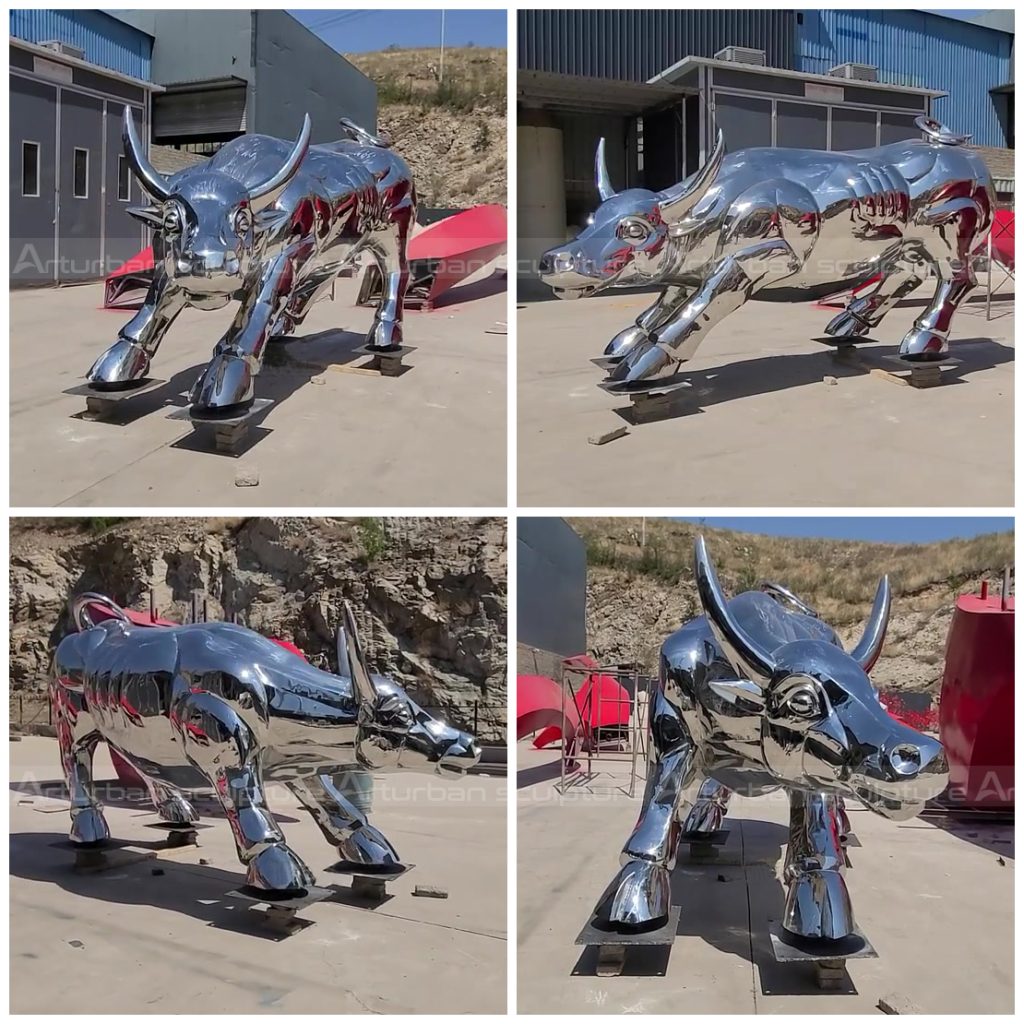 2. Production process of stainless steel bull
Step1 Design Communication:  You supply us with several photographs with dimensions.
Step 2 Project Consultation: Our team will make a production plan, according to your design, budget, delivery   time,  or any other service. Our final aim is to supply high quality and cost-saving   sculpture efficiently.
Step 3 Confirm Mold: We will make 1:1 clay or 3D mold,when finished clay mold,i will take photos for   your reference. The clay mold can modify any details till to your satisfaction.
Step 4 Carving and Polish: We will carving with natural marble according to clay mold. Then polished.
Step 5 Package: Strong wooden crate with waterproof and shockproof foam inside.
Send us your requirements now, we will reply to your email within 24 hours