1. Introduction of crucified christ statue
Crucified christ statue is the scene of Jesus being crucified. The punishment is very cruel, and
Jesus looks very painful. Although the crucifixion in this sculpture is not in the form of a cross,
the pain of punishment will not be reduced. The crown of thorns on Jesus' head looks very sharp.
After wearing it, the sharp thorns will pierce into the flesh, dripping with blood. The nails at Jesus'
feet are clearly visible. It is also very painful to nail his feet to the column. He raised his head and
shouted loudly. His hands were bent and his bones were clear. We see from the sculpture he was
in the pain.
The clear details of the statue of Jesus crucified let us feel the process of being tortured. At the same
time, he undertook all the pain and saved all people. We will look up to Jesus and the son of God
with high respect. This sculpture is using high-quality bronze materials to carry out the traditional
wax loss method. The images, actions and expressions of the characters are very lifelike, as if the real
people were suffering again. This sculpture is painted with chemical coloring method. The color is
thick and natural. It can be used as outdoor decoration for a long time. It has withstood the baptism
of years, the same color, the same history, standing in there, accepting time's baptism and washing
people's soul.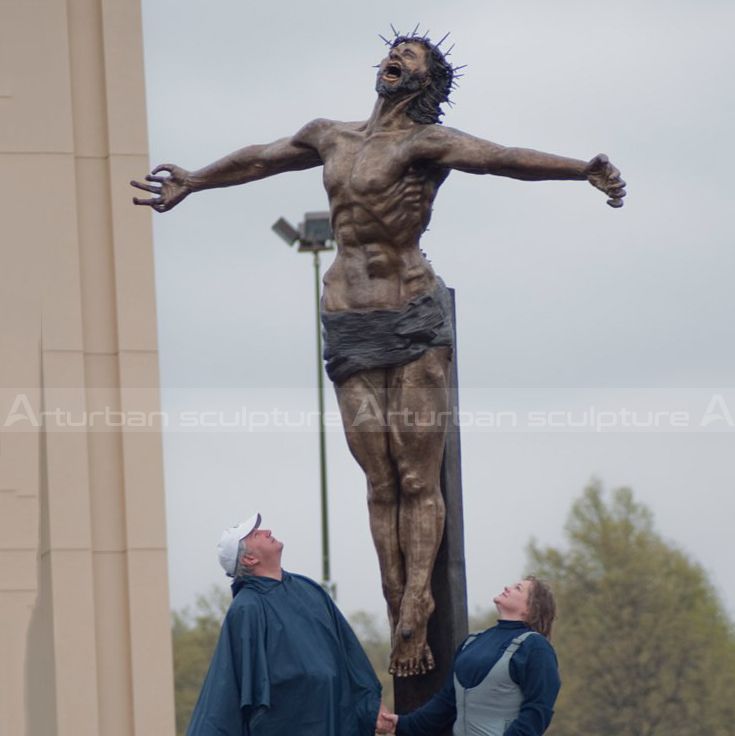 2. Production process of crucified christ statue
My artist will make 1:1 clay mold, when finished clay mold,  we will take photos for your reference.
The clay mold can modify any details till you're satisfying with it. Then we go ahead to make statue.
When finished statue, also we will take photos for your reference. After you are satisfying with all,
I will arrange packing and shipment. Arturban sculpture can make large christian statue in bronze,
marble, fiberglass, stainless steel. Our team will make a production plan, according to your design,
budget, delivery time, or any other service. Our final aim is to supply high quality and cost-saving
sculpture efficiently.
Send us your requirements now, we will reply to your email within 24 hours