1. Introduction of crucifix statue
Crucifix statues is the ninth stop of Jesus' 14th crucifixion, and Jesus' third fall. In the "meditation
and worship of the bitter road", three of them were Jesus' falls. Although there is no clear record in
the Bible, it is certain that Jesus, who walked on the bitter Road, will not be vigorous and energetic.
Jesus was seriously injured and had to carry a cross on his back. It is conceivable that his physical
strength was exhausted and he fell to the ground again and again. This sculpture vividly depicts Jesus'
lifeless body after falling, looking very haggard. The soldier waved the whip in his hand, and another
person pulled his arm to let him move on. The tired Jesus had no strength to resist. This sculpture is
very suitable for outdoor decoration, which can make more people feel the holiness and selflessness
of Jesus. You can contact us to view more crucifix statues for sale.
We have rich experience in the production of  crucifixion of jesus statue. Most of our sculptures are
by the traditional wax loss method. The details are exquisite and the texture are clear, which shows
the very vivid figure sculptures. we depict the shape, action, spirit and texture of the characters as if
they were real people. If you are looking for high-quality figure sculptures or are interested in other
religious sculptures, you can contact us at any time for more details.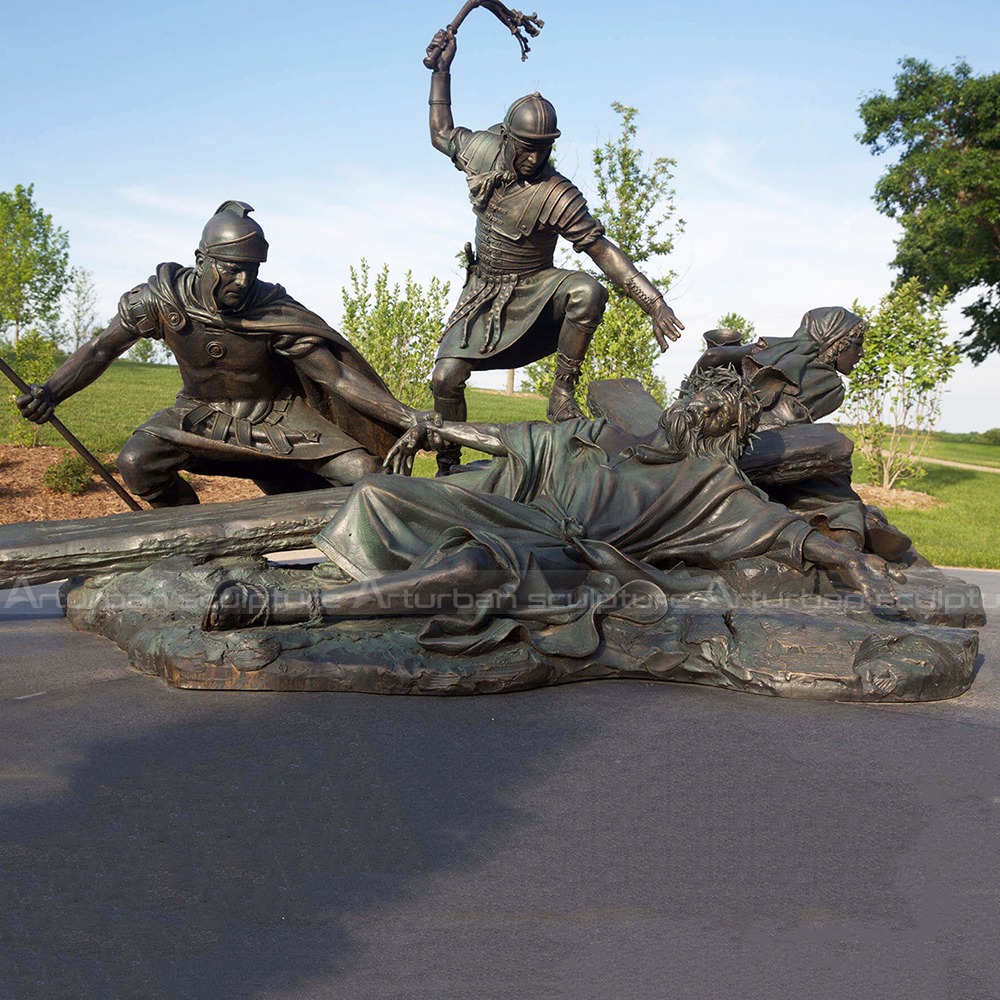 2. Production process of crucifix statues
My artist will make 1:1 clay mold, when finished clay mold,  we will take photos for your reference.
The clay mold can modify any details till you're satisfng with it. Then we go ahead to make statue.
When finished statue, also we will take photos for your reference. After you are satisfying with all,
I will arrange packing and shipment. Arturban sculpture can make large christian statue in bronze,
marble, fiberglass, stainless steel. Our team will make a production plan, according to your design,
budget, delivery time, or any other service. Our final aim is to supply high quality and cost-saving
sculpture efficiently.
Send us your requirements now, we will reply to your email within 24 hours