1. Introduction of crucifixion of jesus statue
Crucifixion of jesus statue is the tenth stop of the fourteenth stop of Jesus' crucifixion. Jesus was
stripped. Before Jesus was crucified, he was humiliated. People racked their brains and tried every means
to mock him, insult him, and make his body to feel pain: weave thorns into a crown and wear it on his head,
beat him on the head with a reed, give Jesus a drink mixed with gall, and finally crucify Jesus. Still not
enough, they take away his clothes and make him have nothing. This sculpture vividly depicts the ruthless
soldiers taking off Jesus' clothes and bringing all kinds of pain to Jesus.
This crucifixion of jesus statue is meticulously made by master craftsman. The hair is clearly visible one by one,
and the wrinkles on the skirt are clear, showing the skilled technology of the carving master. And its material
can withstand the devastation of years and the baptism of time. History has become a thing of the past, but his
spirit will never be erased. As a faithful believer, put it in gardens, squares and other places for more people to
watch and understand the spirit of Jesus. We also have many sculptures about Jesus, which are very exquisite
and suitable for any occasion. If you need high-quality religious sculptures, you can contact us at any time to
learn more details.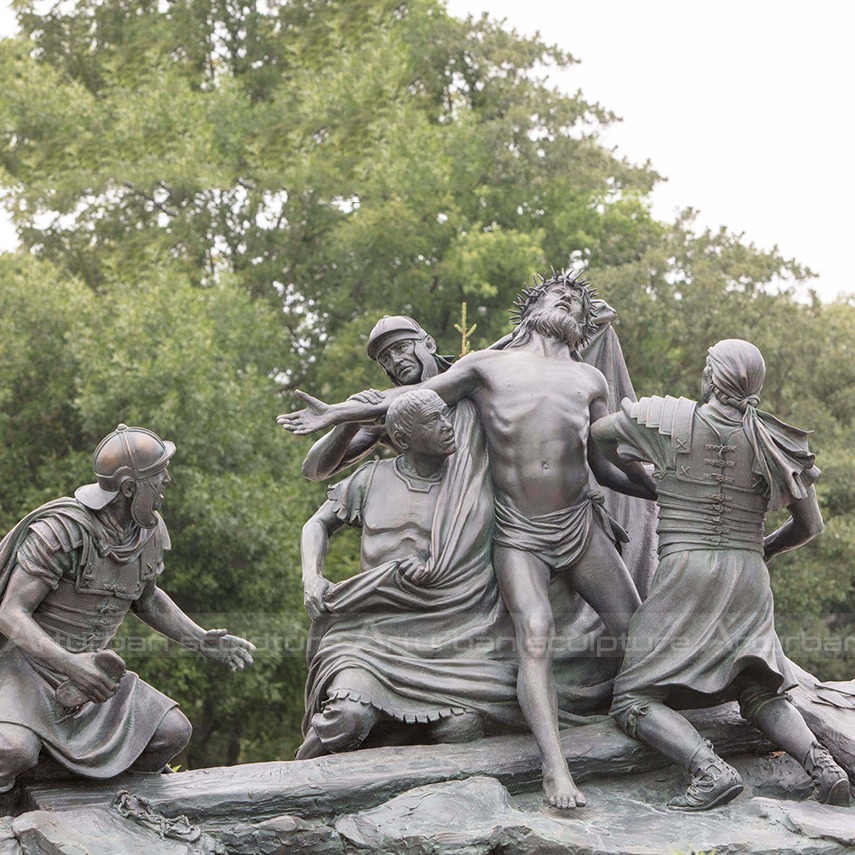 2. Production process of crucifixion of jesus statue
My artist will make 1:1 clay mold, when finished clay mold,  we will take photos for your reference.
The clay mold can modify any details till you're satisfng with it. Then we go ahead to make statue.
When finished statue, also we will take photos for your reference. After you are satisfying with all,
I will arrange packing and shipment. Arturban sculpture can make large christian statue in bronze,
marble, fiberglass, stainless steel. Our team will make a production plan, according to your design,
budget, delivery time, or any other service. Our final aim is to supply high quality and cost-saving
sculpture efficiently.
Send us your requirements now, we will reply to your email within 24 hours