1. Introduction of jesus crucifixion sculpture
Jesus crucifixion sculpture is realistic. Jesus was taken to the execution ground, and Roman
soldiers took off his coat to execute the punishment. But Jesus looked up at the sky, opened his
arms, and looked at death as if it were a gift from God. God sent his son Jesus Christ to die for us
and put all our sins on him. This is the gift God has given us. The Bible says, "Whoever receives
him, even those who believe in his name, he gives them authority to be children of God." God has
given us his son Jesus Christ. We just need to accept his son Jesus Christ. Soldier on the left holding
the scepter and staring at the whole process, the soldier on the right is executing the punishment,
which vividly depicts the whole scene.
When our sculptors made the sculpture of Jesus crucifixion, we used high-quality sculpture materials
to make it with the traditional wax losing method, which not only retained all the exquisite details of
the sculpture, but also vividly depicted the image characteristics of the characters. We have made a
careful study of religious sculpture, not only vividly displayed the image of the sculpture, but also
perfectly displayed his artistic style. So we are devoted to making works, just to show the best
sculptures in front of customers. We have a professional team, whether you need the reproduction
of famous sculptures or the customization of creative sculptures, we can make sculptures according
to your requirements.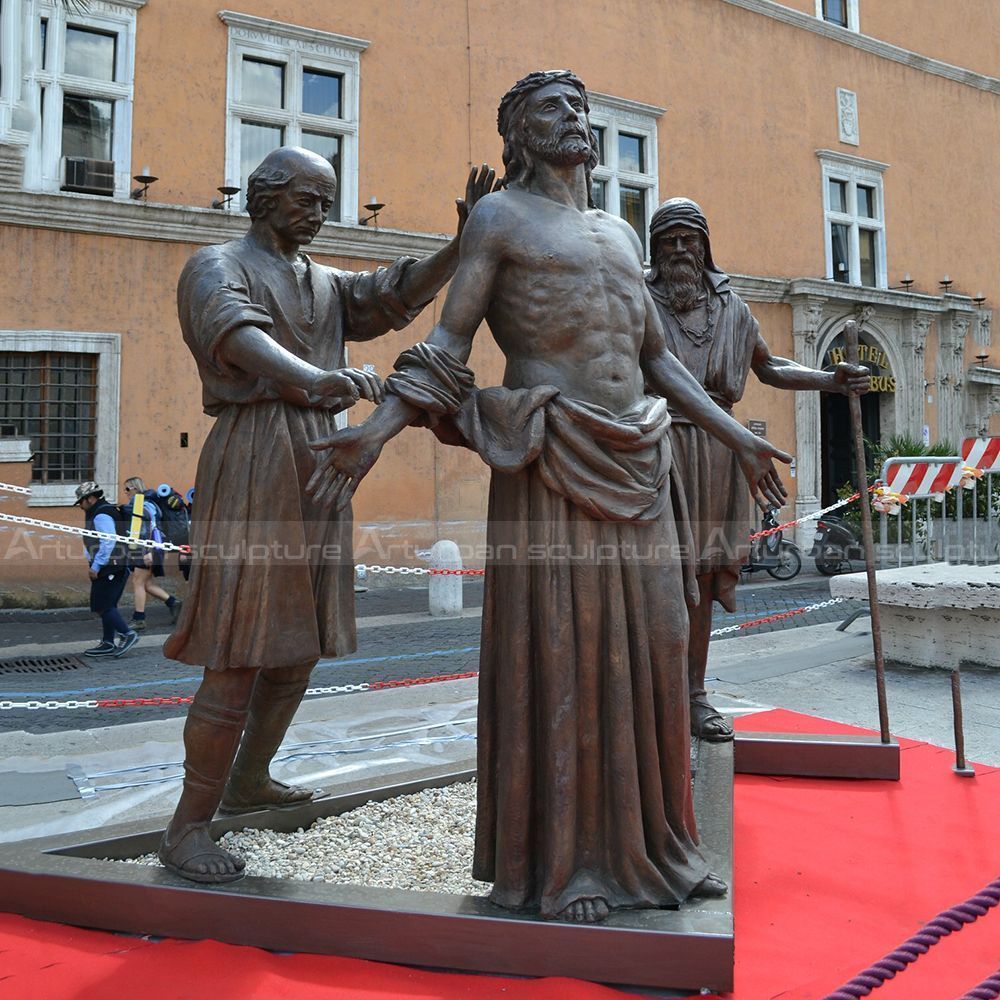 2. Production process of jesus crucifixion sculpture
My artist will make 1:1 clay mold, when finished clay mold,  we will take photos for your reference.
The clay mold can modify any details till you're satisfng with it. Then we go ahead to make statue.
When finished statue, also we will take photos for your reference. After you are satisfying with all,
I will arrange packing and shipment. Arturban sculpture can make large christian statue in bronze,
marble, fiberglass, stainless steel. Our team will make a production plan, according to your design,
budget, delivery time, or any other service. Our final aim is to supply high quality and cost-saving
sculpture efficiently.
Send us your requirements now, we will reply to your email within 24 hours