1. Introduction of the crucifixion sculpture
The crucifixion sculpture is the first stop of the fourteen stations of the crucifixion of Jesus, who
was sentenced to death. Jesus stood before the governor, who asked him, "are you the king of the
Jews?" Jesus said, "you are right." When he was accused by the chief priests and elders, he
answered nothing. Pilate said to him, "haven't you heard so many things they testify against you?"
Jesus still did not answer, not even a word, so that the governor was very surprised. " Because he
knew deeply that it was the father in heaven, not Pilate, who had to obey.
This Jesus crucifixion statue vividly depicts that Jesus' hands were tied, and the chief priest stretched
out his hand to accuse him of all kinds. The Governor Pilate stroked his chin and thought about Jesus'
silence too much. This sculpture is very suitable for decoration in large gardens, which vividly
restores Jesus' calm and self dedication at the time of sentencing. We have a lot of sculptures
from the 14 stations of the crucifixion, each of which is of high quality. If you want to choose high
-quality sculptures, you can contact us at any time to learn more details.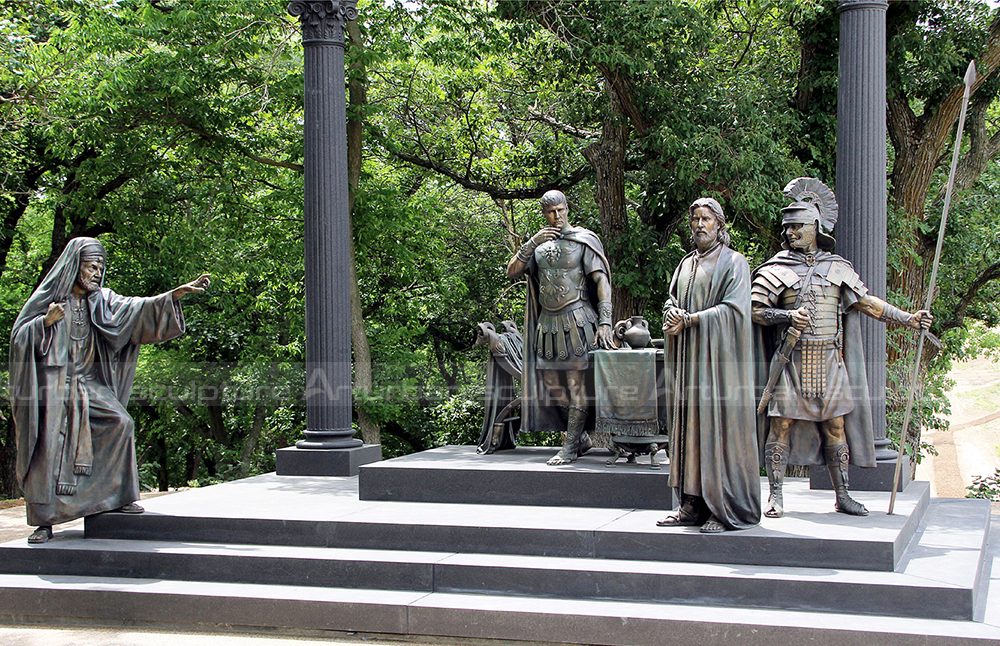 2. Production process of the crucifixion sculpture
My artist will make 1:1 clay mold, when finished clay mold,  we will take photos for your reference.
The clay mold can modify any details till you're satisfng with it. Then we go ahead to make statue.
When finished statue, also we will take photos for your reference. After you are satisfying with all,
I will arrange packing and shipment. Arturban sculpture can make large christian statue in bronze,
marble, fiberglass, stainless steel. Our team will make a production plan, according to your design,
budget, delivery time, or any other service. Our final aim is to supply high quality and cost-saving
sculpture efficiently.
Send us your requirements now, we will reply to your email within 24 hours