1. Introduction of holy family figurine
Holy family figurine is life size. It describes the classic sculpture of the Trinity of the holy
family. Jesus showed his holy status when he was very young. This sculpture shows Jesus
standing on a stone bench. On the left is Mary sitting there. Juses puts one hand on the back of
Mary's hand, and the other hand in his father's hand.  Joseph is kneeling on one knee. He holds
a scepter in one hand. It shows the important status of Jesus and his parents' respect for Jesus.
This sculpture is a very good religious sculpture, whether placed in the church or outdoors, showing
the sacred status of Jesus.
This sculpture is made of high-quality bronze, which is very vivid of the characters of the holy
family sculpture. At the same time, it vividly depicts the characters' expressions, actions and other
details, showing the characteristics of different people. We pay attention to the depiction of details,
and carve the small details of the characters very well. When coloring, we show the costumes, hair
and skin of the characters in different colors to make the image of the characters fuller. We also have
many exquisite figure sculptures with exquisite shapes and details, which can be found in various
places according to your needs. If you are a devout believer or you need a high-quality religious
sculpture, you can contact us for more details.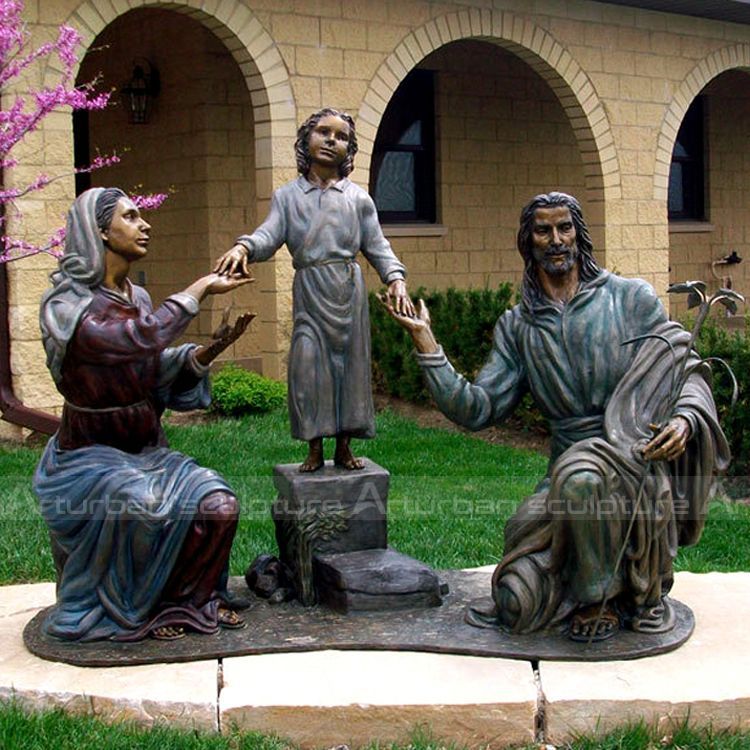 2. Production process of holy family figurine
My artist will make 1:1 clay mold, when finished clay mold,  we will take photos for your reference.
The clay mold can modify any details till you're satisfng with it. Then we go ahead to make statue.
When finished statue, also we will take photos for your reference. After you are satisfying with all,
I will arrange packing and shipment. Arturban sculpture can make large christian statue in bronze,
marble, fiberglass, stainless steel. Our team will make a production plan, according to your design,
budget, delivery time, or any other service. Our final aim is to supply high quality and cost-saving
sculpture efficiently.
Send us your requirements now, we will reply to your email within 24 hours