1. Introduction of jesus carrying his cross statue
This is jesus carrying his cross statue showing that Jesus was walking on the road with the cross.
He seemed to hear someone calling his name. Jesus turned his head and pointed two fingers to the
sky, as if to tell his believers that this is the meaning of God. He will follow God's will and save the
world in trouble. Good Friday, a Christian holiday to commemorate the crucifixion of Jesus Christ,
is called Lord's Friday, silent Friday, and the Catholic Church is also called Good Friday. Jesus Christ
died on the cross three days before his resurrection. According to the church, Friday before Easter is
a holiday.
Jesus has a very important position in people's hearts, and Jesus' sculptures can be seen everywhere.
As a professional sculpture foundry, we are committed to studying various station of the cross sculptures.
Religious sculptures are made by our devout believers with respect and faith, and produce a perfect
artwork for devout religious believers. Here we use high-quality bronze material to make it by wax loss
method, which is not only  clear with detail, but also full of holy brilliance. And it is not afraid of the
erosion of wind and rain, and can be in ouside for a long time. If you are looking for high-quality
religious sculptures, you can contact us. We have a professional team, which will serve you well both
before and after sales.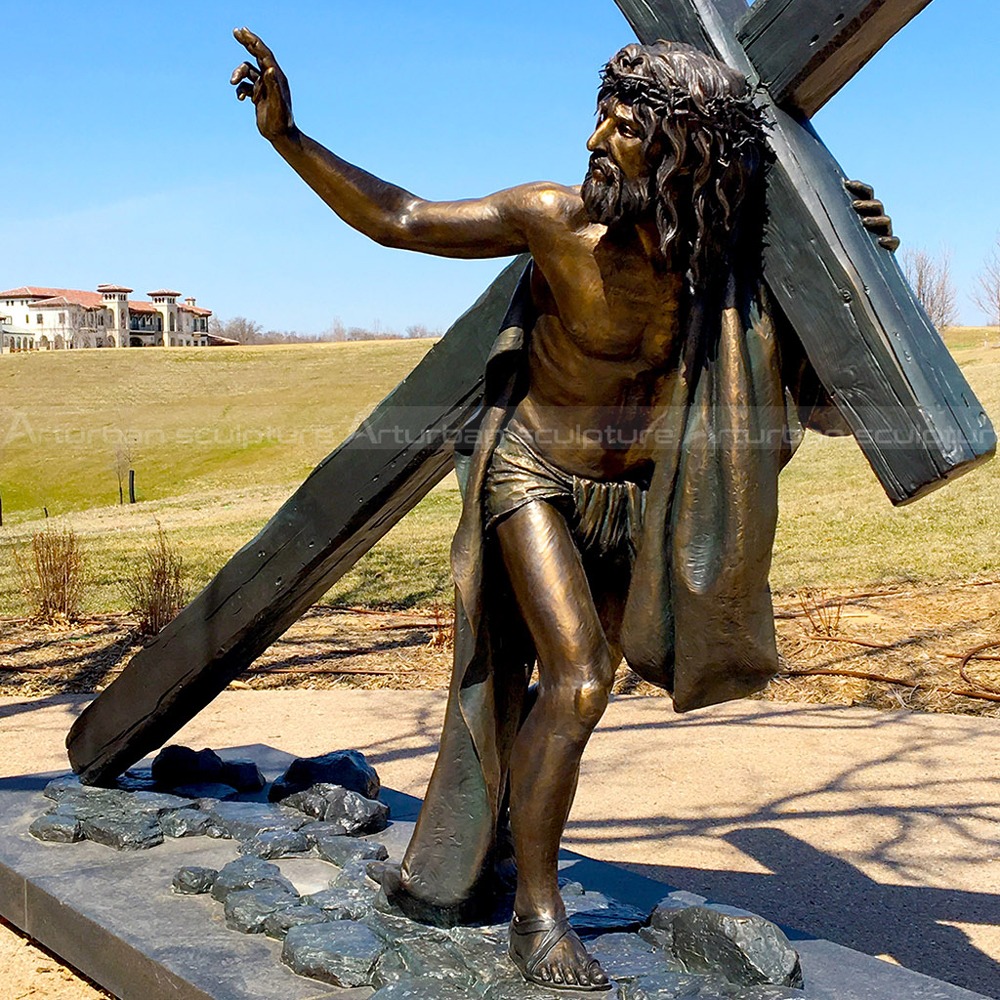 2. Production process of jesus carrying his cross statue
My artist will make 1:1 clay mold, when finished clay mold,  we will take photos for your reference.
The clay mold can modify any details till you're satisfng with it. Then we go ahead to make statue.
When finished statue, also we will take photos for your reference. After you are satisfying with all,
I will arrange packing and shipment. Arturban sculpture can make large christian statue in bronze,
marble, fiberglass, stainless steel. Our team will make a production plan, according to your design,
budget, delivery time, or any other service. Our final aim is to supply high quality and cost-saving
sculpture efficiently.
Send us your requirements now, we will reply to your email within 24 hours