1. Introduction of Stations of the Cross sculptures
Stations of the Cross sculptures is the Jesus carrying on the cross. Jesus, the object of Christian
worship. Jesus was crucified. Three days later, he will rise again and go to heaven. Christians
believe that Jesus will come again and give them eternal life. Good Friday, a Christian holiday
commemorating the crucifixion of Jesus Christ. This sculpture depicts Jesus carrying a heavy cross
with a crown of thorns on his head. He turned his head and pointed to the sky, as if to tell the people
behind him that he was instructed by God to accept suffering and save the world. So he will bravely
shoulder his responsibilities. This sculpture vividly depicts the process of Jesus walking with the cross
on his back before his crucifixion. Putting it in the garden and outdoors are very sacred sculptures,
which can let us remember Jesus' spirit of self sacrifice.
Our sculpture is a sculpture made in memory of Jesus. Our sculpture adopts the method of wax loss
casting, which not only shows the expression of the sculpture and the folds of the clothes incisively and
vividly, but also we can watch its perfect details from any angle. We use the bronze color, which can not
only have the flavor of antiquity, but also have the color of art. If you are also a devout believer or sculpture
lover, you can contact us. We are committed to the production of high-quality sculptures and make
sculptures according to your creativity.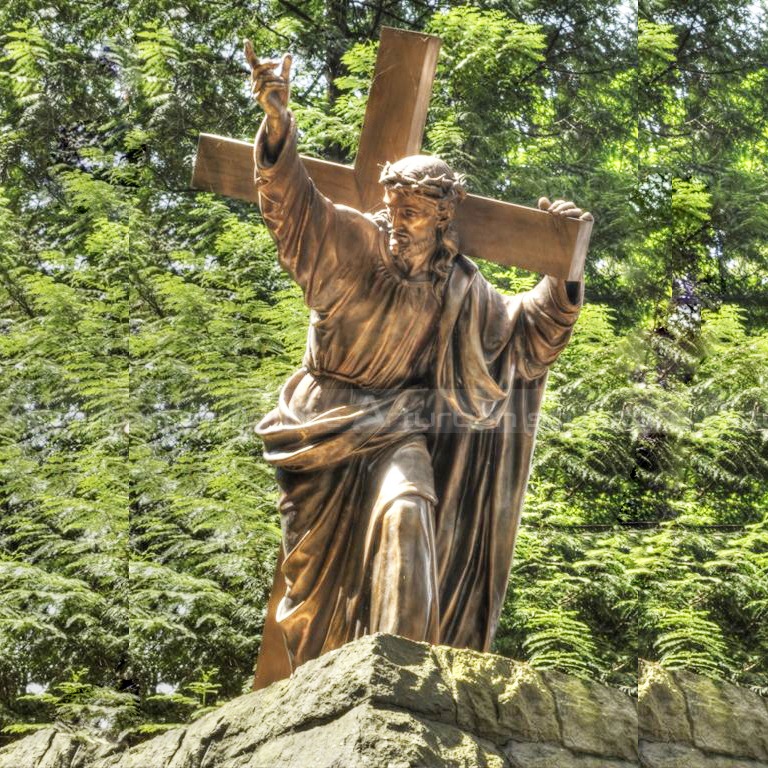 2. Production process of Stations of the Cross sculptures
My artist will make 1:1 clay mold, when finished clay mold,  we will take photos for your reference.
The clay mold can modify any details till you're satisfng with it. Then we go ahead to make statue.
When finished statue, also we will take photos for your reference. After you are satisfying with all,
I will arrange packing and shipment. Arturban sculpture can make large christian statue in bronze,
marble, fiberglass, stainless steel. Our team will make a production plan, according to your design,
budget, delivery time, or any other service. Our final aim is to supply high quality and cost-saving
sculpture efficiently.
Send us your requirements now, we will reply to your email within 24 hours