1. Introduction of jesus christ crucified statue
Jesus christ crucified statue is the fifth stop of the fourteen stops of Jesus' crucifixion. The fifth stop:
Simon helped Jesus carry the cross. Jesus carried the heavy cross, so that his physical strength had
reached its limit. With the whip marks on his body, he was no longer able to move forward. Fortunately,
there was Simon of Gulinai passing by from the countryside at this time. Maybe the soldiers saw that he
was a stronger figure! He reluctantly took up the job. If you were Simon today, would you be willing to
lend a helping hand to help Jesus who was walking on the bitter road bear the heavy cross? Whether it
is voluntary or forced, we should prepare ourselves and have the heart to serve others at any time.
This sacred religious sculpture is made of high-quality bronze material. We pay attention to the
characterization of human form, and combine the color and form of the statue to complement each other,
so that the work has the same aesthetic feeling and appreciation value as painting. Pay attention to vivid
expression in form and express a high degree of image beauty with simple and generous character sculpture
language. We have more than 20 years of sculpture experience in bronze figure sculpture, and we can show
the sculpture in front of you in the quality of art. If you like this sculpture style, or you want to have other
religious sculptures, you can contact us, and we can make realistic and high-quality bronze sculptures.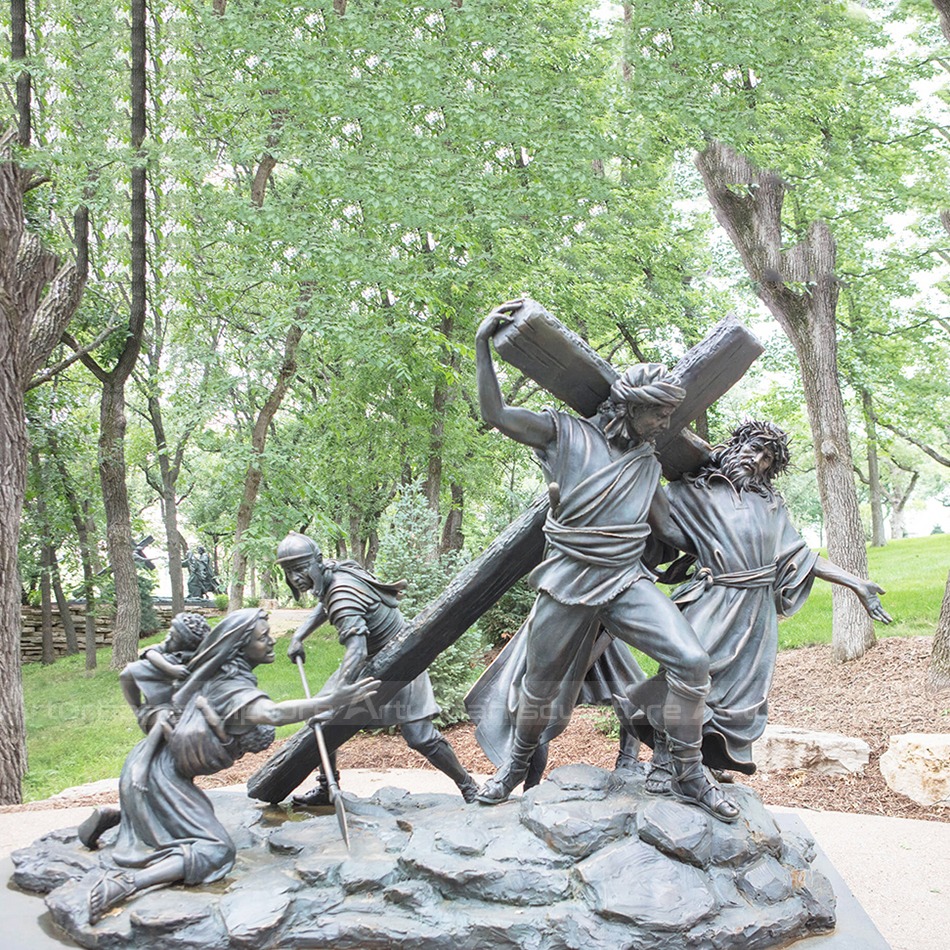 2. Production process of jesus christ crucified statue
My artist will make 1:1 clay mold, when finished clay mold,  we will take photos for your reference.
The clay mold can modify any details till you're satisfng with it. Then we go ahead to make statue.
When finished statue, also we will take photos for your reference. After you are satisfying with all,
I will arrange packing and shipment. Arturban sculpture can make large christian statue in bronze,
marble, fiberglass, stainless steel. Our team will make a production plan, according to your design,
budget, delivery time, or any other service. Our final aim is to supply high quality and cost-saving
sculpture efficiently.
Send us your requirements now, we will reply to your email within 24 hours