Jesus and the cross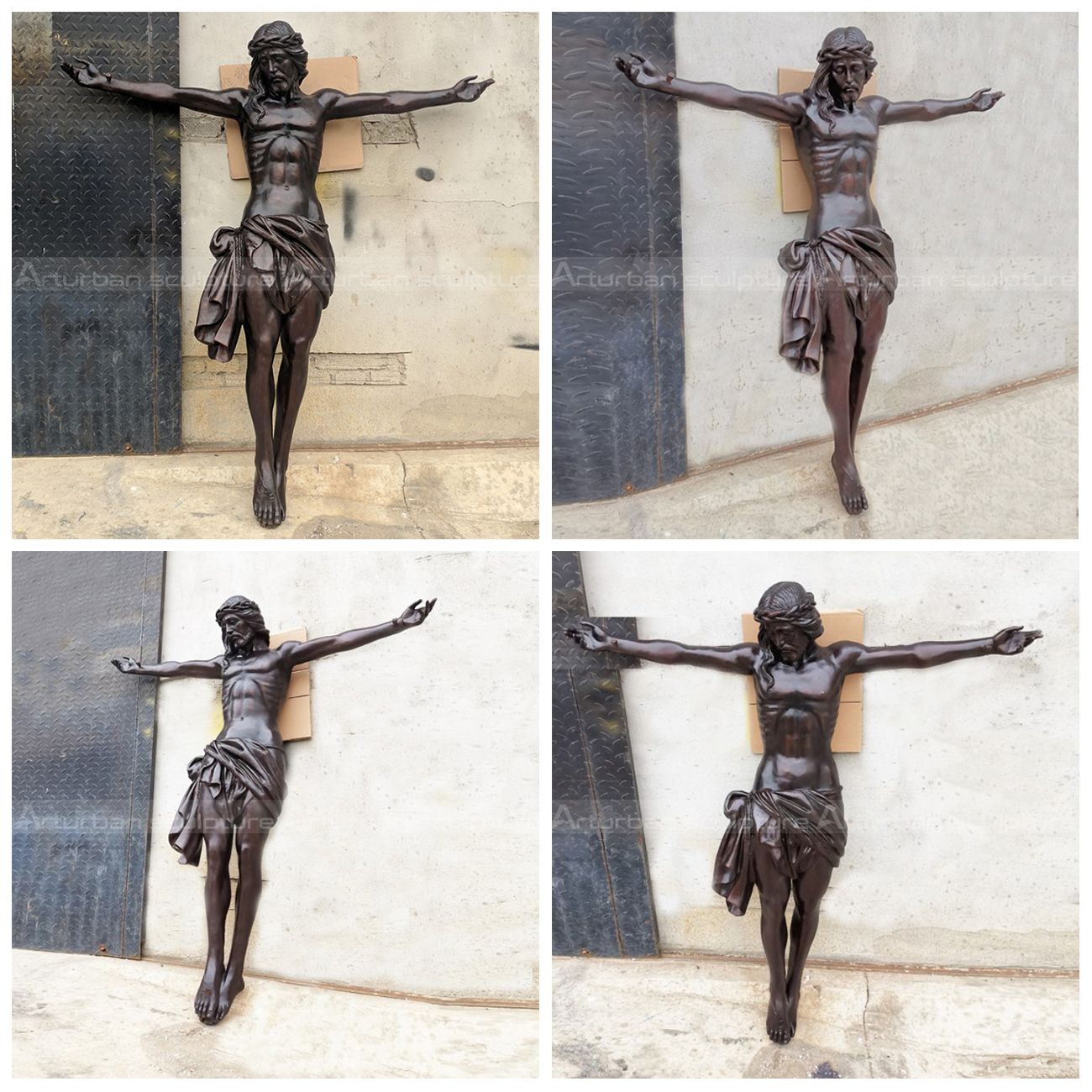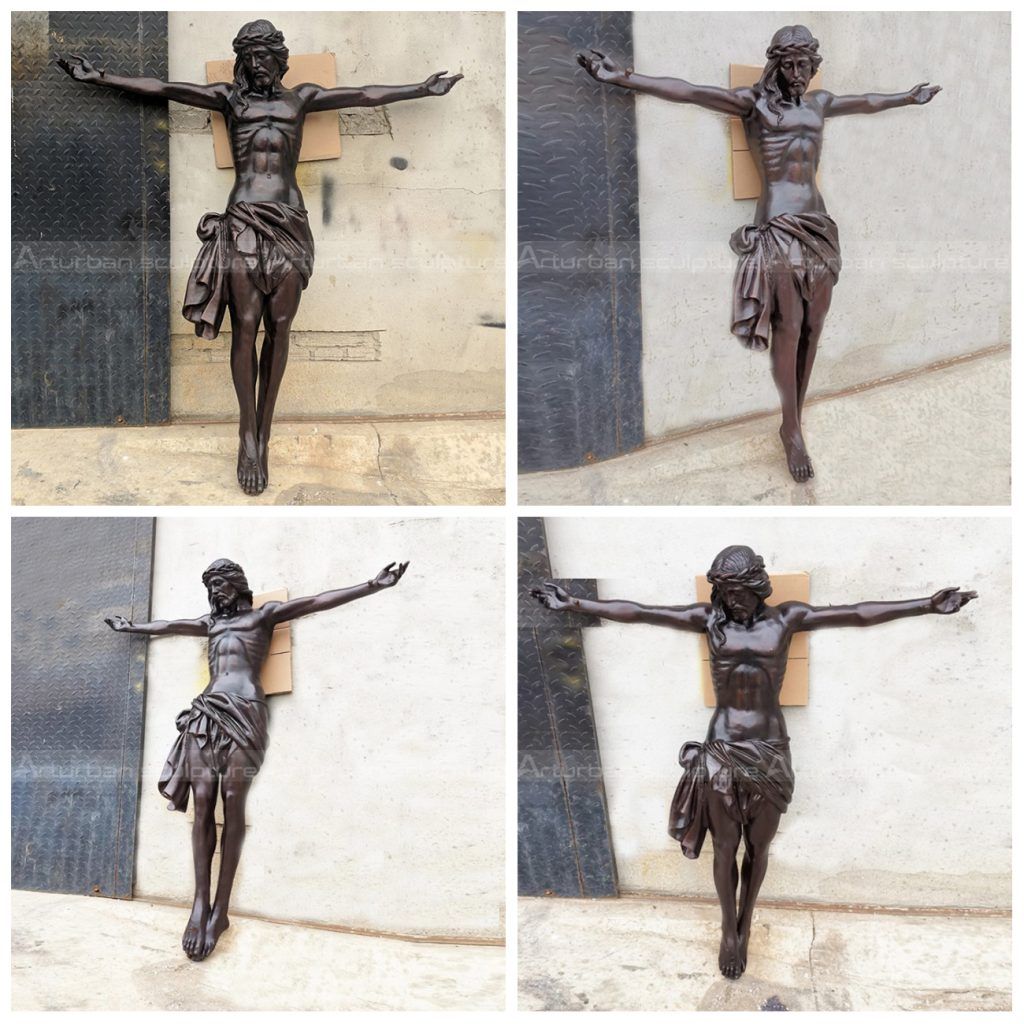 This is the crucified jesus statue. Who is Jesus? Jesus is the founder of Christianity and the key figure of Christian doctrine. According to the Bible, Jesus is the son of God. God loves the world and even gives his only son to them, so that all the sinners who believe in him will not perish but have eternal life.
What is the meaning of the cross? Jesus was crucified in the crucifixion, and he was executed for the sins of the world. Jesus died not to alleviate the sins of the world, but to pay the price for the sins of the world. He died because the world deliberately went against God's will and orders. Jesus brought complete salvation, happiness and blessings to the world. Let the world be free from the misery of life. On the one hand, the death of Jesus shows the unfairness of the earthly court, and on the other hand, it shows that God has a just judgment on the sins of the world. The cross is a symbol of Jesus' faith.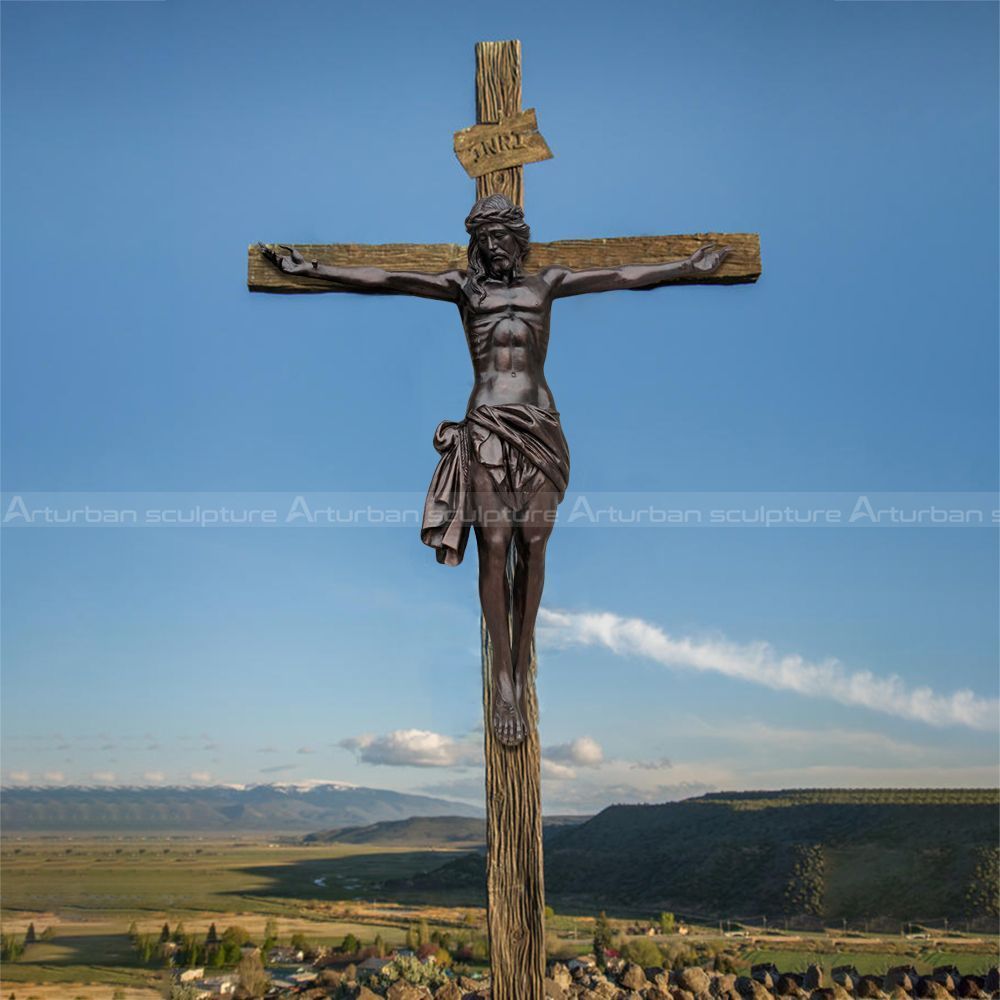 The suffering of the crucifixion? Jesus was flogged and finally crucified by Roman soldiers. Jesus was stripped of his clothes, and the soldiers made him drink the wine mixed with gall before he was crucified. Then he was crucified between two convicted robbers, and Jesus died about six hours later. During this period, the soldiers wrote a sign on the top of the cross in three languages: "Jesus of Nazareth, king of the Jews." They "cast lots on his clothes to see who gets what". After Jesus died, a Roman soldier named Longinus stabbed him in the side with a holy spear, confirming that he was dead.
Statue details of the crucified jesus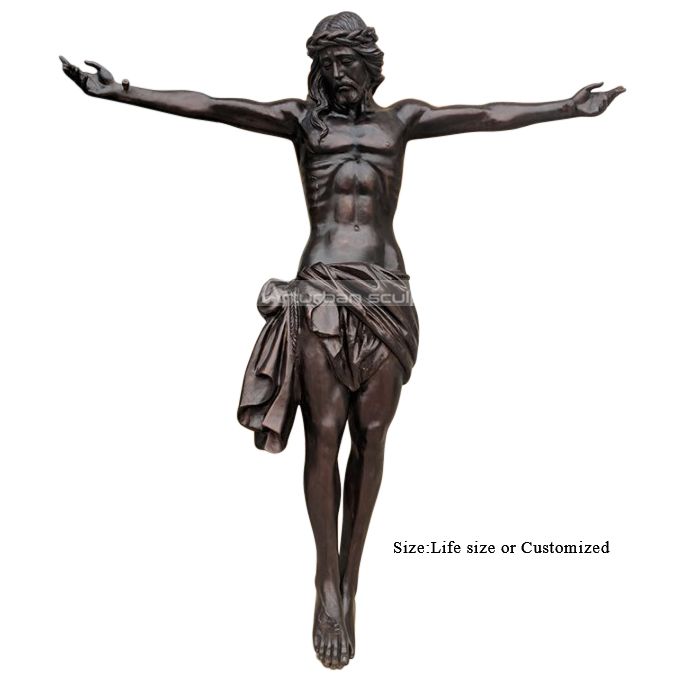 It depicts crucifixion of Jesus statue vividly, as if we had seen the crucifixion of Jesus with our own eyes. His hands and feet nailed to the cross, and the huge nails were clearly visible on the top. Only the tarpaulin wrapped his body under his lower body, and the crown on his head, which doubled the pain of Jesus. The lowered head was that he was no longer alive under the torment of pain.
This crucified jesus statue is carefully made by our Arturban sculpture foundry. I have rich experience in the production of religious sculptures. Not only are the details exquisite, but the texture is clear, showing us high-quality religious sculptures. This very classic Jesus on cross sculpture religious sculpture is that Jesus nailed to the cross to bear the pain instead of the sins of the world. He saved countless people with one person's pain. This sculpture is the faith in the hearts of devout believers. It is a very sacred and meaningful sculpture placed in churches, courtyards and gardens. It is a perfect place for you to pray and obtain inner peace.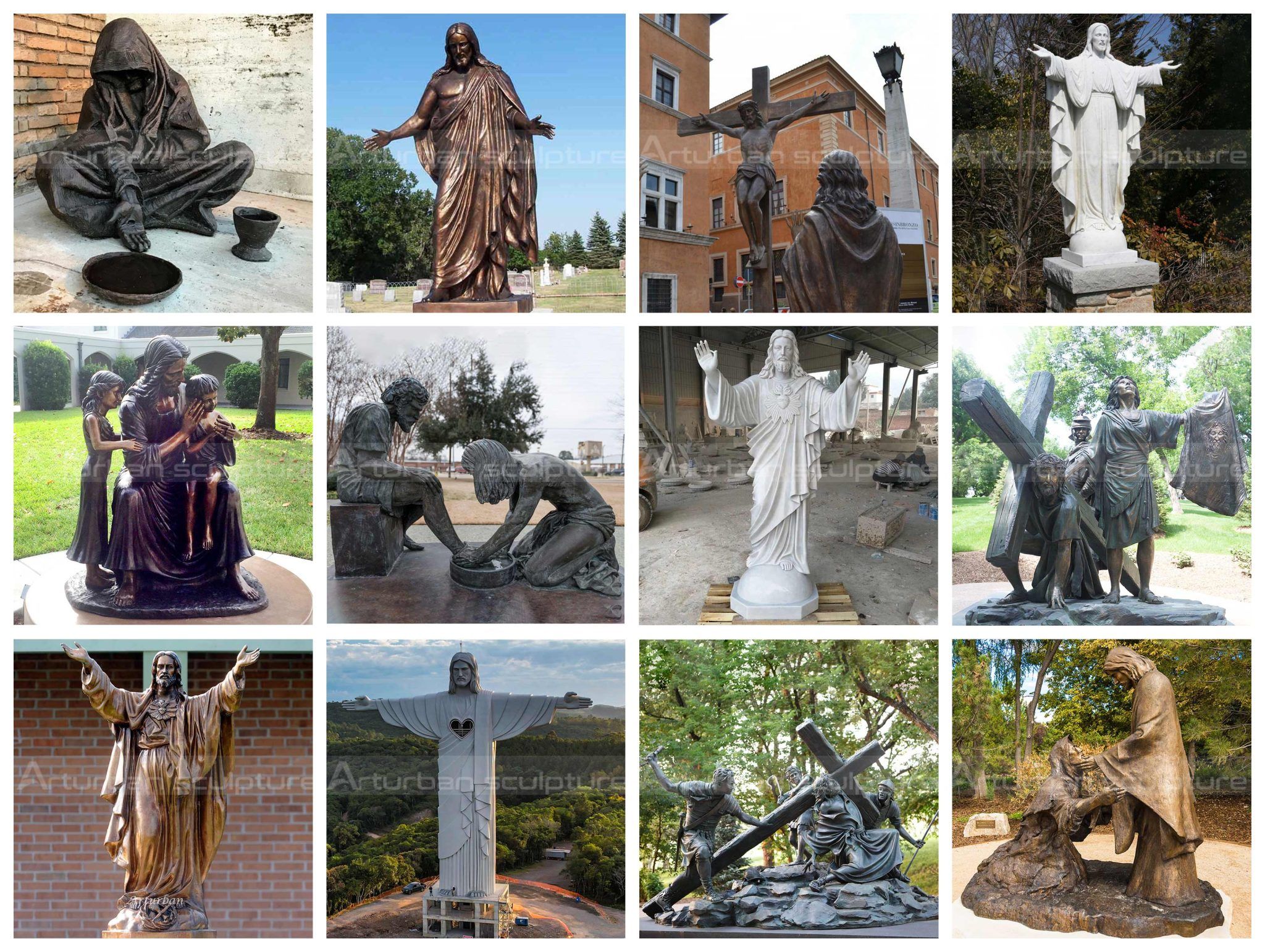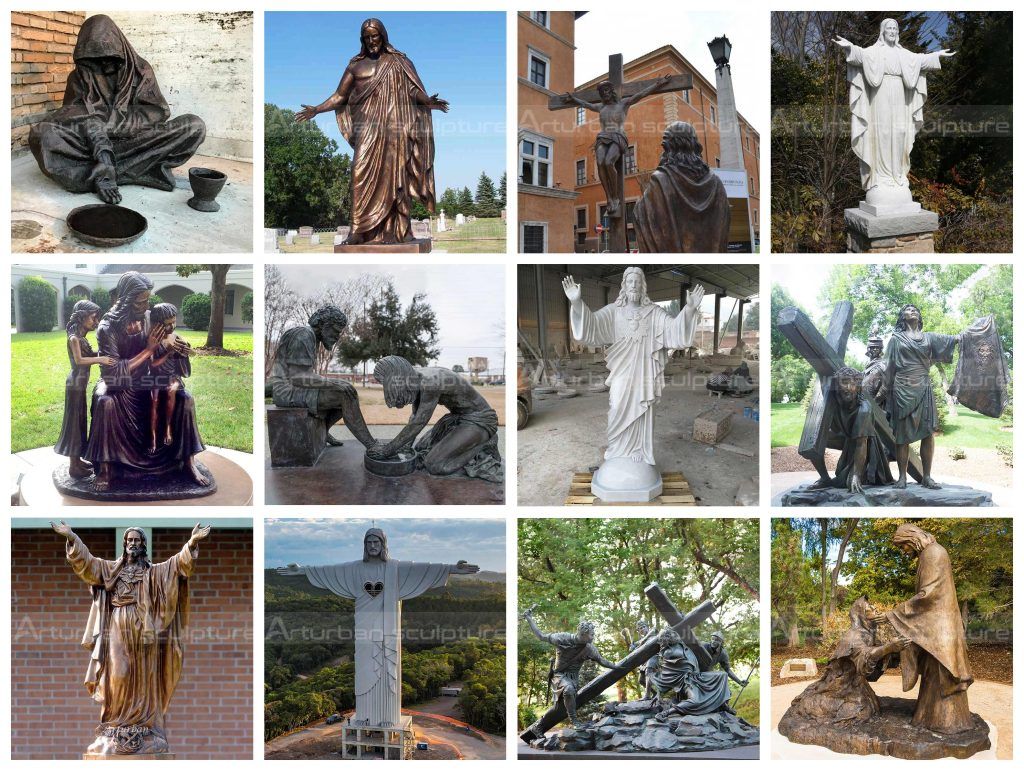 Send us your requirements now, we will reply to your email within 24 hours