1. Introduction of our lady of medjugorje statue
This sculpture is a very sacred our lady of medjugorje statue . The large Virgin Mary wears a robe
and steps on the earth. Behind her is a halo connected by stars. She holds the young Jesus in one
hand and the beads of the cross in the other hand, which looks very sacred. Behind Jesus, the son
of God, there is also a halo representing his sacred status. He opened his hands, representing the
acceptance and tolerance of the guilty or innocent. The gentle and elegant Virgin Mary's tall image
is solemn and respectful.
Our lady of medjugorje statue is very sacred. She is also known as the queen of peace and the mother
of the Redeemer. She once appeared image and made people believe in her existence, so she is
respected by countless people. We have rich experience in the production of religious sculptures. We
use the traditional wax loss method to make bronze statues, which can not only retain the original
image and details, but also make the surface smoother, and the action and expression more lifelike and
vivid. With the chemical coloring method, we can not only make the bronze sculptures have the artistic
charm of antiquity, but also make the color lasting and corrosion resistant. If you are interested in
religious sculptures or you are a devout believer, you can contact us at any time for more details.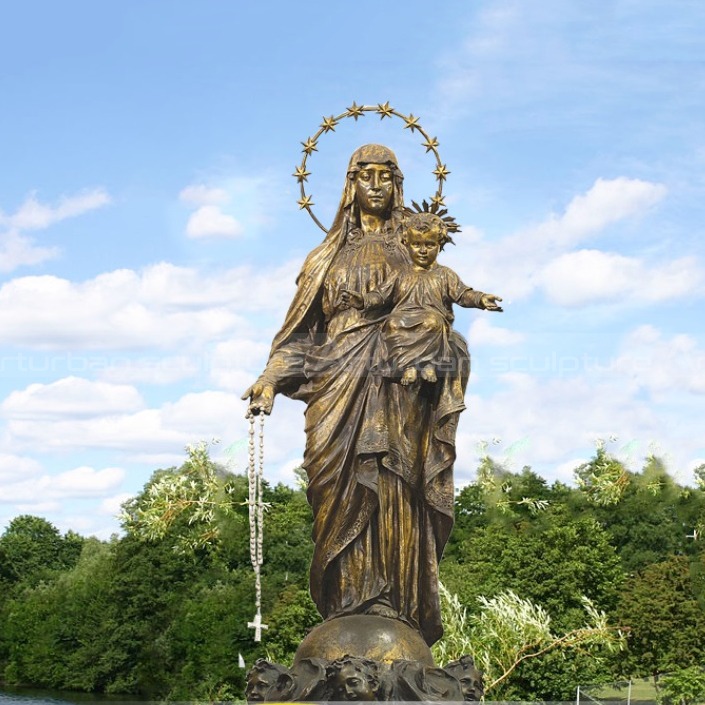 2. Production process of our lady of medjugorje statue
My artist will make 1:1 clay mold, when finished clay mold,  we will take photos for your reference.
The clay mold can modify any details till you're satisfng with it. Then we go ahead to make statue.
When finished statue, also we will take photos for your reference. After you are satisfying with all,
I will arrange packing and shipment. Arturban sculpture can make large christian statue in bronze,
marble, fiberglass, stainless steel. Our team will make a production plan, according to your design,
budget, delivery time, or any other service. Our final aim is to supply high quality and cost-saving
sculpture efficiently.
Send us your requirements now, we will reply to your email within 24 hours