1. Introduction of outdoor stations of the cross statues
Outdoor stations of the cross statues is the third stop of the fourteen stops of Jesus' crucifixion,
and Jesus' first fall. It's hard to imagine that a group of disciples who followed Jesus day and night
have witnessed so many miracles and wonders Jesus did and listened to so many great lessons
Jesus taught for more than three years, but some of them betrayed Jesus for a little profit. The most
chilling thing is that the man thought of using "kissing" as a sign of betrayal to catch Jesus. This
sculpture vividly depicts Jesus falling down with the cross on his back, and the cross was heavily
pressed on him. Soldiers nearby hurriedly helped Jesus carry the cross. Another two soldiers waved
a whip to urge Jesus to walk quickly.
This outdoor stations of the cross statues is made of lost wax casting, which shows Jesus' first fall in
a very detailed way. In the form of Jesus' fall, the panic expression of the soldiers is very vivid. Not
only the expression of the sculpture and the folds of the clothes are displayed incisively and vividly,
but also we can watch its perfect details from any angle. We use the bronze color, which can not only
have the flavor of antiquity, but also have the color of art. If you are also a devout believer or sculpture
lover, you can contact us. We are committed to the production of high-quality sculptures and make
sculptures to your satisfaction according to your creativity.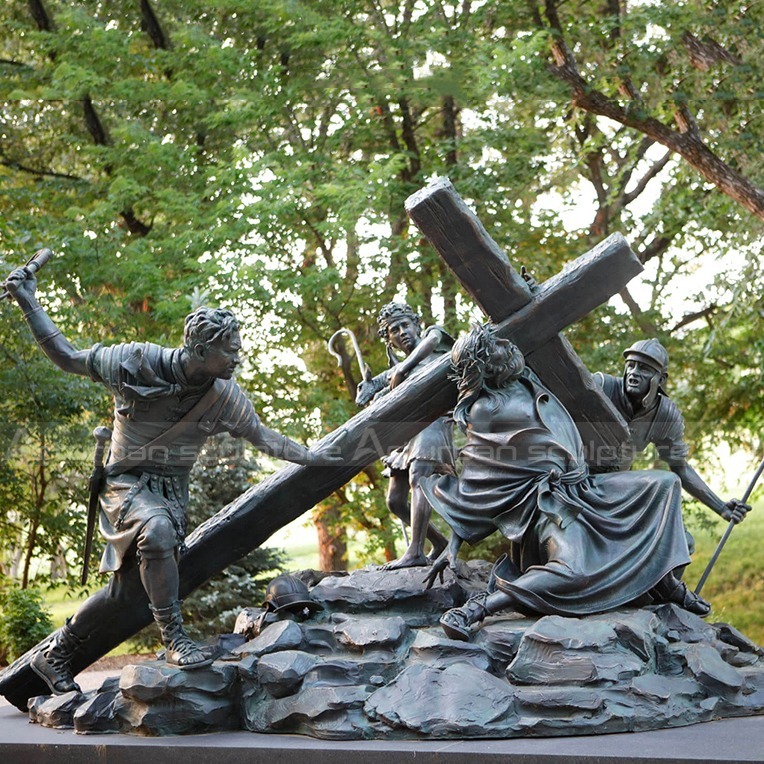 2. Production process of outdoor stations of the cross statues
My artist will make 1:1 clay mold, when finished clay mold,  we will take photos for your reference.
The clay mold can modify any details till you're satisfng with it. Then we go ahead to make statue.
When finished statue, also we will take photos for your reference. After you are satisfying with all,
I will arrange packing and shipment. Arturban sculpture can make large christian statue in bronze,
marble, fiberglass, stainless steel. Our team will make a production plan, according to your design,
budget, delivery time, or any other service. Our final aim is to supply high quality and cost-saving
sculpture efficiently.
Send us your requirements now, we will reply to your email within 24 hours