1. Introduction of saint john the evangelist statue
Saint john the evangelist statue is St. John holding a pen to record some information on books.
The evangelist of St. John is the patron saint of friendship, as well as theologians, officials and
notaries, writers, sculptors and painters, winemakers, butchers, and all professional manufacturers
and alchemists related to the production, sale, and borrowing of books, candle manufacturers, and
baskets. According to the Bible, he is the cousin of Jesus Christ, beside his mother. He was first a
fisherman, then a disciple the Baptist, and later one of the twelve apostles of Jesus Christ. For his
loyalty. The Evangelist John enjoyed the special grace of the Savior and never left him. After Jesus'
death, he spent most of his time in Jerusalem, where according to legend, he took care of the Virgin
Mary and settled in Ephesus on the Aegean Sea.
This sculpture shows St. John with an old face, a long beard hanging on his chest, and a feather pen
in his hand, carefully writing the contents of the book, showing the image of a wise old man. We
have many religious figure sculptures, each of which is very lifelike and perfectly shows the
characteristics and images. If you are looking for high-quality figure sculptures, you can contact us
at any time to learn more about the figures.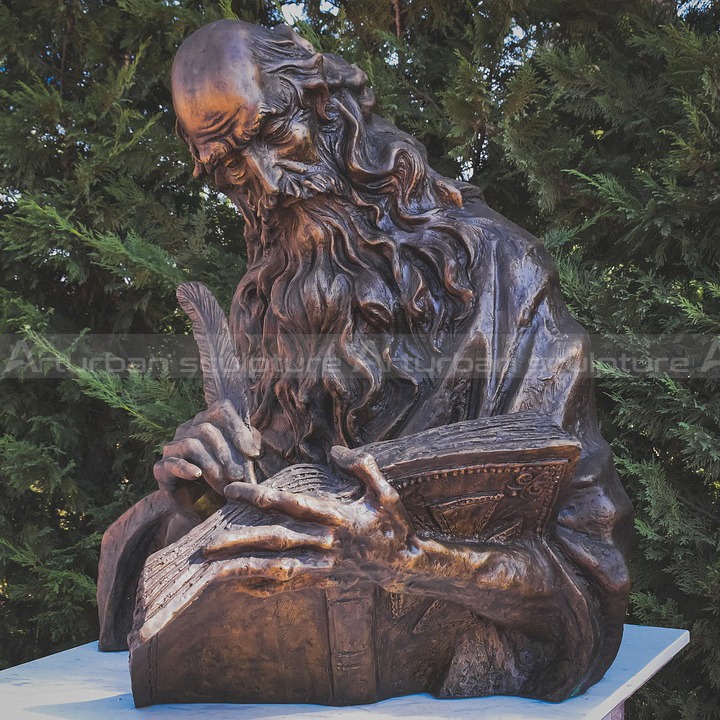 2. Production process of Saint john the evangelist statue
My artist will make 1:1 clay mold, when finished clay mold,  we will take photos for your reference.
The clay mold can modify any details till you're satisfng with it. Then we go ahead to make statue.
When finished statue, also we will take photos for your reference. After you are satisfying with all,
I will arrange packing and shipment. Arturban sculpture can make large christian statue in bronze,
marble, fiberglass, stainless steel. Our team will make a production plan, according to your design,
budget, delivery time, or any other service. Our final aim is to supply high quality and cost-saving
sculpture efficiently.
Send us your requirements now, we will reply to your email within 24 hours