1. Introduction of st francis with animals statue
St francis with animals statue is a warm scene of St. Francis and a group of animals around
him. The gentle dove flew to his palm. At his feet, deer, rabbit, wolf and sheep all surrounded him,
showing the friendly relationship between animals and St. Francis. As St. Francis advocates not
killing animals and protecting animals, it is said that St. Francis can talk with animals and is the
patron saint of animals. He once preached for animals and domesticated a wolf. St. Francis died on
the night before October 4, 1226, which became a holy day for believers to commemorate him.
Therefore, this day (i.e. October 4 of each year) is designated as world animal day.
This life size sculpture of St. Francis is made by wax losing method, which vividly depicts the details
of the sculpted figures and animals, such as shapes and actions. The bronze sculpture color adds
classical artistic beauty to the sculpture and perfectly shows the holy image of St. Francis. This
exquisite religious sculpture is very suitable for the decoration of outdoor gardens and churches.
If you are looking for high-quality outdoor bronze sculptures, you can always contact us for more
details.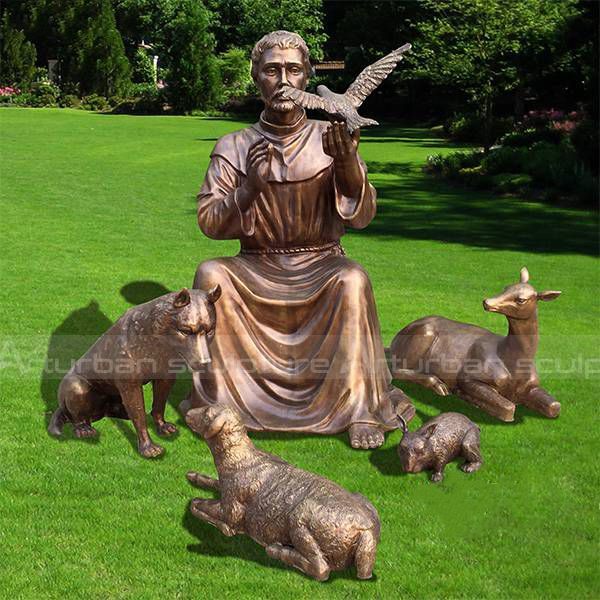 2. Production process of st francis with animals statue
My artist will make 1:1 clay mold, when finished clay mold,  we will take photos for your reference.
The clay mold can modify any details till you're satisfying with it. Then we go ahead to make statue.
When finished statue, also we will take phots for your reference. After you are satisfying with all,
I will arrange packing and shipment. Arturban sculpture can make large christian statue in bronze,
marble, fiberglass, stainless steel. Our team will make a production plan, according to your design,
budget, delivery time, or any other service. Our final aim is to supply high quality and cost-saving
sculpture efficiently.
Send us your requirements now, we will reply to your email within 24 hours