1. Introduction of stations of the cross statue
This stations of the cross statue is the thirteenth stop of the fourteenth stop of Jesus' crucifixion,
takes Jesus off the cross. This is an unexpected ending. When "Jesus" has become a taboo, no one dares
to mention it. When "Jesus" dies, "Jesus" has become the past. At this time, there was a kind and
righteous believer named Joseph who dared to go to Pilate and ask for Jesus' body, but this happened.
There was no objection! After Jesus was crucified, his followers took him off the cross and prepared to
bury him. They put a mat under it. Two soldiers climbed the ladder and slowly put Jesus down from the
cross. Below is an old man carrying the body of Jesus.
This stations of the cross statue is carefully made by our sculptors. We vividly depict the expression
details, action details and appearance details of the characters, and depict everyone's expression in a
very good way. It can be placed outside churches, gardens, squares and other outdoor places. If you are
looking for high-quality religious sculptures, we have many sculptures in different forms. Our works can
be large or small, and we can also customize them for you according to the drawings or photos. You can
contact me at any time, and we will be ready to serve you at any time.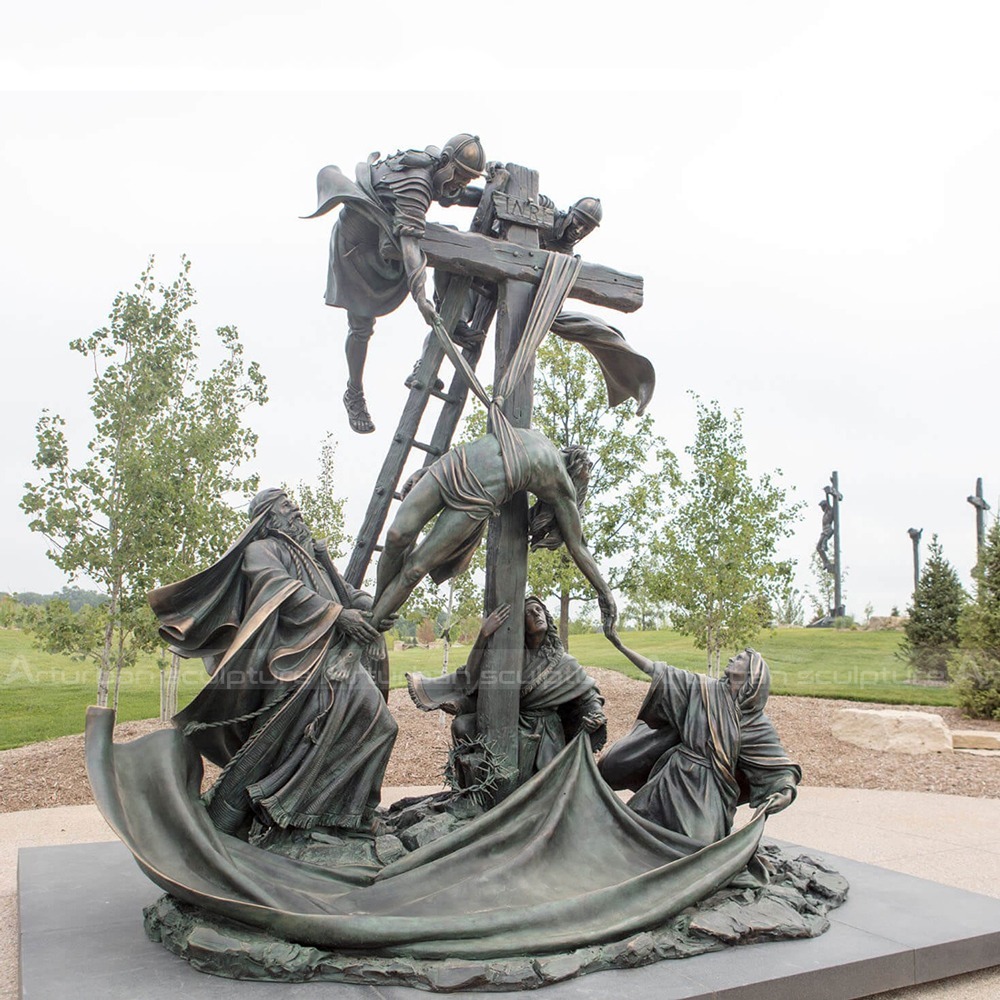 2. Production process of stations of the cross statue
My artist will make 1:1 clay mold, when finished clay mold,  we will take photos for your reference.
The clay mold can modify any details till you're satisfng with it. Then we go ahead to make statue.
When finished statue, also we will take photos for your reference. After you are satisfying with all,
I will arrange packing and shipment. Arturban sculpture can make large christian statue in bronze,
marble, fiberglass, stainless steel. Our team will make a production plan, according to your design,
budget, delivery time, or any other service. Our final aim is to supply high quality and cost-saving
sculpture efficiently.
Send us your requirements now, we will reply to your email within 24 hours