1.Introduction of deer family sculpture
This is a deer family sculpture. It is impressive with its unique appearance. It shows a delicate Sika deer image, elegant and flexible.
Its body lines are smooth, its posture is beautiful, and it is lifelike. The surface of the sculpture is smooth and delicate, emitting a
bright luster. The strong antlers of the Sika deer are towering, and the female deer is elegant and charming. The details are fine and
precise, and the eyes are bright and vivid. The Sika deer sculpture has both aesthetic and artistic feelings, bringing the viewer a feeling
of being close to nature. Whether placed in public places, gardens, or indoor spaces, it can add elegance and vitality to the environment.
The fiberglass material endows Sika deer sculpture with unique manufacturing advantages. Firstly, fiberglass has good weather resistance
and durability, which can resist sunlight, rain, and wind erosion, allowing sculptures to maintain their beauty and quality for a long time.
Secondly, the fiberglass material is lightweight and sturdy, easy to shape delicate sculpture details, and not easily deformed or damaged.
In addition, fiberglass materials can be dyed or painted according to design requirements, giving the sculpture a rich and colorful color
and texture. During the production process, fiberglass materials are also relatively easy to process and assemble, allowing for flexible
adjustments to the size and shape of sculptures. Therefore, the FRP Sika deer sculpture has high flexibility and plasticity in production,
which can realize the designer's creative ideas and create unique and exquisite works of art.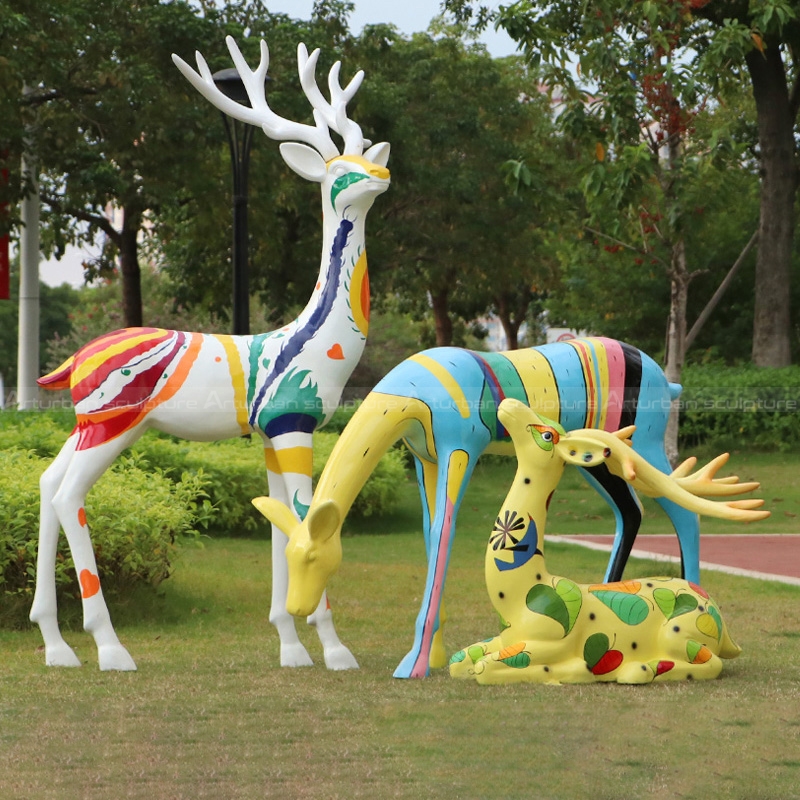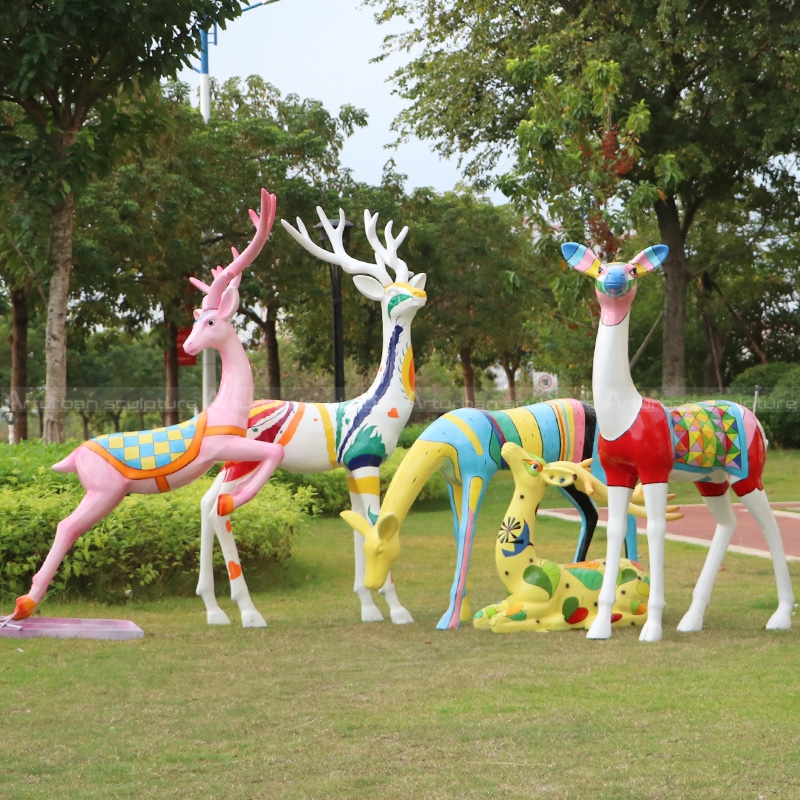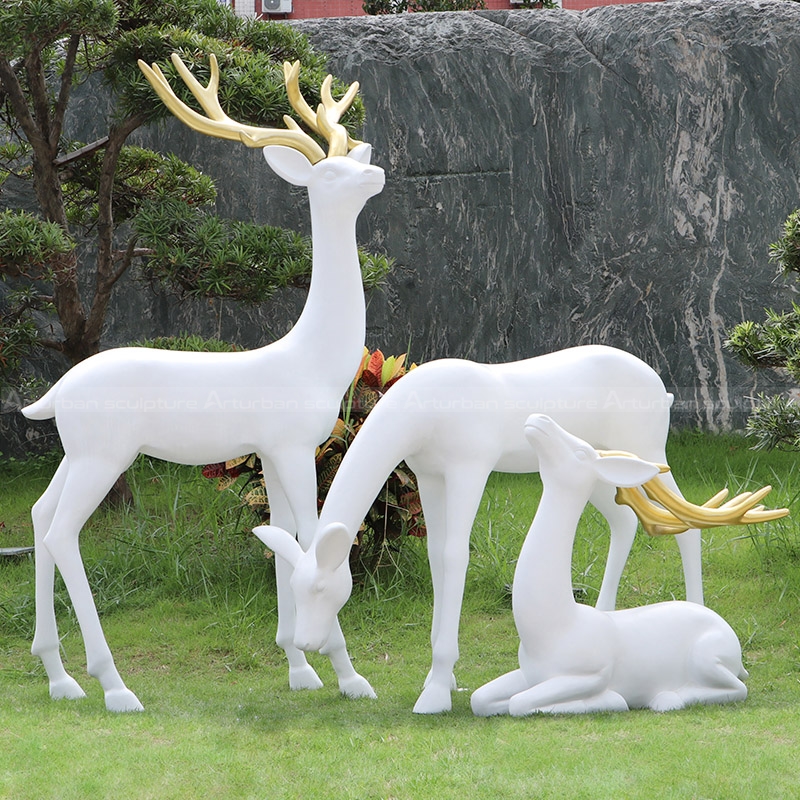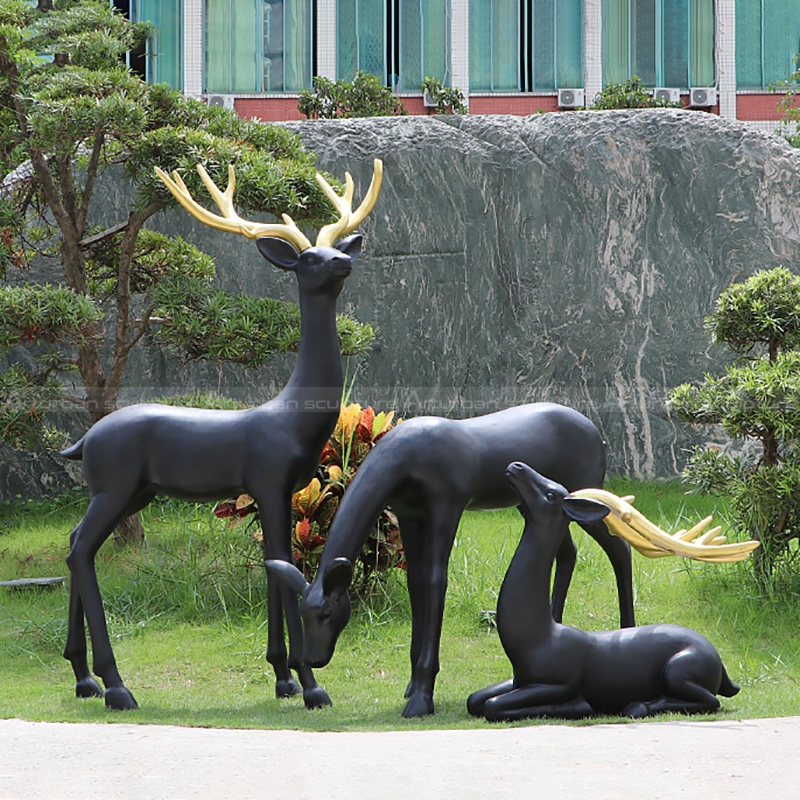 2. Production Process of deer family sculpture
Step1 Design Communication:  You supply us with several photographs with dimensions.
Step 2 Project Consultation: Our team will make a production plan, according to your design, budget, delivery   time,  or any other service. Our final aim is to supply high quality and cost-saving   sculpture efficiently.
Step 3 Confirm Mold: We will make 1:1 clay or 3D mold,when finished clay mold,i will take photos for   your reference. The clay mold can modify any details till to your satisfaction.
Step 4 Carving and Polish: We will carving with natural marble according to clay mold. Then polished.
Step 5 Package: Strong wooden crate with waterproof and shockproof foam inside.
Send us your requirements now, we will reply to your email within 24 hours