1. Introduction of resin elephant statue
Resin elephant statue is a lifelike sculpture of mother and child elephants. It is made of fiberglass. It is composed of a mother elephant and a baby elephant. Mother and baby statues are placed at the entrance of companies, enterprises and factories normally. It not only plays a decorative role, but also has an auspicious meaning. The mother and baby elephants placed there are named the double elephant water absorption array to absorb the wealth and good luck, and two elephants, one large and one small, represent the mother and son. Elephants are gentle, not violent, and like to help others. Therefore, the placement of mother and child elephant sculptures indicates that they can attract money.
The resin elephant statue of the mother and child elephants are very lifelike. The long nose is often flexible, so there are many folds and gullies on its surface. its blood vessels, folds and gullies of skin vividly depicted by our sculptures. Our sculpture technology is exquisite and advanced. The vivid sculpture combined with bright colors is as real as a real elephant. We also support the customization of animal sculpture. You can contact us for more detailed information.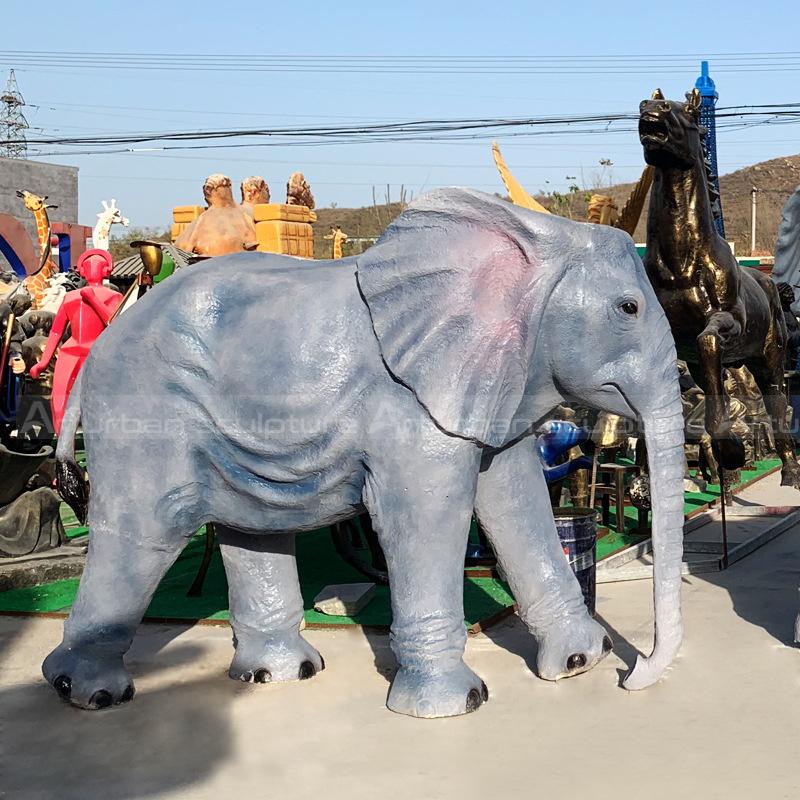 2. Production process of resin elephant statue
Step1 Design Communication:  You supply us with several photographs with dimensions.
Step 2 Project Consultation: Our team will make a production plan, according to your design, budget, delivery   time,  or any other service. Our final aim is to supply high quality and cost-saving   sculpture efficiently.
Step 3 Confirm Mold: We will make 1:1 clay or 3D mold,when finished clay mold,i will take photos for   your reference. The clay mold can modify any details till to your satisfaction.
Step 4 Carving and Polish: We will make fiberglass statue according to clay mold. Then polished.
Step 5 Package: Strong wooden crate with waterproof and shockproof foam inside.
Send us your requirements now, we will reply to your email within 24 hours