1.Introduction of 71 fountain
71 fountain is huge annular fountain sculpture with unique shape. It was once located on highway 71 in Ohio, USA. So this fountain is called 71 fountain. We can see that there are multiple nozzles on the surface of the ring, they spraying water at the same position in the center of the ring. In the green natural environment, it looks like a huge wheel emitting silver light. Under the sunlight, the water mist forms a rainbow, looks very beautiful. The beautiful sculpture adds the natural and concise design concept, so that it has a unique artistic style. As an outdoor garden fountain decoration, it can not only change the landscape style of the whole park, but also make the surrounding no longer monotonous and improve the fashionable of the environment.
We have rich experience in stainless steel fountain sculpture. We have many excellent stainless steel fountains with abstract and concise shape, generous and elegant. This 71 fountain is made of high-quality 304 stainless steel. During production, our internal solid skeleton can make our sculpture more solid. When making welding and polishing on the surface of stainless steel, we use full welding to ensure the firmness of the sculpture and high polishing to ensure the surface smoothness and color brightness. High quality garden statue fountain, the interior and exterior of the sculpture are equally excellent. Our fountain sculpture can stand the test of time and can be displayed in parks and gardens for a long time.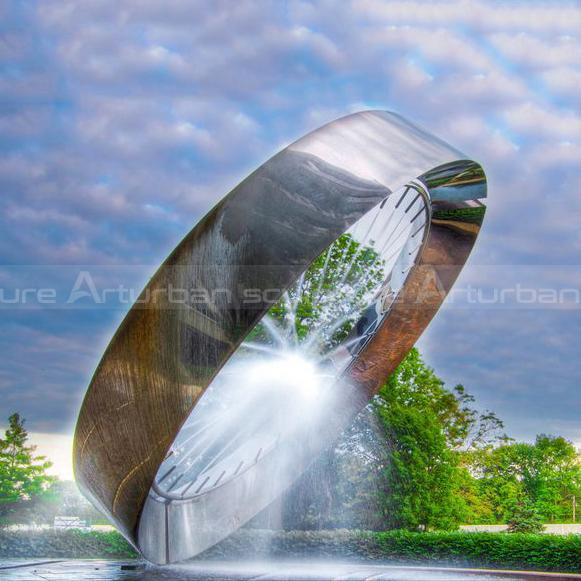 2. Production Process of 71 fountain
Customers can send us their own designs or advise their detailed requirements.
Our technical team will have a meeting mainly focus on all details.
The engineering team start to do the design after a full discussion and calculation.
During this period, We will send pictures from different views to check with you.
After the final confirmation, we'll fabricate a small mold, then put into production.
Send us your requirements now, we will reply to your email within 24 hours