1.Introduction of garden statue fountain
Garden statue fountain is composed of an unclosed semicircular ring, with simple design and elegance. At the top of the ring, the water flows like a small waterfall to the bottom of the ring, and then flows like a waterfall to the pool. It looks very beautiful. We use the color of ancient copper to make the sculpture exude a simple artistic style in the morning, In the evening, it emits the color of the afterglow of the sunset. It is very beautiful and brings us different visual effects. This stainless steel fountain sculpture is very suitable for business centers, squares, gardens, parks, urban streets, etc. it will attract everyone's attention.
This stainless steel garden statue fountain is carefully designed by our sculptors. We have strict management over the materials. The use of high-quality stainless steel can not only make the color brighter, but also be used in outdoor humid environment for a long time. All our details are handmade by skilled craftsmen, who weld, polish and color them. If you observe carefully, you will find garden fountains for sale. We also support the customization of various forms of stainless steel fountain sculpture. You can contact us to customize the fountain you want.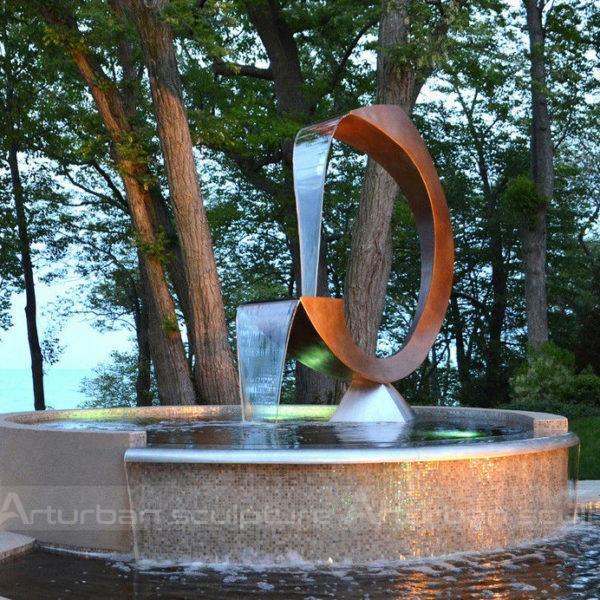 2. Production Process of garden statue fountain
Customers can send us their own designs or advise their detailed requirements.
Our technical team will have a meeting mainly focus on all details.
The engineering team start to do the design after a full discussion and calculation.
During this period, We will send pictures from different views to check with you.
After the final confirmation, we'll fabricate a small mold, then put into production.
Send us your requirements now, we will reply to your email within 24 hours