1.Introduction of rain curtain water fountain
Rain curtain water fountain is with a very unique and innovative design. It looks like a door from a distance. Water curtain is full of mystery like a magical gate. This fountain can not only be used as the decoration of outdoor gardens and yards, but also as the interior design of hotels and shopping malls. It is very characteristic and attracts people's attention. The orange color of this fountain is in harmony with the lush trees to form a beautiful scenery. The water flows out from the top of the door. We can see that the neatly arranged water flowers are left vertically, which makes the sculpture seem to have life. As viewers, we always have an impulse: What would it feel like to go through this "water gate"?
Rain curtain water fountain is made of weather resistant steel. It is a kind of alloy steel. A relatively dense rust layer will be formed on the surface after exposure to the sun for a long time, so it does not need to be painted. This strong color, special texture and spray combine to show the unique beauty of industrial art. Our fountain sculpture blends with the surrounding environment and shows its unique charm. We also have many different forms of weather resistant steel fountain sculpture and stainless steel fountain sculpture, which show different sculpture styles and bring you different aesthetics. We support the customization of sculpture. You can tell us your creativity or your favorite sculpture design. We will customize the size, color and material for you. You can contact us at any time and we will provide you with information for free.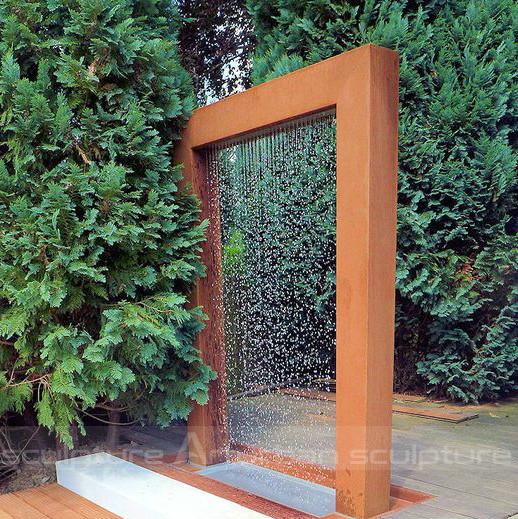 2. Production Process of rain curtain water fountain
Customers can send us their own designs or advise their detailed requirements.
Our technical team will have a meeting mainly focus on all details.
The engineering team start to do the design after a full discussion and calculation.
During this period, We will send pictures from different views to check with you.
After the final confirmation, we'll fabricate a small mold, then put into production.
Send us your requirements now, we will reply to your email within 24 hours