1. Introduction of giraffe art sculpture
This giraffe art sculpture is eye-catching. It showcases the graceful posture of a giraffe during rest. It lay quietly on the ground,
its legs curled up, its body relaxed, as if enjoying a peaceful time. The long neck tilts its head, displaying a unique curvaceous
beauty, with gentle and curious eyes.
The sculptor cleverly captured the characteristics and temperament of the giraffe, making its appearance lifelike. The bronze
material adds texture and stability to the sculpture, allowing it to exhibit excellent performance in both indoor and outdoor
environments. The color of bronze complements the brown and yellow tones of giraffes, creating a natural and warm atmosphere.
This bronze Outdoor Giraffe Sculpture is suitable for placement in open spaces such as gardens, parks, squares, and can also be
used for interior decoration, such as halls and exhibition halls. It not only adds a touch of natural beauty to the environment, but
also attracts people's attention and curiosity. Viewers can appreciate the meticulous carving techniques and lifelike expressions up
close, creating intimate emotional resonance with giraffes.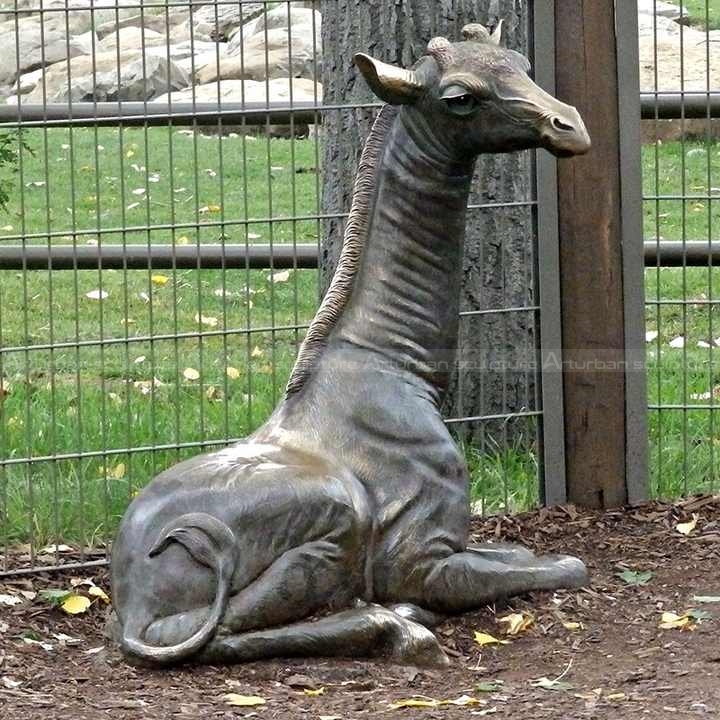 2. Production process
Step1 Design Communication:  You supply us with several photographs with dimensions.
Step 2 Project Consultation: Our team will make a production plan, according to your design, budget, delivery   time,  or any other service. Our final aim is to supply high quality and cost-saving   sculpture efficiently.
Step 3 Confirm Mold: We will make 1:1 clay or 3D mold,when finished clay mold,i will take photos for   your reference. The clay mold can modify any details till to your satisfaction.
Step 4 Carving and Polish: We will carving with natural marble according to clay mold. Then polished.
Step 5 Package: Strong wooden crate with waterproof and shockproof foam inside.
Send us your requirements now, we will reply to your email within 24 hours