1.Introduction of bronze horse figurine
This is the bronze horse figurine. It presents a vivid and interesting scene. The horse and dog ran together, with their heads
lowered and tilted to one side. Their eyes met the little dog, as if in a friendly conversation. The little dog happily raised its tail,
showing a lively and lovely posture. The entire sculpture is full of dynamism and vitality, showcasing the friendly interaction
between horses and dogs. The bronze material endows the sculpture with luster and texture, making it more lifelike. This sculpture
not only presents the beautiful interaction between animals, but also conveys a love for life and nature. Whether placed indoors or
outdoors, this vibrant horse and dog sculpture will bring visitors a sense of pleasure and artistic enjoyment.
The advantage of Full Size Horse Statue production lies in the durability and plasticity of bronze material. Bronze is a sturdy and
durable metal that makes sculptures less susceptible to damage when displayed indoors and outdoors for a long time. At the same
time, bronze materials can also be crafted with exquisite carving techniques to create delicate details and unique forms of expression,
making sculptures more artistic and three-dimensional. Bronze horse and dog sculptures, with their durability and exquisite
craftsmanship, have become a long-lasting artwork, bringing visual enjoyment and artistic praise to viewers.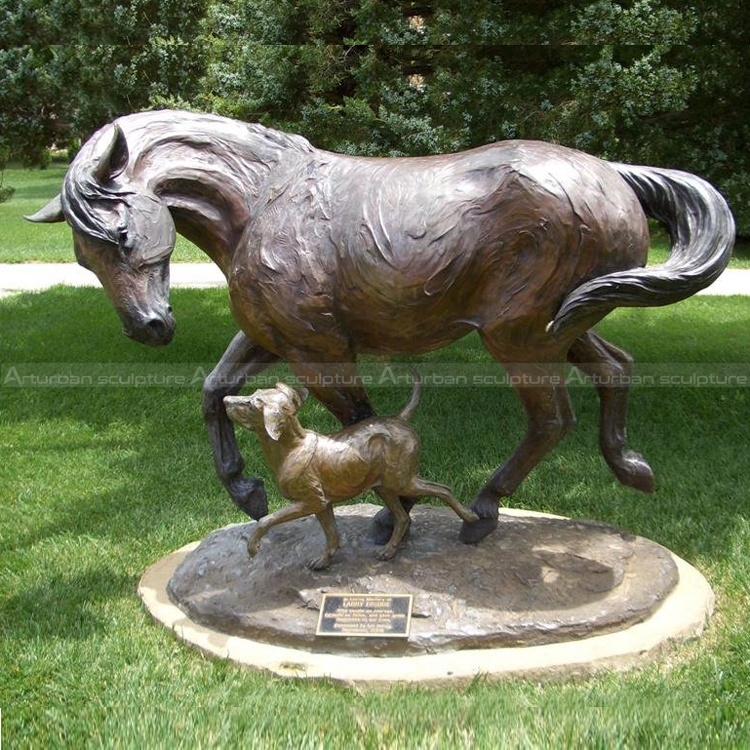 2. Production Process of bronze horse figurine
My artist will make 1:1 clay mold, when finished clay mold,  we will take photos for your reference, the clay mold can modify
any details till to your satisfaction with it. Then we go ahead to make statue, when finished statue, also we will take photos for
your reference, after your satisfaction, I will arrange packing and shipment. Arturban sculpture can make large horse statue in
bronze, marble, fiberglass, stainless steel. Our team will make a production plan, according to your design, budget, delivery time,
or any other service. Our final aim is to supply high quality and cost-saving sculpture efficiently.
Send us your requirements now, we will reply to your email within 24 hours